As you may already know, Windows 10 '19H1' development is over. Microsoft has started fixing its minor bugs. Also, the company has revealed its official marketing name, which is Windows 10 May 2019 Update, version 1903. The update is expected to be released to the production branch in May 2019. It will become available to everyone via Update Assistant, Media Creation Tool and ISO images. Windows Insiders should get the final build of the feature update this September. Here is the most comprehensive change log for Windows 10 May 2019 Update, version 1903.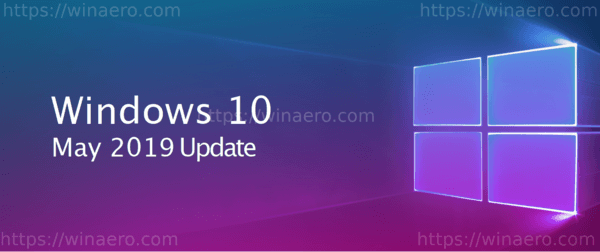 If you are following Winaero, you should be already familiar with all the changes introduced in Windows 10 version 1903. Here is the complete change log which covers everything new in this update.
If we forgot something, please let us know in the comments. Thanks in advance!
Tip: See System requirements for Windows 10 version 1903
Windows Update
Start
Cortana and Search
The flyout now includes recent activities, new filters and more Fluent Design elements.
Cortana will now start automatically listening when you click on its icon in the taskbar.
Search comes with a new "Top apps" area that lists your most used apps for quick launching.
Taskbar + Action center
User Interface
The Windows sign-in screen now uses the acrylic background when the lock screen is dismissed.
The default wallpaper has been changed to a lighter one.
The Windows UI now supports a light theme. Users can now theme the taskbar, Start menu, and the Action Center flyout separately from apps with a new custom color mode.
The printing dialog will now follow your color theme.
The printing dialog now makes more use of icons to make options more clear.
Long names in the print dialog will now wrap rather than being cut off.
Action Center now has a shadow like other flyouts.
Disabling transparency will now also disable it on the logon screen.
Apps that use native drop down lists will now show shadows below them.
Jump lists will now follow your accent color when your accent color is being applied to the taskbar.
When focus is set to the search bar, it will now have a colored border following your accent color.
File Explorer
The File Explorer has got a new icon which fits nicely with new light theme.
The Downloads folder is now sorted by date by default.
File Explorer is optionally getting dates in a more friendly format e.g. Today or Wednesday instead of May 30, 2019. Friendly dates can now be turned off from the column titles.
File Explorer now allows you to create files with a name that starts with a dot like ".htaccess".
Settings
System
The rule "When I'm using an app in full screen mode" is added to Focus Assist.
"Fix scaling for apps" is now enabled by default.
Quick Action settings have been removed; A new feature, 'Action center editor', can be used instead.
The Storage page has been redesigned to include a more detailed view.
Unplugging or plugging in a device will no longer cause screen brightness changes.
'Near Sharing' has been added as a default exception to Focus Assist.
Devices
A link to the troubleshooter has been added to 'Printers & Scanners'.
Network & Internet
Personalization
Accounts
You can now sign in using a physical security key using the Sign-in options page. The Sign-in options page is redesigned with added explanation below each option.
You can now use a password-less logon via an SMS code instead of a password. This feature works in all editions of Windows 10.
Automatic sign-in is now enabled for Cloud Domain Joined devices.
Time & language
Ease of Access
Cortana & Search
Privacy
The microphone and camera privacy pages now show which apps are using them. You can see the last access time per app.
A new "Recommended troubleshooting" option.
Update & Security
Other Settings changes
Settings will now show your account details at the top of the home page along with other important pages like Your Phone, OneDrive, Windows Update and Microsoft Rewards.
The Search category will now be shown prior to Update & Security.
Accessibility
Narrator can now read next, current and previous sentences.
Narrator text reading commands can now be used to scan a full window.
You can now allow Narrator to read by Sentence in Braille.
Narrator will now give phonetic readings when using Narrator key + Comma twice
Centered mouse mode in Magnifier should be more responsive.
Narrator Home now includes an overview of its key features.
You can now cycle through 5 additional verbosity levels with Narrator + V.
Narrator key + 0 will now allow you to read a URL.
Capitalization reading is now available for all reading modes.
Reading and navigation commands now stay within the web page content area when you're using web browsers and other apps.
Narrator can now follow its reading position with the cursor.
You can now make Narrator read any of the following groups of keyboard keys: Hear letters, numbers, and punctuation as you type, Hear function keys as you type, Hear arrow, Tab, and other navigation keys as you type, Hear when toggle keys like Caps Lock and Num Lock are turned on or off, and Hear Shift, Alt, and other modifier keys as you type.
Narrator now supports the combo box control.
Narrator can now display the current character's phonetics when you press Narrator key + 5 twice.
Narrator now better handles reading controls while navigating and editing
Better support for reading tables in PowerPoint.
When Narrator is on a slider, the left and right arrow keys will now change the position of the slider.
Narrator now announces the state of hardware buttons.
Improved support for Narrator in Microsoft Teams.
The "not selected" phrase has been removed from speaking in Narrator.
Narrator now announces headings with any verbosity level.
Improved pitch change detection feature.
Narrator works better with Google Chrome and Microsoft's Chromium-based browser.
Language and input
The emoji panel will now show pages with character emojis.
The Emoji Panel is now dragable.
Support for Vietnamese Telex and Number-key based keyboards.
A large set of special symbols and kaomoji have been added to the emoji picker in the touch keyboard.
Support for Emoji 12 beta has been added.
The on-screen keyboard has been updated to dynamically change the hit target for all keys to predict where the user might tap.
Improvements to the on-screen keyboard to keep it from overlapping a text area currently visible on the screen.
The timeout period when dictating has been changed from 5 to 10 seconds.
Pressing Win + H to start dictation in an unsupported language will open a notification that dictation mode is not available.
Left Alt + Shift will now open a help message that includes a link to the Settings app to disable this hotkey.
Windows now also contains an Ebrima font that supports ADLaM documents and web pages, which is the language of the Fulani people, who predominantly live in West Africa. Support for ADLaM language is added as well as Osage language, which is the language of Oklahoma's Osage Nation.
SwiftKey's typing intelligence now supports languages like English (Canada), French (Canada), Portuguese (Portugal), and Spanish (United States).
Indic (Indian language) Phonetic keyboards are now available for PC.
Input Method Editor
Apps
The built-in apps like 3D Viewer, Calculator, Calendar, Groove Music, Mail, Movies & TV, Paint 3D, Snip & Sketch, Sticky Notes and Voice Recorder can now be uninstalled.
A new Office app that provides quick access to your recent documents and Office web apps.
Console
Notepad
Support for UTF-8 without Byte Order Mark (BOM) has been added. It is the new default file format in Notepad.
The encoding of the current document is now visible in the status bar.
For modified files, an asterisk appears in the title bar before the name of the file.
Send Feedback has been added under the Help menu.
The hotkeys Ctrl + Shift + S, Ctrl + Shift + N and Ctrl + W have been added to open Save as..., open a new Notepad window, and to close the current Notepad window respectively.
Support for opening and saving files with a path longer than 260 characters.
After a reboot, Notepad reopens with the earlier content if it was already open.
Registry Editor
Snip & Sketch
Sticky Notes
Task Manager
Windows Mail & Calendar
Mail & Calendar app now has a navigation button for opening Microsoft To-Do.
Windows Mixed Reality
Support for Win32 apps has been added.
Cortana and To-Do
Cortana now adds your reminders and tasks to lists in Microsoft To-Do app.
Windows Security
Windows Subsystem for Linux
Other features
Wirelessly mirroring your Android smartphone's screen on your Windows desktop is being gradually added to Your Phone app but currently only a few Android phone models are supported. Your PC also needs to support Bluetooth Low Energy peripheral mode to use it.
Focus Assist will now suppress notifications for fullscreen videos and when using fullscreen apps.
Anti-cheat software that is not updated to handle the security and stability changes made to the Windows kernel, will now crash with a Blue Screen of Death (BSOD).
Google's Retpoline mitigation along with import optimization against Spectre variant 2 CPU vulnerability is now enabled by default on Windows 10 May 2019 Update (Version 1903/19H1). This should greatly reduce performance degradation caused by earlier Spectre variant 2 patches.
DTrace is now available on Windows 10.
Improvements to Windows Setup. Instead of cryptic errors or generic messages, users will be provided with actions they can take to fix errors or roadblocks in the setup upgrade process.
Redesigned pages in the Out-of-Box Experience (OOBE).
AVIF image format support (based on AV1) in File Explorer and Paint.
Antivirus apps must run as a protected process for Windows Defender Antivirus to disable it and to appear in Windows Security.
A new Windows Sandbox isolated desktop environment. It uses virtualization-based security to keep any software you run inside it confined to a secure container. Windows Sandbox is only available in Pro, Enterprise, and Education editions of Windows 10.
The Reset PIN option is now available for all editions. The option is now streamlined and available from the welcome screen.
The "Show clear logon background" group policy has been added.
Clean installs of non-Home versions of Windows 10 no longer use Cortana voice assistance by default.
The Disk Cleanup tool now displays a warning when you click the "Downloads" option, warning that this is your personal downloads folder and all files inside it will be removed.
Windows now supports updated RAW image formats.
Game Bar is becoming a full overlay featuring a performance widget with system resource usage graphs, a screenshot and video gallery, an Xbox social widget with a friend list and voice chat, Spotify integration and a customizable user interface. Unfortunately, some of its features were excluded from the final version of the OS.
The Clipboard History viewer added back in the Version 1809 has a new, more compact design. Press Win key + V to open it.
The Clipboard History viewer UI has been tweaked to better suit keyboard and mouse use.
Explorer's Launch folder windows in a separate process option is enabled by default.
Windows 10's FLS (Fiber Local Storage) slot allocation limit is raised. This is useful for professional musicians, who will be able to load more unique DLL plugins into their Digital Audio Workstations.
Windows 10 Release History
Thanks to the ChangeWindows.org web site for their detailed change log.
Support us
Winaero greatly relies on your support. You can help the site keep bringing you interesting and useful content and software by using these options: