As you may already know, Windows 10 'Redstone 5' development is over. Microsoft has started fixing its minor bugs. Also, the company has revealed its official marketing name, which is Windows 10 October 2018 Update, version 1809. The update is expected to be released to the production branch in October 2018. It will become available to everyone via Update Assistant, Media Creation Tool and ISO images. Windows Insiders should get the final build of the feature update this September. Here is the most comprehensive change log for Windows 10 October 2018 Update, version 1809.
If you are following Winaero, you should be already familiar with all the changes introduced in Windows 10 October 2018 Update version 1809. Here is the complete change log which covers everything new in this update.
If we forgot something, please let us know in the comments.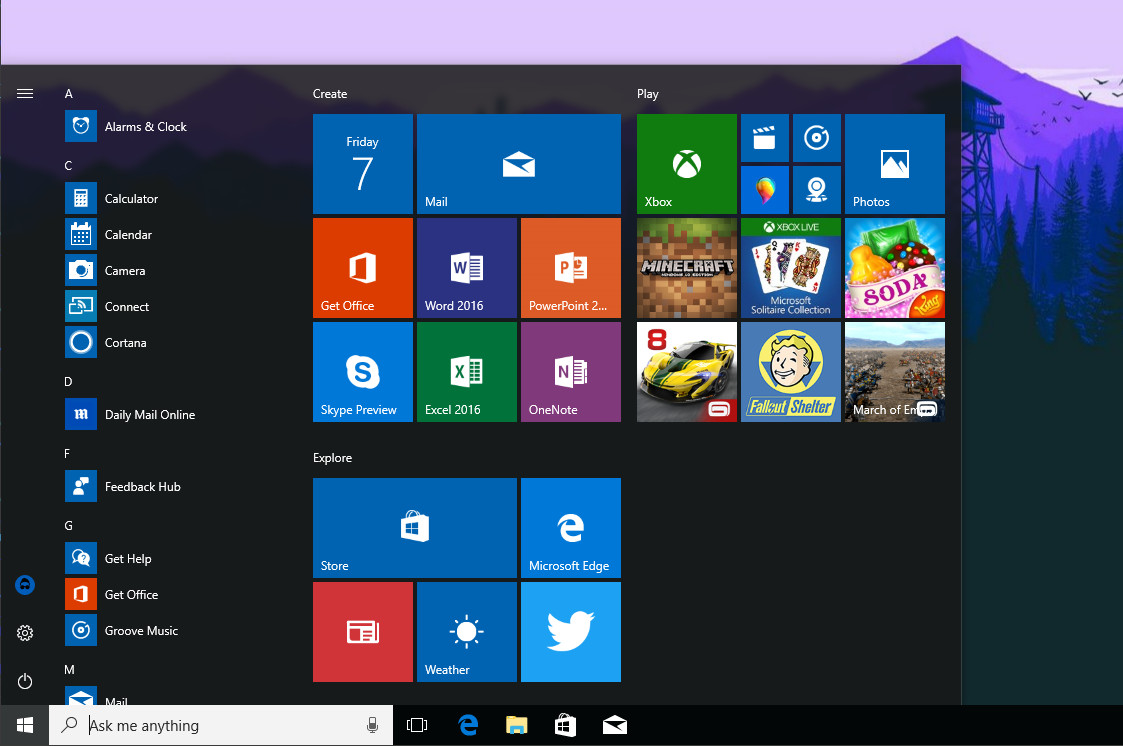 Cortana + search
Taskbar and Action center
Notifications in the Action center will now fade in when opening the Action center
The Brightness button has been removed from the battery flyout, and is now available in the set of Quick Action buttons only.
Timeline has a background with the acrylic and blur effect.
Screen Snip has been added as a new quick action button.
The "Start" tooltip has been added when hovering over the Start button.
Edge tabs will now be shown as individual windows in Timeline.
Timeline will now allow you to cycle through the tabs in a set that can be restored.
File Explorer
Microsoft Edge
The browser
Books pinned to the Start screen will now show a live tile that cycles through the cover and your progress.
Support for same-site cookies has been added.
A refined look for the main menu.
The jump list for Edge will now show your top sites.
You can now name groups of tabs that you've set aside.
There is a new option that allows preventing web sites from automatically playing videos.
You can now mute a tab even if it isn't playing audio yet.
Books can now be shared from their context menu in the Hub.
Books
Settings
System
Screen snip has been added as a new option to enable a quick action in Action center.
Focus Assist will now disable all notifications when any game is playing full screen by default with "When I'm playing a game" added as a new option.
"Free up space now" will no longer allow you to remove the previous Windows version.
The previous Windows version can now be removed from "Change how we free up space automatically" by enabling "Delete previous versions of Windows" and clicking "Clean now"
Clipboard has been added as a new page and allows you to the enable the cloud clipboard feature which syncs across your devices.
Under "Change how we free up space automatically" a new setting has been added to make files in Files On-Demand online-only after not using them for a while.
Windows HD Color has been added as a subpage under Display if you have an HDR-enabled display.
Devices
Bluetooth devices will now show their battery level.
Clicking once on the pen tail button can now be set to make a screenshot.
You can now set the Print Screen button to launch Screen Snipping instead of taking a screenshot.
You can now rename your audio device and set the preferred spatial audio format.
You can now set your pen to behave like a mouse instead of scrolling and panning
When a Bluetooth device is low on battery power, you will get a notification.
Typing insights has been added under "Typing" showing you statistics about how often Windows autocorrected spelling mistakes, predictions of the next word, word suggestions and the number of words typed by using gestures.
Network & Internet
"Data usage" now shows how much data you've used while roaming.
Apps
WebDriver has been added as a Feature on Demand
"Adjust video based on lighting" has been improved for devices with a light sensor
Accounts
Setting up a new kiosk has been improved.
Kiosk accounts can now sign in when a device starts.
Time & language
The Language & Region page has been split into separate pages for Language and Region
Region now allows you to overwrite the regional format settings that come with the region set by the user
The calendar localization, the first day of the week, short date and long date notation, short time and long time notation and currency can now be changed from Region.
A link to the Microsoft Store has been added to Language to allow you to download Local Experience Packs.
Improved performance when loading the Language settings page.
Gaming
The Game DVR page has been renamed to Captures.
Ease of Access
You can now keep the mouse centered on the screen in full-screen mode in Magnifier
5% and 10% are added as new zoom increments
You can now make text bigger under "Display" with the "Make everything bigger" setting.
Narrator's default keyboard layout has been updated.
Dialog boxes are now automatically dictated by Narrator.
Narrator can now search for text with Find.
Narrator can now list links, headings and landmarks in applications or content
Results for landmarks can now be narrowed by typing in the list or the text field of the window.
Pressing down in Scan Mode will now stop when the item is an interactive element.
Starting Narrator will now trigger a Narrator Quickstart dialog.
The Narrator Standard Keyboard now has the scan mode secondary action command and Spell current selection command.
Cortana & Search
"Cortana" has been renamed "Cortana & Search".
Privacy
The "Speech, Inking & typing" page has been split into separate "Speech" and "Inking & typing" pages.
Update & Security
Delivery Optimization Settings have been moved to their own page in Update & Security.
Windows is now better at predicting if you have left your PC for a long time before a restart is triggered to update.
Mixed Reality
Under "Audio", a setting has been added to mirror headset audio to desktop.
General
Ink Workspace
Gaming
When recording a game clip, the audio should now be of a higher quality
Gamebar has been updated with audio controls to change the output device, mute the volume or adjust the volume for running apps and games
Game bar now shows framerates, CPU usage, GPU VRAM usage and system RAM usage
"Dedicate resources" has been added as a new option to Game bar
System
The networking stack has been revamped with the Net Adapter Framework
A clean install will now show an option to enable activity history sync
The Windows Security Center service now requires antivirus products to use a protected process to register.
Support for IPv6 has been added to KDNET
The MBB USB NetDriver is now the default driver
Fonts can now be installed for the current user without admin permissions
The post-update experience may now show a screen asking you to configure new settings that might have been added since your device was set up.
DTS:X has been added to the list of spatial audio technologies that can be used.
Windows Hello is now supported for remote sessions with Azure Active Directory and Active Directory.
Support for Web Sign-in has been added to Windows for ADFS and other profiders that support the WS-Fed protocol.
Shared Windows PCs now support "Fast Sign-in".
Support for Unicode 11, including 157 new emojis, has been added as well as updates to older emojis.
Support for leap seconds has been added.
Support for the Precision Time Protocol has been added
Software Timestamping has been added to eliminate the software delay caused by the Windows networking stack.
Accessibility
Narrator is now better at communicating with the user about sets
Scan mode in Narrator now supports selecting content on most text surfaces
Narrator has a number of reliability improvements
Scan Mode has been imrpoved with better reading and navigation
Feedback can now be sent with the Narrator + Alt + F keystroke
The view type mode will now be called out reliably
Move to beginning of text now works with Narrator + B, Move to end of text now is Narrator + E
Language and input
When people emojis are in view, the skin colors will now be shown in a row instead of as a button.
The handwriting panel now shows the delete button in the top level menu, switching languages can now be done from the ellipses menu
Languages will now show which language is used as the default app language.
SwiftKey is now used for English (United States), English (United Kingdom), French (France), German (Germany), Italian (Italy), Spanish (Spain), Portuguese (Brazil), or Russian.
The clipboard button is now always visible in the on-screen keyboard's candidate pane
English (Australia) now supports shapewriting
Input Method Editor
The IME toolbar has been redesigned to support the dark theme and more
The IME's taskbar icon now has an extended context menu
The emoji panel now also works within the IME.
Apps
Control Panel
Settings to manipulate the screen brightness have been removed.
Diagnostic Data Viewer
Problem Reports has been added to the Data Viewer
The UI of the Diagnostic Data Viewer has been improved with a better search bar
Game bar
Game bar has now been added to the Start menu
Internet Explorer 11
Support for same-site cookies has been added
Mixed Reality Portal
Sound can now be streamed to both the headset and PC
Some errors have been made clearer.
Notepad
Notepad now supports UNIX line endings.
You can now search for your selection with Bing.
Support for wrap-around find and replace has been added.
Line and column numbers are now supported when word-wrap is enabled.
Improved performance when opening large files.
Ctrl + Backspace is now supported to delete the previous word.
Arrow keys now unselect text first and then move the cursor as you would expect.
The line and column number will no longer reset upon saving a file.
Notepad will now render lines that don't fit entirely on the screen correctly.
Registry Editor
The address bar can now suggest paths.
Screen Sketch
Screen Sketch has been added as a standalone app.
Rectangular snipping is now the default snipping tool instead of full screen.
Win + Shift + S will now show the snipping toolbar.
Making a screenshot with Win + Shift + S will bring a notification to open Screen Sketch.
Snipping Tool
Snipping Tool will now show a message asking you to try Screen Sketch.
Task Manager
Windows Mixed Reality
When using an Immersive Application you'll now have access to Quick Actions to go home, launch the capture tools, etc.
Flashlight can now be used to open a "portal" to view the real world with the camera
Windows Security
Windows Defender Security Center has been renamed Windows Security.
Windows Defender Exploit Guard is now available for all users by enabling "Block suspicious behaviors" in "Virus & threat protection settings"
"Security providers" has been added to Settings to view all your antivirus, firewall and web protections
Windows Subsystem for Linux
You can now copy and paste with Ctrl + Shift + C and Ctrl + Shift + V.
Windows Mail
Links will now always open in Microsoft Edge.
Other features
Microsoft WebDriver has been added as a Feature on Demand
Windows Defender Firewall now supports Windows Subsystem for Linux Processes.
Win + V will now open the Clipboard History pane.
A wireless projection will now show a control banner at the top of the screen
The Remote Server Administration Tools are now a part of Features-on-Demand
When an app needs access to your microphone but it is not allowed so by the privacy settings, a notification will be shown.
Mixed Reality no longer requires a monitor to be connected when running.
The Camera Capture UI API is now available to apps in Mixed Reality
Improved video capture experience in Mixed Reality.
You can now clear your clipboard history with the "Clear all" button.
Windows 10 Release History
Support us
Winaero greatly relies on your support. You can help the site keep bringing you interesting and useful content and software by using these options:
If you like this article, please share it using the buttons below. It won't take a lot from you, but it will help us grow. Thanks for your support!