Microsoft Edge is the default web browser app in Windows 10. It's a Universal (UWP) app which has extension support, a fast rendering engine and a simplified user interface. In recent Windows 10 builds, the browser allows the user to change the Reading View text spacing. Here is how it can be done.
RECOMMENDED: Click here to fix Windows errors and optimize system performance
Microsoft Edge comes with Reader mode, which might be familiar to Firefox and Vivaldi users. When enabled, it strips out unnecessary elements from the opened web page, reflows the text and turns it into a cleaner looking text document without ads, menus and scripts, so the user can focus on reading the text content. Edge also renders the text on the page with a new font and formatting in Reader mode.

With Reading View, Microsoft Edge provides a new, consistent, more powerful experience across all your documents, whether they're EPUB or PDF books, documents, or web pages. The feature utilizes Fluent Design System elements like motion and Acrylic material to provide a fluid, delightful experience that keeps the focus on the page.
Reading View supports wider text spacing (see below).
Normal spacing.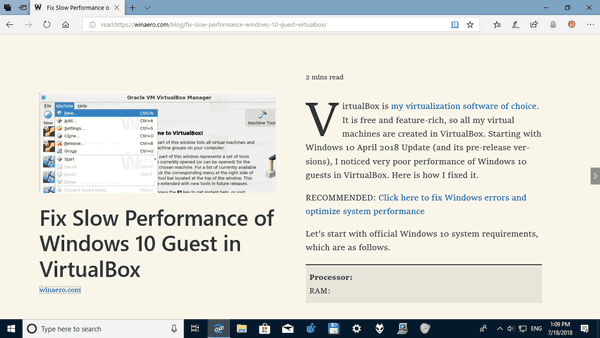 Wider text spacing.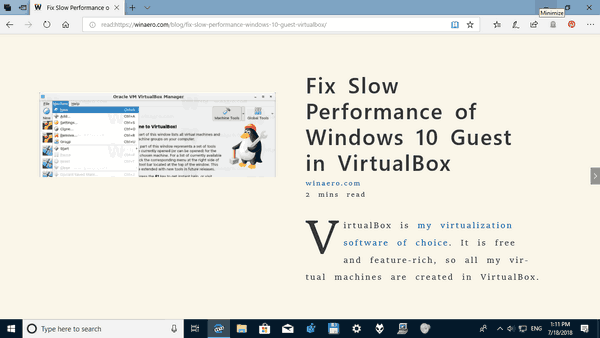 To change Reading View text spacing in Microsoft Edge in Windows 10, do the following.
Open the desired web site in Microsoft Edge.
Enable the Reading View feature.
Click on the Learning tools button.
Click on the Text options icon.
Enable the Text spacing option to turn on wider text spacing in Reading View. This might improve reading fluency.
Finally, you can change the text spacing option with a Registry tweak. Here is how.
Change the Reading View Text Size with a Registry Tweak
Open the Registry Editor app.
Go to the following Registry key.

HKEY_CURRENT_USER\Software\Classes\Local Settings\Software\Microsoft\Windows\CurrentVersion\AppContainer\Storage\microsoft.microsoftedge_8wekyb3d8bbwe\MicrosoftEdge\ReadingMode

See how to go to a Registry key with one click.

On the right, modify or create a new 32-Bit DWORD value Style.
Note: Even if you are running 64-bit Windows you must still create a 32-bit DWORD value.
Set its value data to the following values:
0 - normal spacing
1 - wider spacing
Re-open the browser if you have it running.
To save your time, you might want to download the following ready-to-use Registry files:
Related articles:
RECOMMENDED: Click here to fix Windows errors and optimize system performance