Windows 10 version 2004, known as '20H1', is the next feature update to Windows 10, which supersedes version 1909, '19H2'. Microsoft has finished 20H1 development, so recent builds do not include a desktop watermark. Here are all the changes Microsoft made in Windows 10, version 2004.
Windows 10 version 2004 will become generally available only in Spring 2020. Microsoft still has plenty of time to polish the OS and make its upgrade process as smooth as possible.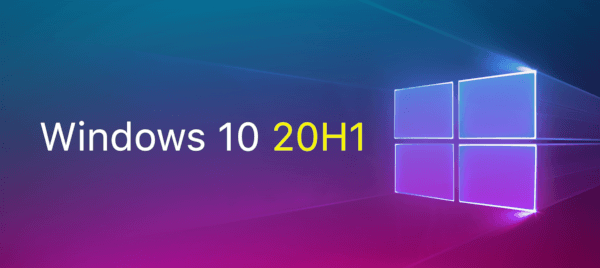 If you are interested in learning what's new in this release, here is the most comprehensive list of changes.
What's new in Windows 10 Version 2004 (20H1)
Cortana
Search
Windows Search has a new indexing behavior to exclude common developer folders, such as .git, .hg, .svn, .Nuget, and more by default.
Search Indexer can now detect high resource usage and only index when enough resources are available.
Taskbar and Action Center
File Explorer
The search feature now utilizes Microsoft Search, including OneDrive search results. You can try to Restore the Classic Search in File Explorer.
The Search bar in the File Explorer is slightly longer by default.
The context menu for .HEIC-files will now include options to Print or Set as Desktop Background.
Settings
System
Devices
You can now manage the mouse cursor speed.
Pairing is all done in notifications now. You don't need to go to the Settings app anymore to finish pairing.
For faster pairing time, the UI shows one less notification.
There is a Dismiss button for the first notification to give you more control while using Swift Pair.
To make the notification more helpful, Windows shows the device name and category whenever possible.
Network & Internet
The Network Status page now shows the network usage for all active connections, allows opening the Data Usage stats page directly.
Apps
You can now select multiple optional features in the list to install them all at once.
You can now search through lists of optional features and sort them by Name, Size, and Install date.
You can now see the install date for each optional feature in your 'Installed features' list. The UI also shows added feature dependencies in the description of each optional feature in the list of features available for install.
View the status of your latest installs/uninstalls/cancels right on the main page in the 'Latest actions' section. You can now add optional features and view your history via pop-up dialogues, so you never have to navigate away from the main page.
Accounts
Time & language
The Language page now includes an overview of various regional options, including Windows display, Apps & websites, Regional format, Keyboard and Speech, allowing you to access its various settings faster.
Available features for a language will be displayed as tiny icons with tooltips on the right for the language name.
The link to add a local experience pack has been removed.
Opening a language's options will now show an updated language features overview.
Update & Security
Ink Workspace
The Ink Workspace flyout has been replaced with a small pop-up panel.
Sticky Notes are no longer accessible from the Ink Workspace
Sketchboard has been replaced with the Microsoft Whiteboard app.
Accessibility
Magnifier with larger pointers will now pan smoothly when as the pointer changes shape.
"Change how capitalized text is read" has been removed from Narrator.
Narrator now announces the toggle state of checkboxes in a Listview
Narrator Scan mode will now turn off to allow typing in the edit field of a spinner control.
Narrator now has improved support for "invalid" and "required" properties for more controls.
Narrator Braille can now reliably activate links by a routing key.
Narrator now reads tables more efficiently by only reading the deltas when navigating.
Narrator key + S now shows a web page summary.
You can now keep the text cursor in the center of the screen when typing with Magnifier.
Narrator can now say the title and url of a link.
Narrator will now read the header first, followed by the cell data, followed by the row/column position of a cell.
When headers in data tables change, Narrator will now read them.
Eye Control now supports drag-and-drop.
Pausing Eye Control will now completely hide the launchpad.
Buttons can now be clicked with switches on joysticks or devices that emulate joysticks
Eye Control has been updated to provide more settings.
Narrator now automatically starts reading web pages and emails.
The Magnifier UI has been revamped
Narrator will now turn on Scan Mode when reading Outlook or Windows Mail message automatically.
Each email will now be read with the status mentioned first in the list view.
The text cursor can now be changed to a custom color.
Narrator will now start reading web pages from the top rather than from the main text label on it.
Narrator now supports the aria-haspopup property.
You can now turn off Narrator input learning by hitting the Narrator key + 1
Improved Magnifier performance when moving the mouse around the screen
Various Magnifier reading improvements.
The sound level for the link and scroll events has been increased in Narator.
In Outlook, the "importance" prefix is now always spoken by Narrator before the importance level.
Magnifier can no longer be switched to the UI that is visible in the viewport as a magnifying glass.
Language and input
The on-screen keyboard now uses SwiftKey's Typing Intelligence on 39 new languages: Afrikaans (South Africa), Albanian (Albania), Arabic (Saudi Arabia), Armenian (Armenia), Azerbaijani (Azerbaijan), Basque (Spain), Bulgarian (Bulgaria), Catalan (Spain), Croatian (Croatia), Czech (Czech Republic), Danish (Denmark), Dutch (Netherlands), Estonian (Estonia), Finnish (Finland), Galician (Spain), Georgian (Georgia), Greek (Greece), Hausa (Nigeria), Hebrew (Israel), Hindi (India), Hungarian (Hungary), Indonesian (Indonesia), Kazakh (Kazakhstan), Latvian (Latvia), Lithuanian (Lithuania), Macedonian (Macedonia), Malay (Malaysia), Norwegian (Bokmal, Norway), Persian (Iran), Polish (Poland), Romanian (Romania), Serbian (Serbia), Serbian (Serbia), Slovak (Slovakia), Slovenian (Slovenia), Swedish (Sweden), Turkish (Turkey), Ukrainian (Ukraine), Uzbek (Uzbek)
Dictation support for English (Canada), English (UK), English (Australia), English (India), French (France), French (Canada), German (Germany), Italian (Italy), Spanish (Spain), Spanish (Mexico), Portuguese (Brazil), and Chinese (Simplified, China) has been added
A number of kaomoji have been added to the emoji picker.
Input Method Editor
The development version of the Japanese IME from build 18277 has been restored.
Improved security and reliability in the revamped Chinese Simplified and Chinese Traditional IMEs, along with a cleaner user interface of its settings.
The Chinese Pinyin IME now refers to "Default mode" instead of "Input mode".
A tip has been added to the Bopomofo IME settings that Ctrl + Space will toggle the conversation mode.
The Japanese IME now has a default assigned value of Ctrl + Space for "None".
Key assignment settings are now more discoverable in the Japanese IME.
Improved performance for the Bopomofo, ChangJie, and Quick IMEs.
You can now disable the Shift + Space keyboard shortcut in the Bopomofo IME  and also change the font size.
You can now hide the IME toolbar from the toolbar menu.
Apps
Connect
Connect is now an optional feature downloadable in Settings.
Notepad
Task Manager
Windows Sandbox
Support for capturing hotkeys in full screen has been added
You can create configuration files for Windows Sandbox.
Sandbox error windows will now include an error code and a link to Feedback Hub.
You can now use a microphone in Windows Sandbox.
The audio input device can now be set in the Sandbox config file.
Shift + Alt + PrtScn now opens the ease of access dialog for high contrast mode.
Ctrl + Alt + Break now toggles fullscreen mode
Windows Sandbox no longer requires the use of Admin privileges
Windows Subsystem for Linux (WSL)
Other features
And further
Windows 10 Release History
Many thanks to changewindows.
Support us
Winaero greatly relies on your support. You can help the site keep bringing you interesting and useful content and software by using these options:
If you like this article, please share it using the buttons below. It won't take a lot from you, but it will help us grow. Thanks for your support!