The long-awaited version 3.0 of the Vivaldi browser has finally reached the stable branch. The team behind the app has released Vivaldi 3.0, along with its Android counterpart. The release is notable for the built-in tracker and ad blocker, which is customizable, and allows connecting custom ad subscription lists.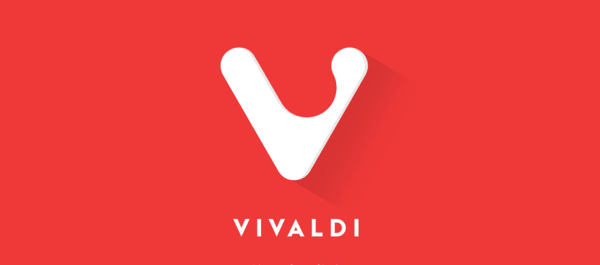 Vivaldi was started with the promise of giving you a highly customizable, full-featured, innovative browser. It looks like its developers kept their promise - there is no other browser on the market which offers the same amount of options and features. While Vivaldi is built on Chrome's engine, power users are the target user base, like the classic Opera 12 browser. Vivaldi was created by former Opera co-founder and developed keeping in mind Opera's usability and power. There is also a mobile version of the browser, also powerful and feature rich.
What's new in Vivaldi 3.0 for Desktop
Ad and Tracker blocker
Vivaldi now partners with DuckDuckGo and using the list that they use in their DuckDuckGo Privacy Essentials browser extension. This list blocks most of the known trackers out there and should not break websites. It is based on DuckDuckGo Tracker Radar, which continually crawls the web looking for trackers on major web sites.
There is a new option in Settings → Privacy → Content Blocker → Tracking Blocker. The user can select between
No Blocking
Block Trackers
Block Trackers and Ads
The tracking protection and ad blocking can be enabled globally for all web sites you visit, or can be turned on or off for individual web sites via the shield icon in the address bar. It is all under your control - the thing I really like in Vivaldi.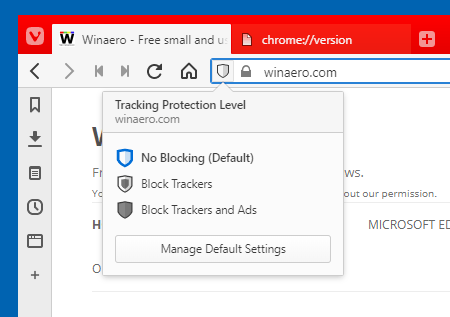 Also, Vivaldi will try to hide elements broken by blocking rules. Blocked elements can sometimes leave pages looking incompletely loaded.
Managing Ad Blocker Lists
In addition to the options mentioned above, it is now possible to add or remove the tracker blocking and ad blocking lists. There is a GUI for that.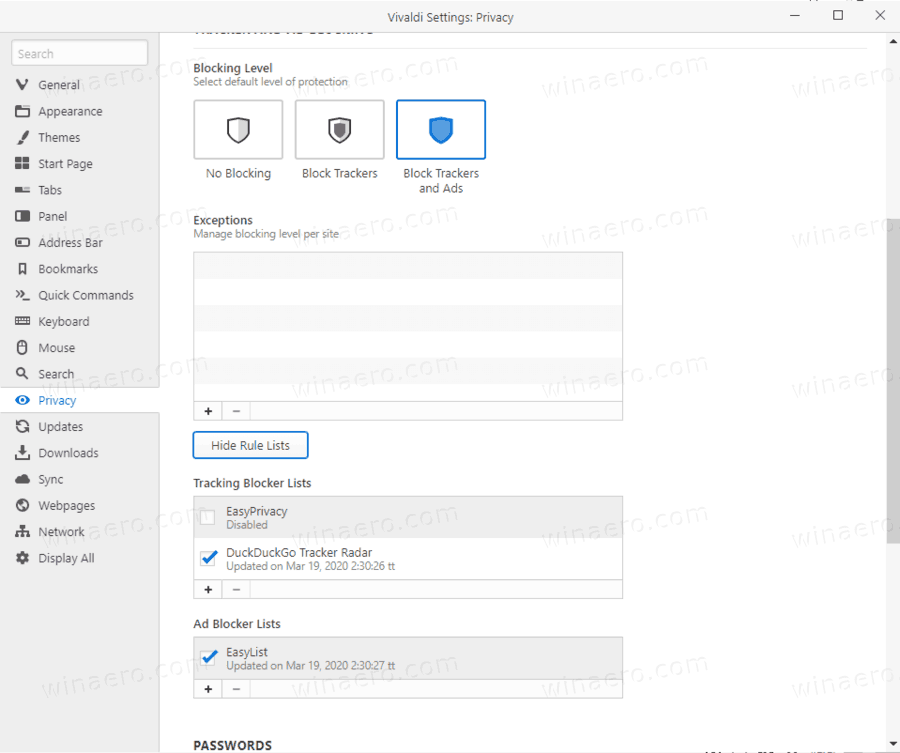 To Manage Ad Blocker Lists in Vivaldi,
Press Ctrl + F12 and go to Privacy on the left.
On the right, click on Manage Rule Lists.
Turn on (check) or off (uncheck) the desired subscription.
Use the + and - buttons to add more lists or remove existing entries.
There are individual lists for tracker blocking and ad blocking. The lists already include the popular Easy List subscription, and a tracker blocking list by DuckDuckGo enabled by default. There's also a EasyPrivacy list that is not enabled by default.
Set Alarms with the new Clock Tool
Vivaldi 3.0 adds a new feature to the browser - a clock tool, that displays the current time right in the status bar, and directly allows setting alarms. You can customize its options by clicking on the time. This opens a flyout, from where you can set a new alarm, or set a countdown timer.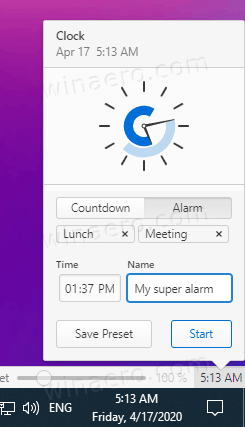 The tool supports presets for both timers and alarms, so they can be reused in the future.
You can specify a sound for its notifications. Right-click on the clock area in the status bar of Vivaldi. From the Notification sound, you can pick the sound you want to hear for alarms.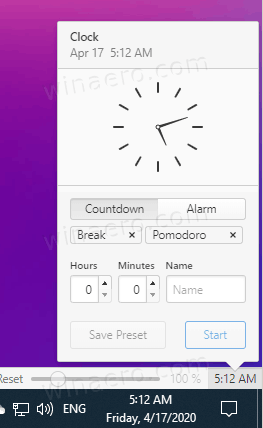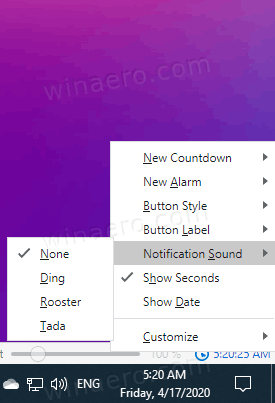 If you have no status bar, press Ctrl + Shift + S to make it visible, or check out Settings > Appearance. Under Windows Appearance \ Status bar on the right turn on the option Show status bar.
Vivaldi launched with a feature called "Spatial Navigation". It allows the user to navigate web sites with the keyboard by holding "Shift" and using the arrow keys. For a few releases now this feature has been off by default with the possibility to enable it (or a variant/similar feature from upstream Chromium). This was done because the method devs used previously caused site loading issues on some websites. In this snapshot it has got a new implementation, with no compatibility issues.  If you would like to try out the new Spatial Navigation, you can enable it  in Settings → Webpages → Spatial Navigation.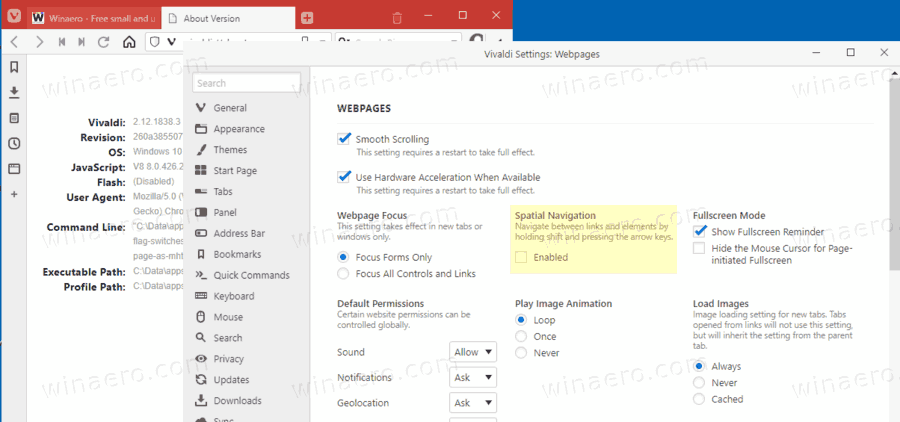 Popout video
Vivaldi 3.0 has received a number of improvements to the Popout video progress bar. It now shows a tooltip when hovering progress bar in Picture-in-Picture, showing the video position for a click. There are also a bugfixes for twitch.tv and other streaming platforms, and lengthy videos.
In the pop-out video (Picture-in-Picture) you can now seek forward and backwards using cursor (arrow) keys.
Vivaldi for Android
Some time ago the team behind the innovative Vivaldi browser launched a counterpart project for Android. After a few months in beta, the stable version of the new fully-featured Vivaldi for Android is available on Android 5+. Here are the key features of the stable version of Vivaldi for Android.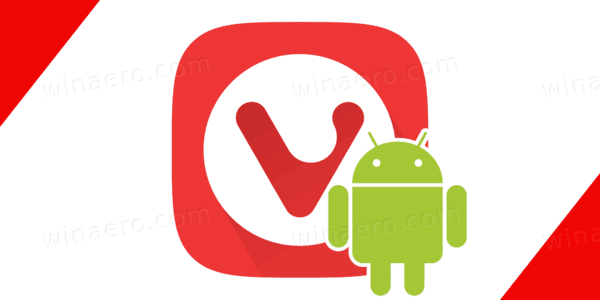 Vivaldi Mobile for Android is also Chromium-based, like its Desktop counterpart.  Here are some of its features:
Sync passwords, Bookmarks, Notes and more between devices, including Desktop and mobile app version using end-to-end encryption
Custom Speed Dials can be added to the new tab page
The mobile app, like its Desktop counterpart, supports notes.
Private mode - a special tab can be opened to  remove searches, sites visited, cookies and temporary files once you close it.
You can capture a full length screenshot of any web page or take a snap of an area.
Find tabs with a swipe
Re-open tabs from this or other device connected via sync also with a swipe.
Built-in Ad Blocker
Similarly to the desktop app, Vivaldi Android now allows you to set the Tracker and ad Blocker option to one of the these modes:
No Blocking
Block Trackers
Block Trackers and Ads
The options can be found in app settings.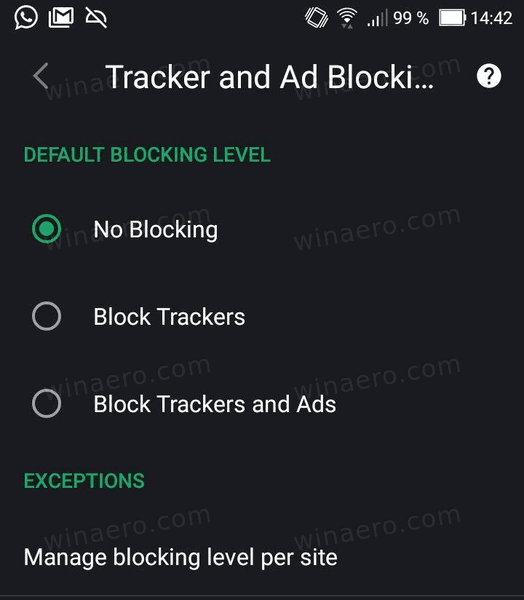 Speed Dial
Drag speed dial on top of another to create a folder
While you are organizing your Start Page, you might want to create a new folder with two or more speed dials in it. Drag a speed dial on top of another and drop it to create a new folder with the name 'New Folder', containing both speed dials. You can move more items to it, you can rename it or move it to a different place on the Start Page.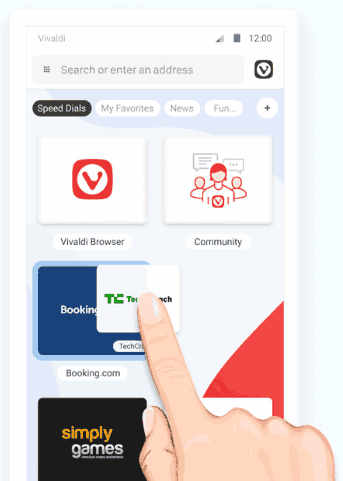 Speed dial sub-folder indicator
There is a new sub-folder indicator that appears at the top of the page, showing the name of the folder you are currently browsing.
Swipe to close tabs: One of the top feature requests that lets you get a clean house with a quick swipe by enabling Swipe to Close Tabs in Settings. To see it in action, open the Tab Switcher and swipe left or right on a tab to close it.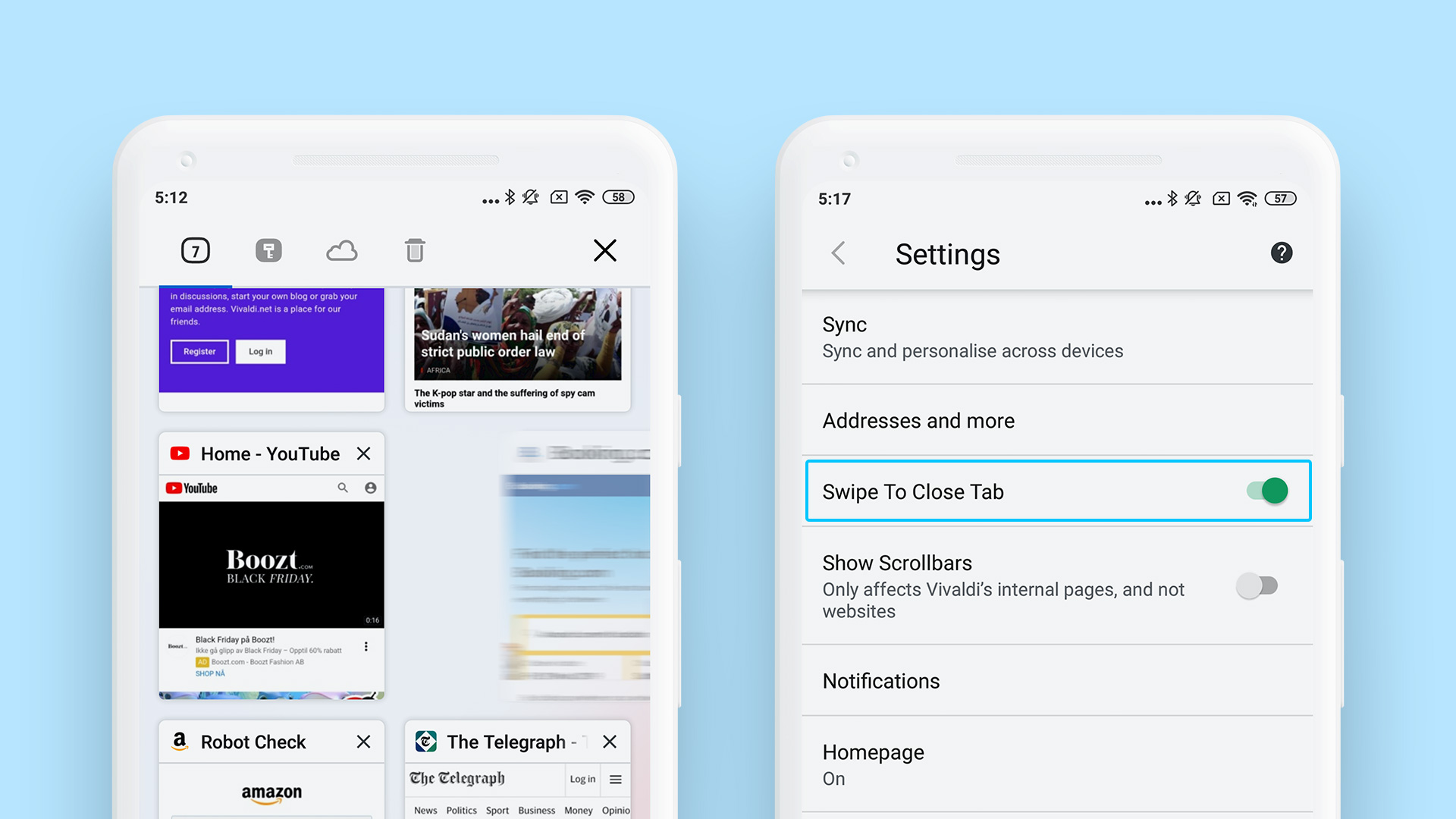 Show scrollbars on internal pages: By enabling this option in the Settings, you can visually see how far down the page you are.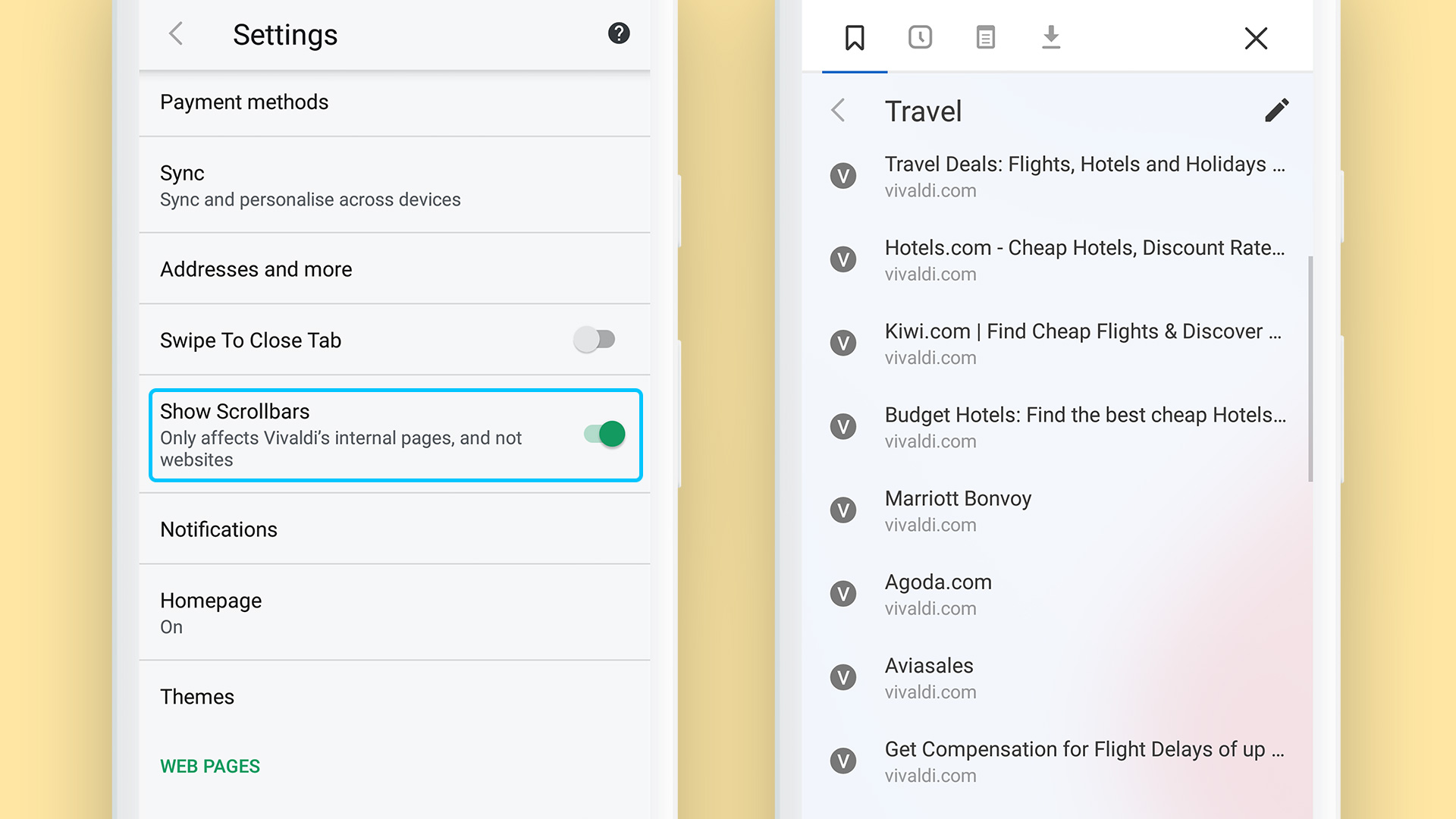 Customization of the Start Page
 Vivaldi's Start Page allows you to access your favorite sites and organize bookmarks quicker using Speed Dials. Now you can do more with the following:
Drag and drop to rearrange your Speed Dials and get to your sites even quicker.
Add and edit Speed Dials with a long-press to see the context menu with options to "Edit" or "Delete" that Speed Dial.
Add a new Speed Dial to the current folder with a tap on the '+' button. Or, long press the '+' button to either add a new Speed Dial or a new Speed Dial folder.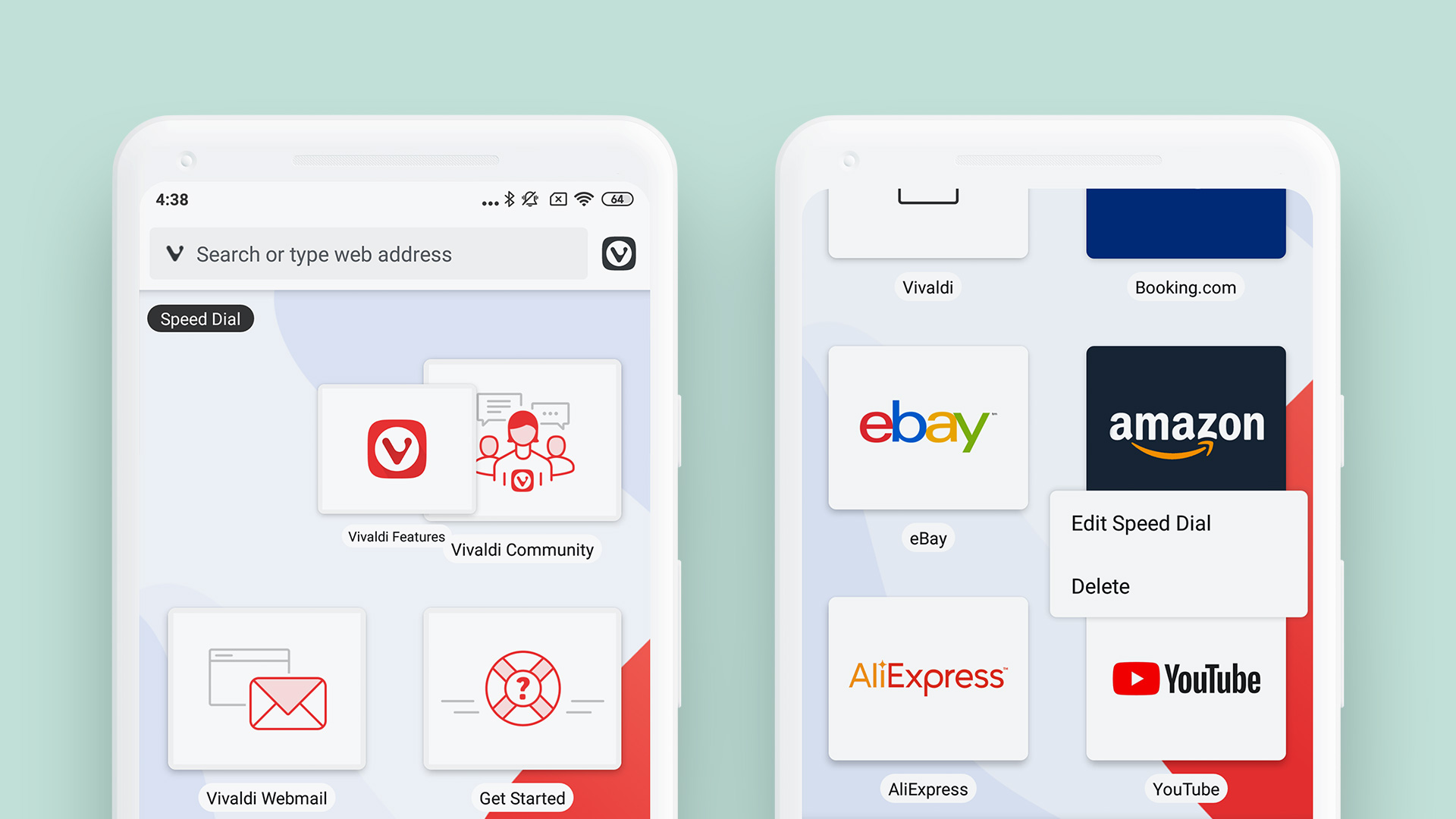 Browse with 'Always Show Desktop Site'
 Once enabled in the Settings, any new tab that you open (or currently have open) will display the desktop version of the site being visited.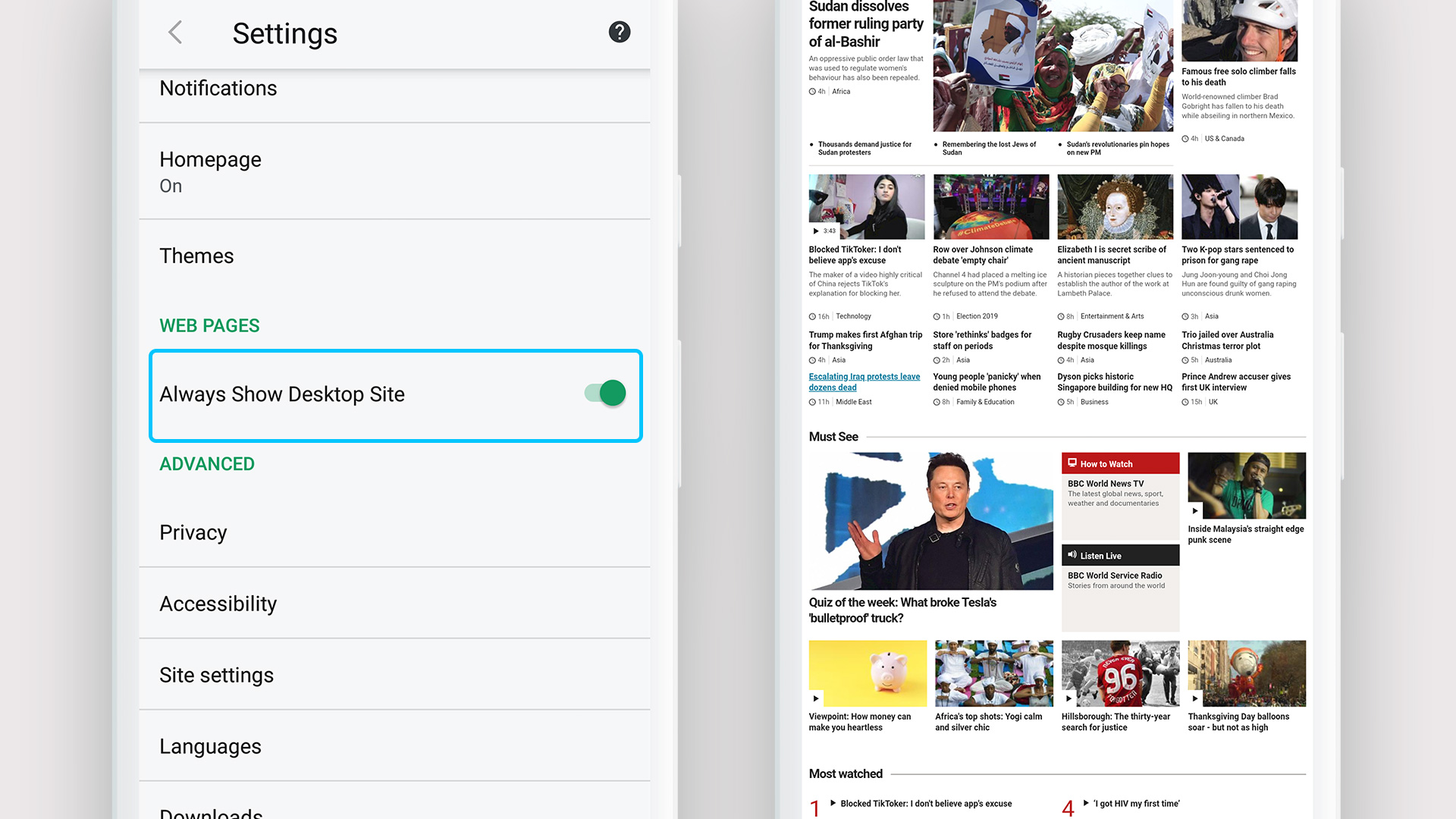 Take out the Trash in one go
Delete all "deleted" Bookmarks and Notes with a single tap. Use the "Empty Trash" icon on the right side of the respective trash screens to clear all deleted items at once.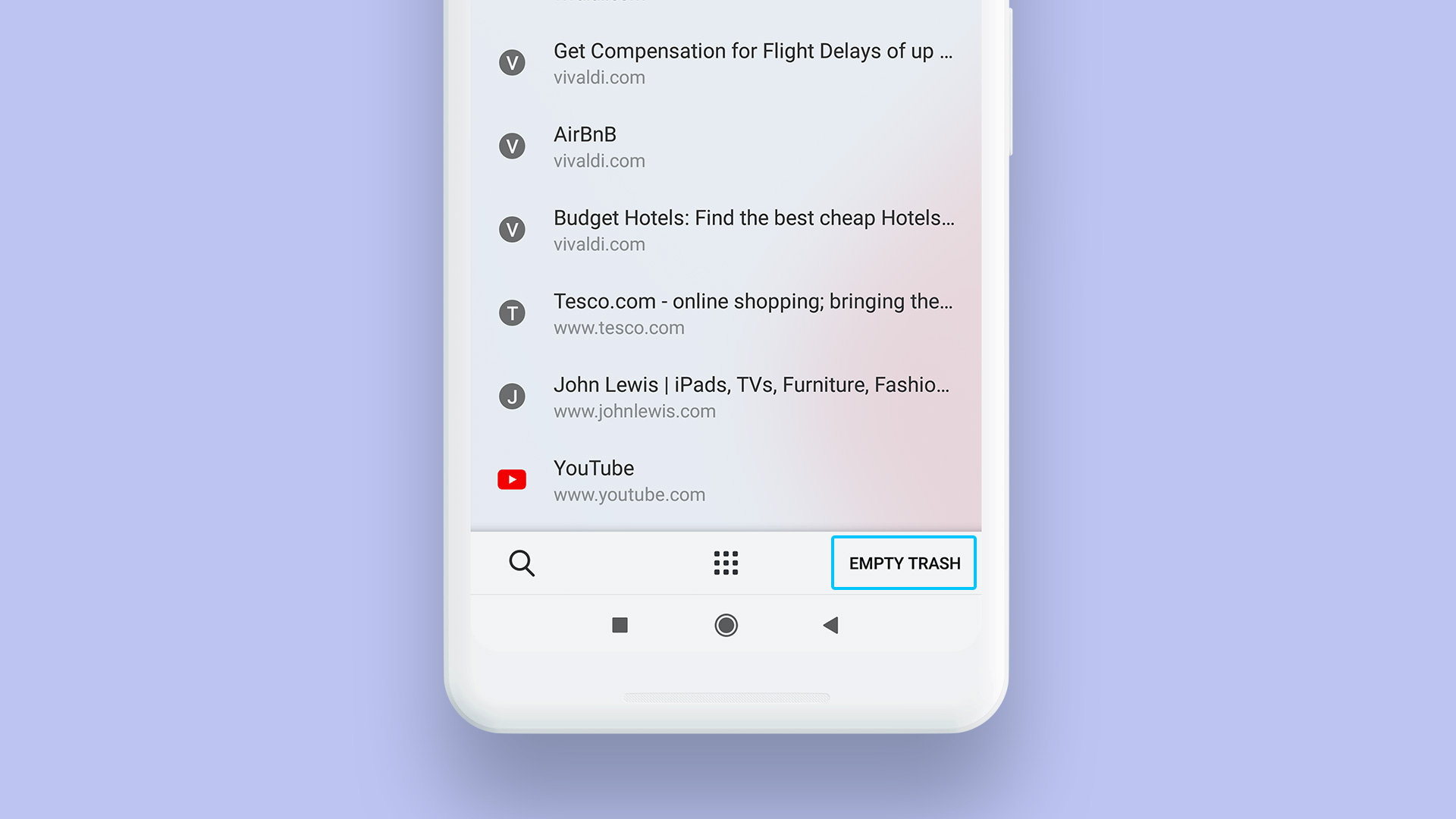 Search widget
 Vivaldi's search widget lets you use the default engine of Vivaldi from your device's home screen.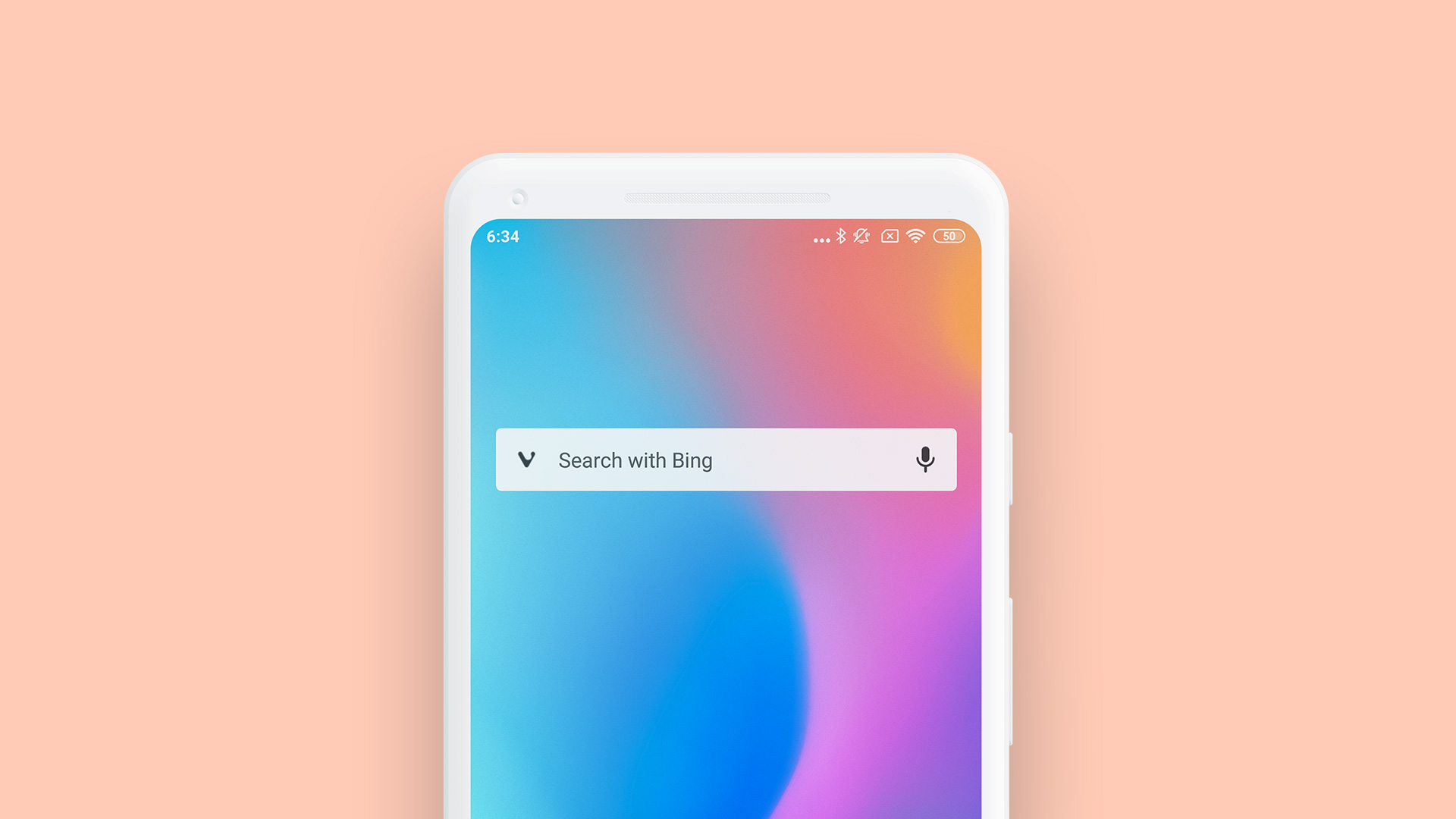 Download Vivaldi
Also, check out the official announcement.
Support us
Winaero greatly relies on your support. You can help the site keep bringing you interesting and useful content and software by using these options:
If you like this article, please share it using the buttons below. It won't take a lot from you, but it will help us grow. Thanks for your support!