How to Fix Twitter is not working in Mozilla Firefox 81
A number of Firefox users are affected by the issue with the Twitter web site. The browser is not able to render Twitter, ending up with a blank page, or with an error page. Some of the mobile Firefox users are also affected by the same issue. Mozilla today released a fix for that issue.
Mozilla details the related bug, that indicates that there is an issue with ServiceWorker. The error page that appears for the Twitter website looks as follows.

The site at https://twitter.com/ has experienced a network protocol violation that cannot be repaired

The page you are trying to view cannot be shown because an error in the data transmission was detected

Please contact the website owners to inform them of this problem.
The team behind the browser is actively working to get the issue resolved. As of now, they offer a quick fix to resolve the issue.
To fix Twitter is not working in Mozilla Firefox 81,
Enter about:serviceworkers in the address bar.
Look for Twitter on the list then click its  button.
Twitter should load the next time you visit it.
Firefox 81 is a minor release that features general improvements and a small number of new features. However, starting with this release, the browser has a new default theme.
Firefox 81 is now available with the new Alpenglow theme
The Alpenglow theme is also known as "Radiance". It is available on Mozilla Add-ons web site, so users will able to install and remove it.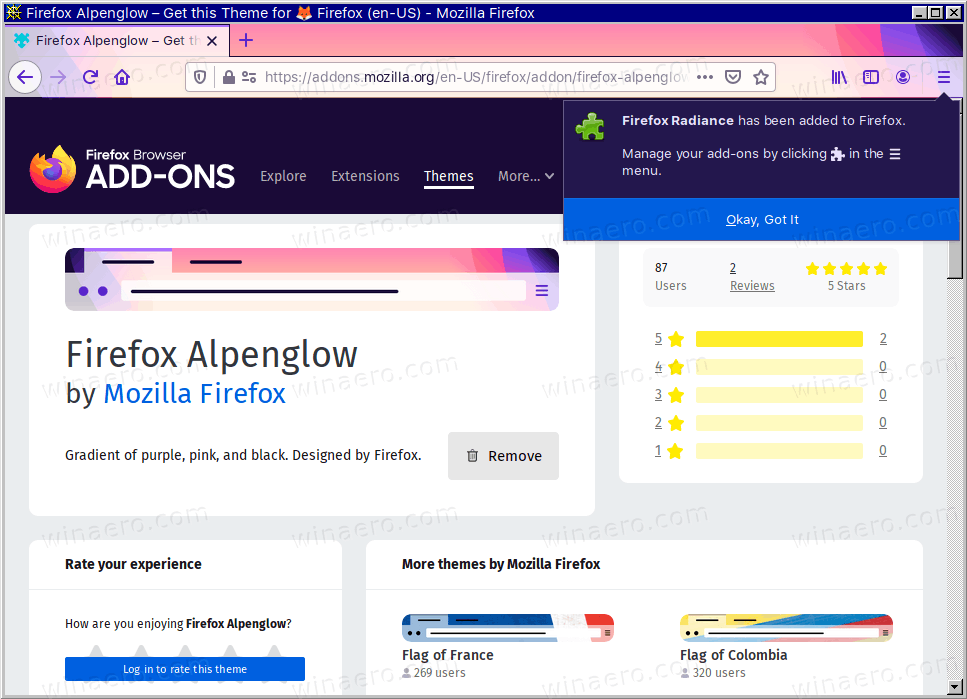 The theme is pretty and colorful, and consists of mostly the purple and orange colors.
Firefox 81 promotes the new theme over existing users via the about:addons,  andabout:welcome pages, and in the Customize page when you open any of them.
Quickly after Firefox 81, Mozilla has issued Firefox 81.0.1 with a small set of minor fixes.