Vivaldi 3.3 arrives on Desktop PCs with a brand new feature: Break Mode. It is also includes a new theme for Private Window, clickable parts in the Address bar, and much more.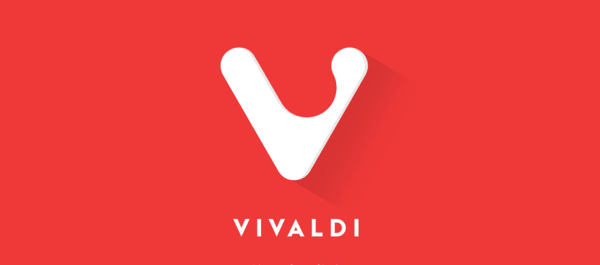 Vivaldi was started with the promise of giving you a highly customizable, full-featured, innovative browser. It looks like its developers kept their promise - there is no other browser on the market which offers the same amount of options and features. While Vivaldi is built on Chrome's engine, power users are the target user base, like the classic Opera 12 browser. Vivaldi was created by former Opera co-founder and developed keeping in mind Opera's usability and power. There is also a mobile version of the browser, also powerful and feature rich.
These day, Vivaldi is the most feature rich, innovative web browser among Chromium-based projects.
The stable release Vivaldi 3.3 comes with the following highlights.
Break Mode
You can use this new option to take a break and to put the Internet on pause to focus your attention elsewhere. Easily triggered with the new pause button at the left corner of the Status Bar, Break Mode mutes and stops HTML5 audio and videos, hides all tabs, panels, and other content leaving the screen clean.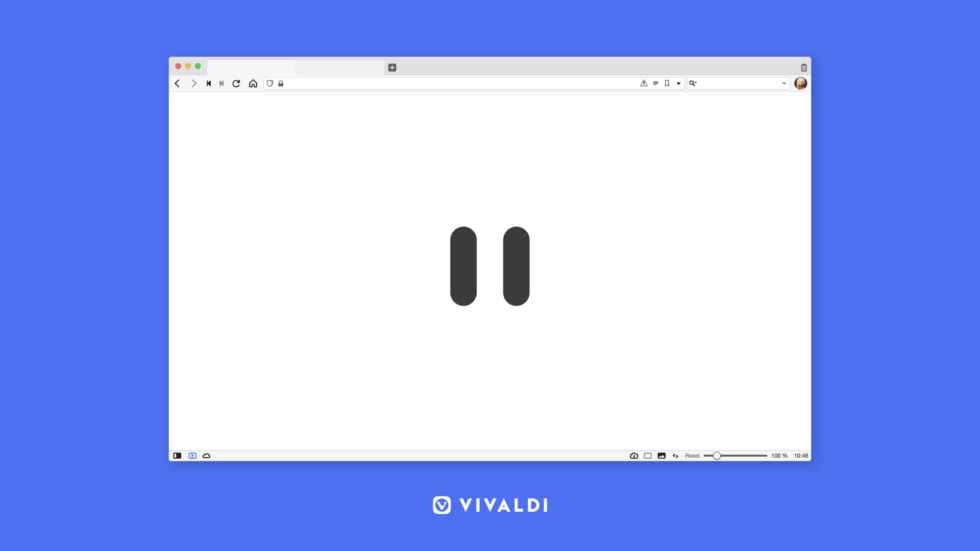 Alternatively, Break Mode can be activated with Quick Commands or its shortcut Ctrl +.
While the built-in Break Mode feature underlines the power of taking a break and limits internet addiction, it is also the quickest way to stop or resume work with several advantages:
Work-life balance: With Break Mode, you can encourage a healthy work-life balance, improve your workflow, and communicate with friends, family, and colleagues in the real world.
Hide private content: Hide browsing activity or sensitive information on the screen at once if interrupted by a colleague or a family member, or when you simply need to step away from the screen for a while.
Shift focus: With Break Mode on, you can use another application and save resources from the browser especially if you have a number of tabs open or audio/video playing.
New Private Window Themes
Vivaldi introduces a brand new "private" theme (applied by default) and also the ability to set unique themes for normal and private windows. However, if you like, you can also set the colors of both window types to match again.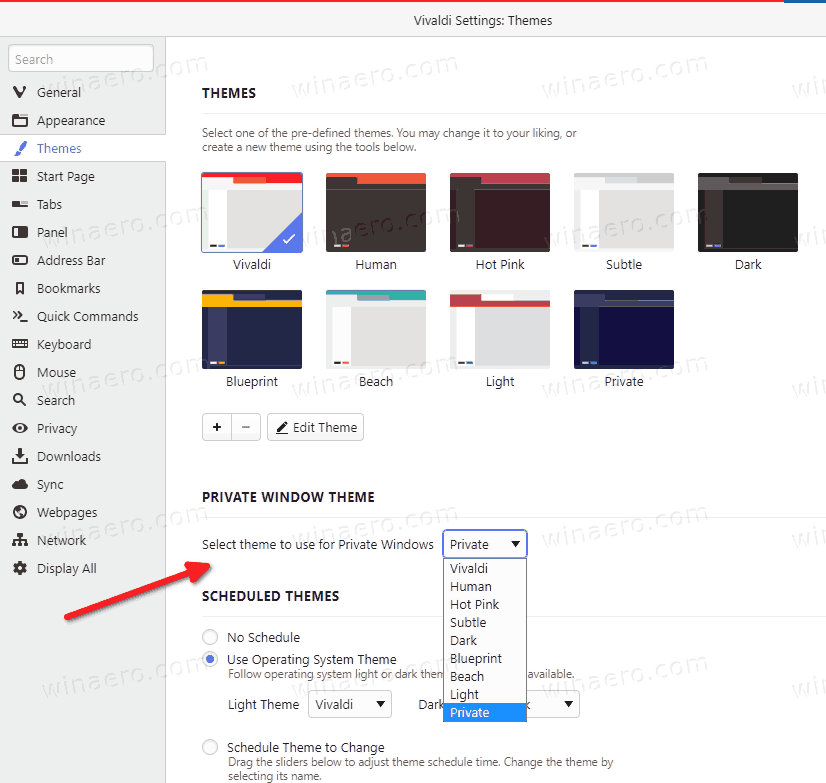 Base Domain Highlight
Vivaldi now shows the top level domain (eTLD+1 "effective top-level domain, plus one" ) in a different color. Here, it appears in the black color, while the other portion of the URL has the dark gray color.

Easier cropping of the URL in the Address Bar
The Address Bar is now further improved and has received a bunch of fixes in this update. It now has clickable parts to the URLs. You can "crop" the URL by pressing CTRL (Cmd/⌘ on macOS) and clicking on a part of the path in the address bar. This reminds of how breadcrumbs work on websites, or how File Explorer shows the path in Windows 8 and Windows 10.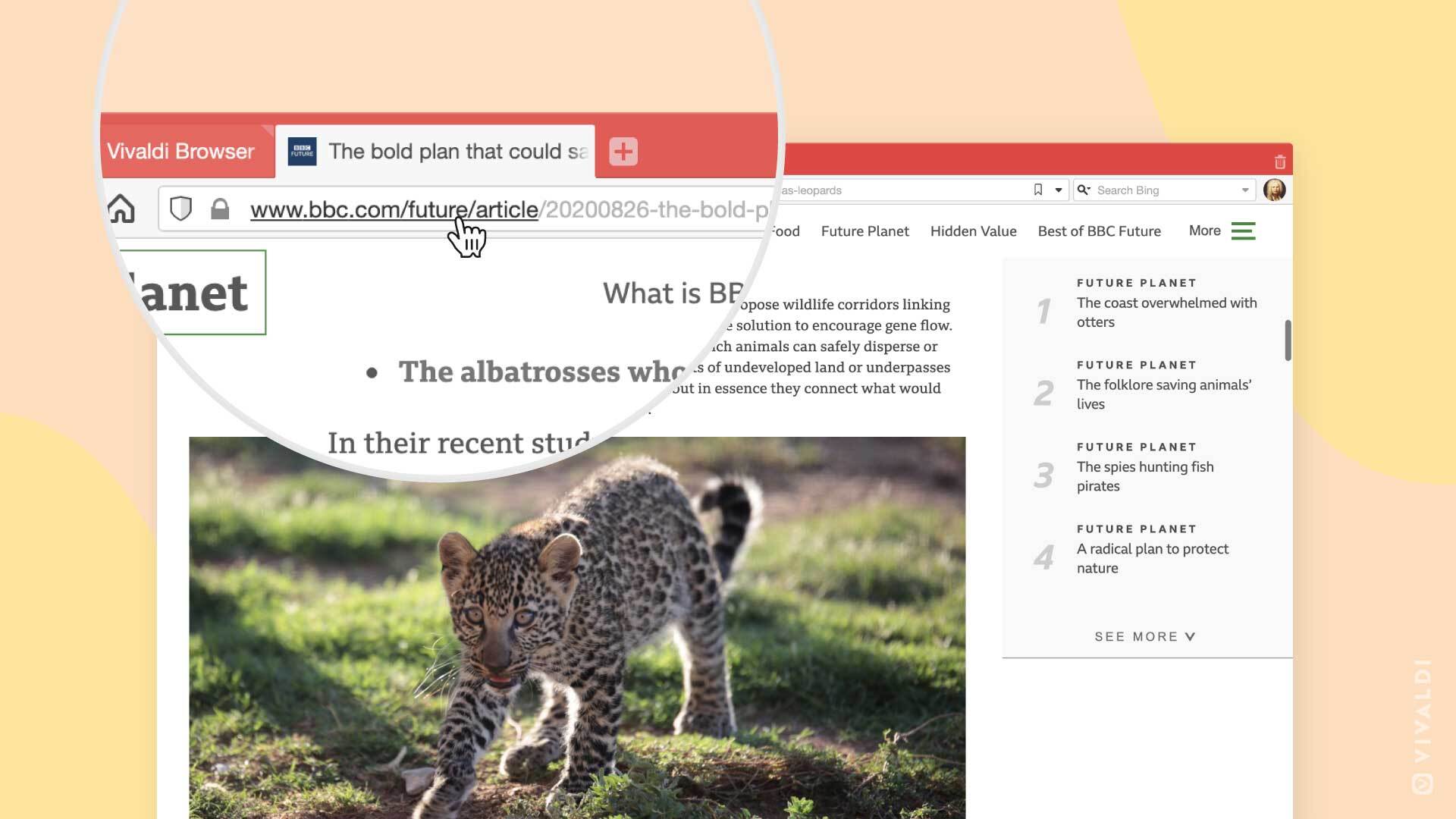 Ad blocker improvements
The ad and tracker blocker feature has got support for more of the rules found in popular blocking lists. It now supports blocking whole pages. You can provide your own sets of rules and can use the document option in block rules to block whole pages. This is a step towards greater compatibility with the uBlock Origin rule set.
Drag & Drop Speed Dials to folders
Similar to its browser on Android, Vivaldi's signature Speed Dial now has the ability to drag and drop entries into folders easily on desktop – another way to organize sites better.
Download Vivaldi
You can get Vivaldi from its official home page:
More info can be found in the official announcement.