How to Permanently Disable InPrivate Browsing in Microsoft Edge
Almost every Microsoft Edge user is familiar with InPrivate Browsing mode, that allows opening a special window that doesn't save your browsing history, cookies, addresses and other form data. It is similar to what other browsers have, e.g. Google Chrome has the Incognito mode similar feature.
InPrivate Browsing in Microsoft Edge opens a window that allows you to browse privately. While it doesn't save things like your browsing history, cookies, site and forms data, it allows you accessing your profile, bookmarks, etc. Actually, cookies remain saved during your InPrivate browsing session, but will be deleted once you exit the InPrivate browsing.
I would like to warn you about how the InPrivate browsing mode works. If you open an InPrivate Browsing window, and then you open another one, Edge will continue using the SAME session data in that new window. To exit (terminate) InPrivate browsing in order to start a fresh session, you need to close all InPrivate browsing windows that you have currently open.
Tip: Edge allows creating InPrivate Browsing shortcut with one click
Opening a new InPrivate Browsing window is pretty simple.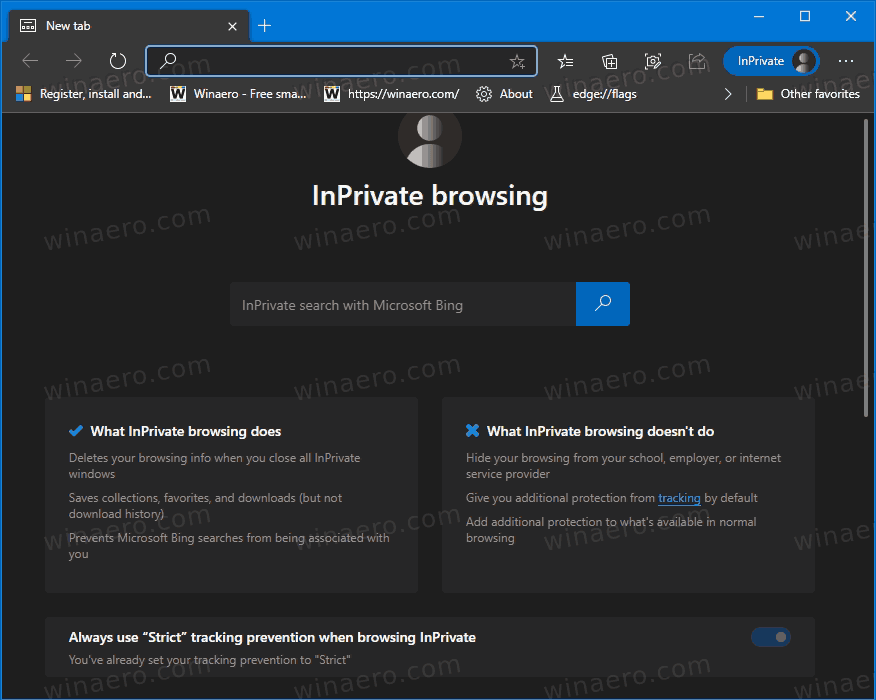 Open New InPrivate Browsing Window In Microsoft Edge
Click the three-dot menu icon to the right of the toolbar.
Choose New InpPrivate window from the menu.
Alternatively, can press Ctrl + Shift + N shortcut keys to open it quickly.
You are done.
However, some users may want to get rid if the InPrivate browsing feature in Microsoft Edge on Windows 10. Some of them need track all online activities. Some of them are system administrators who want prevent regular users from using private mode to open sites they are not allowed to visit. Actually, there could be more reasons for that.
This post will show you how to permanently disable Edge InPrivate Browsing in Windows 10. Before you proceeding, keep in mind the following.
This has been tested and 100% working in Microsoft Edge 87.
You must be signed in with an administrative account to continue.
This involves a Registry tweak. If you are not familiar with the Registry editor app, please read THIS first.
To Permanently Disable InPrivate Browsing in Microsoft Edge
Open the Registry Editor app.
Go to the following Registry key: HKEY_LOCAL_MACHINE\SOFTWARE\Policies\Microsoft\Edge
See how to go to a Registry key with one click. Create the Microsoft and Edge subkeys manually if they are missing.
On the right, modify or create a new 32-Bit DWORD value InPrivateModeAvailability.
Note: Even if you are running 64-bit Windows you must still create a 32-bit DWORD value.
Set its value data to 1 (means Disable). In this mode, pages may not be opened in InPrivate browsing mode.
If the Edge browser is already running, then close and re-open it. The New InPrivate window option will appear grayed out in the menu of Edge.
You are done.
That new briefcase icon next to the New InPrivate window item means that the option is managed with Group Policy.
Note that the mentioned InPrivateModeAvailability DWORD value can be set to the following value data:
0 -> Enable (default)
1 -> Disable. In this mode, pages may not be opened in InPrivate browsing mode.
2 -> Force. In this mode, pages may be opened ONLY in InPrivate browsing mode.
If you find this post useful, could you please express in the comments, why you have InPrivate browsing mode disabled? Thanks in advance.
Now read: How to Permanently Disable Incognito Mode in Google Chrome
Support us
Winaero greatly relies on your support. You can help the site keep bringing you interesting and useful content and software by using these options: