We will review different way to open Windows Terminal in Windows 11. It has become the default console tool, replacing the classic command prompt and its successor, PowerShell. Actually, it doesn't replace both, but unifies them under the new, modern and useful UI.
Windows 11 comes with a pre-installed Windows Terminal by default. It is a new console app from Microsoft that combines several command line-based applications in a single environment. Windows Terminal also supports hardware acceleration, custom fonts, tabbed interface, etc.
Open Windows Terminal in Windows 11
Here is how you can open Windows Terminal in Windows 11. We will review several methods of launching the app, including the Start menu, Search, the Run dialog, and File Explorer. Other methods involve the Task Manager app, and the Win + X menu.
Tip: Working with Windows Terminal quite often requires an Administrator access level. Learn how to "Run as Administrator" in Windows 11 using our dedicated guide.
Press the Start button, which now has four blue squares and is the leftmost icon at the taskbar center. You can disable the centered taskbar in Windows 11.
Click All Apps.
Scroll down the list and click Windows Terminal. You can also find apps by letter in Windows 11 using alphabet navigation.
Tip: If you plan to work with Windows Terminal frequently, pin the app to the taskbar so that you always have it nearby. Launch Windows Terminal using any of the methods in this article, then right-click its icon and select Pin to Taskbar.

The same idea applies to the Start menu. Windows 11 allows pinning any app, including Windows Terminal, to the Start menu. Right-click Windows Terminal in the list of all apps and select Pin to Start.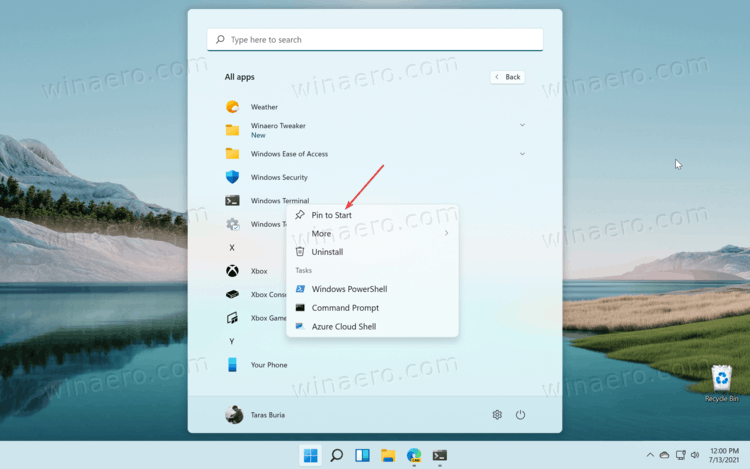 Launch Windows Terminal using Search
Press Win + S or open the Start menu and click the search bar at the top. Alternatively, you can just start typing right away after opening the Start menu.
Enter Windows Terminal or Terminal. Windows will show the app in the Best Match or Apps section.
Click on the Open entry. There you can also find a button to run Windows Terminal as an Administrator.
Open Windows Terminal in Windows 11 using the Run dialog box
Press Win + R, then enter the following two-letter command: wt.
Press Enter.
From there, you can also open Windows Terminal as Administrator by pressing the Ctrl + Shift + Enter shortcut keys.
Using Task Manager
Windows 11 allows launching apps and processes within Task Manager. Before you proceed, we recommend reading the "How to open Task Manager in Windows 11" article, as Microsoft removed some popular ways many people used to open Task Manager.
Open Task Manager.
Click File > Run new Task.
Enter the wt command. If needed, place a checkmark next to the Create this task with administrator privileges option.
You can also use the Win + X menu in Windows 11 to launch different utilities, such as Task Manager, Device Manager, Disk Management, and Windows Terminal.
Press Win + X, or right-click the Start button. If you have a computer with a touch screen, you can tap and hold the Start button.
Click Windows Terminal.
Alternatively, if needed, click Windows Terminal (Admin) to open Windows Terminal as Administrator in Windows 11.
Finally, you can open any folder in Windows Terminal using the built-in command, or add a set of custom commands to open it directly in the required profile and/or as Administrator.
Right-click to open Windows Terminal in File Explorer
Finally, you can open any folder in Windows Terminal by right-clicking it and selecting Open in Windows Terminal. That works on the Desktop and any other directory.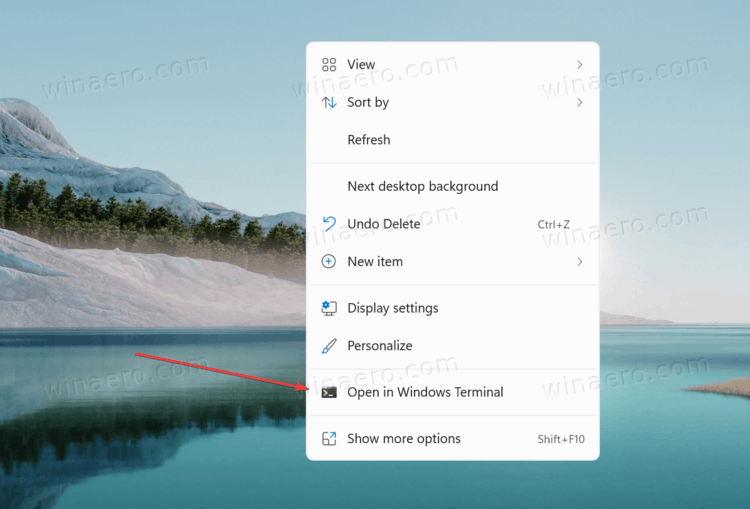 Note that the previous method does not allow you to run Windows Terminal as an Administrator. Also, you cannot select a profile other than the default one. You can change that using Winaero Tweaker. It allows you to place a Windows Terminal option with different profiles in cascading menus in Windows 11.
Download Winaero Tweaker and install it.
Launch the app, then find the Windows Terminal option.
Place a checkmark next to the Add Windows Terminal Cascading Menu and/or Add Windows Terminal (Administrator)  settings. You can enable both. Also, Winaero Tweaker allows you to specify the profiles you want to have in the menu.
Now, right-click on any folder in File Explorer and select Show more options.
Select one of the Windows Terminal items.
If you don't like the idea of using Winaero Tweaker, there are also ready-to-use Registry files that are available in the following blog post for the regular menu commands, and in this one for elevated.
That is it. Now you know all the ways to open Windows Terminal in Windows 11.
Support us
Winaero greatly relies on your support. You can help the site keep bringing you interesting and useful content and software by using these options:
If you like this article, please share it using the buttons below. It won't take a lot from you, but it will help us grow. Thanks for your support!