In Windows 10, there is a new feature called Notifications Center. As you use the OS, it shows you notification toasts on the Desktop. This includes feedback requests in Windows 10 Technical Preview, Windows Update notifications, security warnings and so on. There is a trick which allows you to get rid of notifications in Windows 10.

First, you can use the context menu option of the Notification Center tray icon. Right click it and check out the submenu that says Hide notifications for:



There you can hide notifications for 1, 3 and 8 hours.
With a simple Registry tweak you can disable notifications completely. A side effect of this tweak is that the Quick Actions buttons disappear from the Notification Center, however, you won't have to deal with annoying toasts at all. Here we go.
Open Registry Editor.
Go to the following Registry key:

HKEY_LOCAL_MACHINE\Software\Microsoft\Windows\CurrentVersion\ImmersiveShell

Tip: See how to jump to the desired Registry key with one click.
That's it. You are done. This trick will also disable Quick Actions: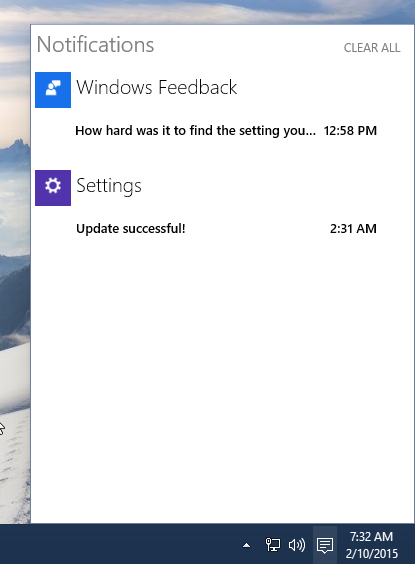 To restore toast notifications, set the UseActionCenterExperience parameter to 1 and restart Explorer.