How to Disable Recommended Searches and Skype Meet on Edge New Tab Page
A small change has landed in the Canary branch of the Edge browser. The new tab page now shows search queries recommended by Microsoft below the search text box, and also promotes the Skype Meet feature.
Microsoft Edge is now a Chromium-based browser with a number of exclusive features like Read Aloud and services tied to Microsoft instead of Google. The browser has already received a few updates, with support for ARM64 devices in Edge Stable 80. Also, Microsoft Edge is still supporting a number of aging Windows versions, including Windows 7, which has recently reached its end of support. Check out Windows Versions Supported by Microsoft Edge Chromium and Edge Chromium latest roadmap. Finally, interested users can download MSI installers for deployment and customization.

For pre-release versions, Microsoft is currently using three channels to deliver updates to Edge Insiders. The Canary channel receives updates daily (except Saturday and Sunday), the Dev channel is getting updates weekly, and the Beta channel is updated every 6 weeks. Microsoft is going to support Edge Chromium on Windows 7, 8.1 and 10, alongside macOS, Linux (coming in the future) and mobile apps on iOS and Android. Windows 7 users will receive updates until July 15, 2021.
Recommended Search on Edge New Tab Page
The latest Canary build of Edge (see the version list below) displays recommended searches below the search box on the new tab page.

Besides the search recommendations, there is a promotional button for Skype Meet. Meet in Skype allows you to easily set up a collaboration space and invite both Skype contacts and friends or family who are not on Skype. Participants can then easily join meetings whether they have an account or not.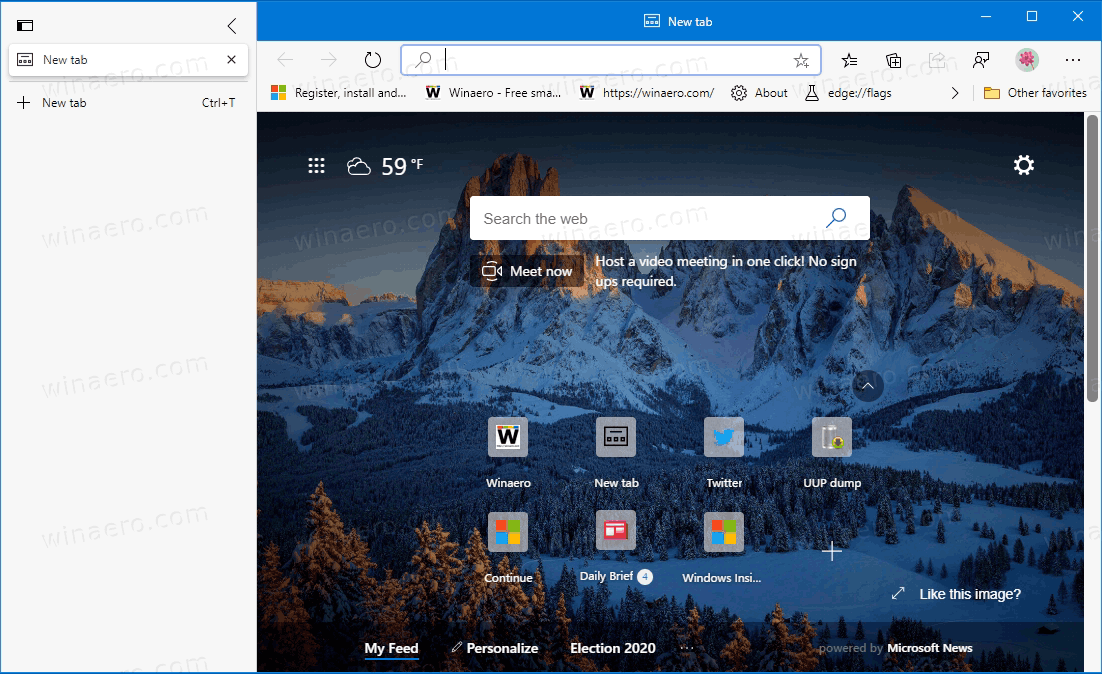 Clicking on the button on the Edge New Tab Page opens a special website where you can start a meeting via Skype. The unique link will be generated so you can quickly share it and invite other participants to the video conference.
To Disable Recommended Searches and Skype Meet on Edge New Tab Page,
Open a new tab in Microsoft Edge.
Click on the Settings button with a gear icon.
Click on the Custom entry.
In the Settings flyout, turn off the Recommended searches toggle option.
This will disable Recommended searches button and Skype Meet on the new tab page of Microsoft Edge.
You are done!
Actual Edge Versions
---
Download Microsoft Edge
You can download pre-release Edge version for Insiders from here:
Download Microsoft Edge Insider Preview
The stable version of the browser is available on the following page:
Download Microsoft Edge Stable
---
Note: Microsoft has started delivering Microsoft Edge to users of Windows via Windows Update. The update is provisioned for users of Windows 10 version 1803 and above, and replaces the classic Edge app once installed. The browser, when delivered with KB4559309, makes it impossible to uninstall it from Settings. Check out the following workaround: Uninstall Microsoft Edge If Uninstall Button is Grayed Out.