Recently, Microsoft shared a new security feature which can extend the protection level of the built-in Windows 10 antivirus called "Windows Defender". In addition to its default features of scanning for malware using definitions, it is possible to enable detection of potentially unwanted software (PUS). If you are interested in knowing how to enable it, follow the instructions in this article.

RECOMMENDED: Click here to fix Windows errors and optimize system performance
Detection of potentially unwanted software can be enabled for Windows Defender with a simple Registry tweak. You need to do it as follows:
Open Registry Editor.
Go to the following Registry key:

HKEY_LOCAL_MACHINE\Software\Policies\Microsoft\Windows Defender\MpEngine

Tip: See how to jump to the desired Registry key with one click.
If you don't have such a key, then just create it.

Create here a new 32-bit DWORD value named MpEnablePus. Note: Even if you are running 64-bit Windows 10, you still need to create a 32-bit DWORD value.
Set its value data to 1 to enable Potentially Unwanted Application protection. After you do this, apps with unwanted behavior will be blocked from being downloaded and also at install-time.
Restart your computer for the setting to take effect.
To disable this behavior, just delete the MpEnablePus DWORD value.
You can save you time and use Winaero Tweaker. It comes with the following feature: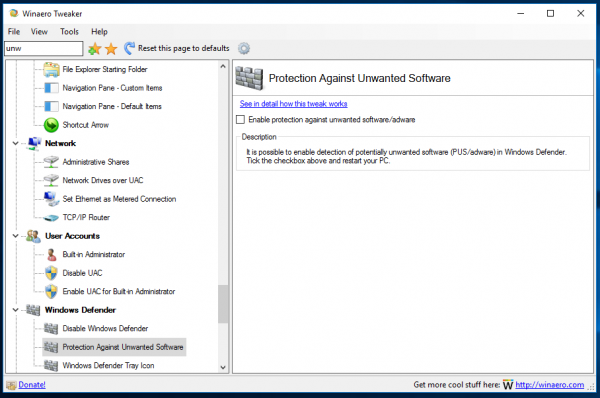 Get it here:
It is good to see that Microsoft is still improving Windows Defender although it only offers baseline protection. Other anti-malware apps have had such features for several years. Nevertheless, this is a good change for those who prefer using Defender over other antivirus software.
Note: Microsoft claimed this as a feature of the Enterprise edition of Windows 10. However, it works in all editions of Windows 10, if you applied the mentioned tweak.
That's it.
RECOMMENDED: Click here to fix Windows errors and optimize system performance