Microsoft is releasing Windows 11 Insider Preview Build 23486 to the Dev Channel. The company has restored Folder Options removed in a previous build. Besides, there are Passwordless authentication improvements, Dynamic Lighting, and Settings app changes and improvements. Finally, Emoji 15 is now available to everyone.
What's new in Windows 11 Build 23486
Passwordless Login Improvements
Microsoft believes that in the future users will have to stop using passwords. Instead, everyone will use access keys that are resistant to phishing attacks, can be recovered, and are generally more user-friendly. As a result, it will be more difficult for attackers to steal and use credentials to log in to a website or application.
You can now sign in to any app and website that supports passkeys, create and set up a sign-in using this feature, and then sign in with Windows Hello (face, fingerprint, or PIN). You can also complete the login process using your smartphone.
Create and sign in using passkeys saved on your Windows device:
Go to a website that supports the Windows passkey feature (example: bestbuy.com, ebay.com, google.com).
Create an access key in your account settings.
Sign out of your account and sign in with your key.
Login with keys stored on your smartphone
Go to a website that supports the mobile passkey feature (example: bestbuy.com, ebay.com, google.com).
Create an access key in your account settings.
Go to the website in Windows and sign in using the passkey you saved on your mobile device.
Manage access keys stored in Windows
Users can now view and delete access keys saved for apps and sites using the Settings app.
Go to "Settings" -> "Accounts" -> "Passkeys".
A list of all keys stored on the Windows device will appear on the screen.
You can find and remove any password from the device.
Note. If Microsoft Edge or Google Chrome displays the browser passkey selection UI, switch to the Windows Hello or Foreign Security Key option. Also you can use Google Chrome Canary where this feature works properly. Over time, changes from Google Chrome Canary will be carried over to Microsoft Edge.
Changes and improvements
File Explorer
Based on insider feedback, Microsoft has rolled back a change that removes some settings from File Explorer's Folder Options dialog.
Dynamic Lighting
New effects are available in Settings -> Personalization -> Dynamic Lighting , including Wave, Wheel, and Gradient.
Emoji
The Unicode Emoji 15 standard, introduced in build 23475 , is now available to all Insiders on the Dev channel.
Settings
If the system could not reliably determine the current location, then the time zone setting will not be performed automatically. Instead, the user will receive a non-dismissable notification where they must confirm or cancel the proposed time zone change.
Improved time zone change in Settings -> Time & Language -> Date & Time. If location is disabled on the system, a notification will appear on the page prompting you to enable this feature to fine-tune the time zone.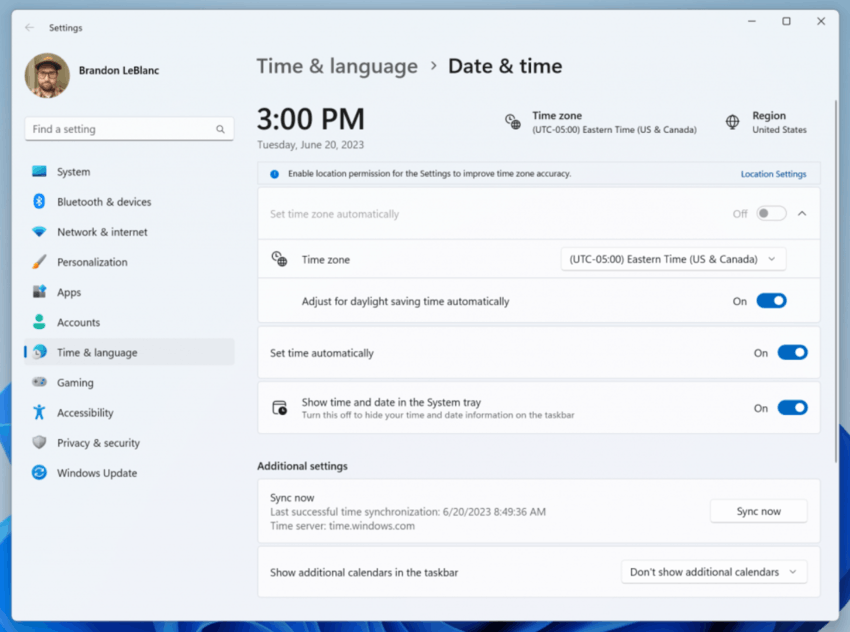 Fixes
Dynamic Lighting
Fixed an issue where on the first boot after connecting a device in Settings, the "Use dynamic lighting on my devices" option was disabled and the LED lighting might not turn on automatically.
Input
Fixed an issue resulting in a blank window titled "Windows Input Experience" after waking the device from sleep.
Networking
Fixed an issue that caused the login screen to crash when trying to connect to certain networks.
Task Manager
Fixed an issue resulting in Task Manager crashes for some users.
Fixed an issue that caused the search field to focus incorrectly if the Task Manager window was too small to display an icon button instead of the search field.
Fixed alignment of icon and title of "Task Manager" in the title bar.
Now right-clicking in an empty space on the Details page does not show the option to create a real-time kernel memory dump because no process is selected.
Fixed an issue where kernel memory dumps were not cleared using the Storage Sense feature.
Note. Some of the fixes listed above may be included in cumulative updates for release versions of Windows 11.
Known Issues
Dev drive
Performance may vary across devices. If you notice a decrease in performance, then do not forget to write a review about it.
Search on the taskbar
[New] After changing the Windows interface language, the search field on the taskbar may appear in the previous language for a while, after which it will automatically switch to the selected language.
Text scaling does not work in search popup.
File Explorer
[New] In some cases, the context menu background in File Explorer can be transparent.
File Explorer may crash when interacting with the scrollbar or trying to close the window while loading files.
Thumbnail loading performance for cloud files and excessive RAM usage in large collections are known issues that Microsoft is working on. For performance related issues, be sure to record a trace before submitting feedback to the Feedback Hub.
Rebuilding indexing can help if cloud file thumbnails are missing. To do this, open "Indexing Options" and go to "Advanced Settings" to find the rebuild tool.
The Details panel can show a very large value for the number of selected files.
If a redesigned home page is available in File Explorer:

In the "Recommended" section, icons of file types are displayed instead of thumbnails (only for corporate users).
Insiders who are signed in with an AAD account and try to navigate to the Featured section of the File Explorer home page using the Tab key may experience explorer.exe crashing.
When switching from another section to "Recommended" using the keyboard, the focus will not be displayed correctly on the section header or files in it.
File extensions are displayed even if the corresponding option is disabled.

If an updated address bar is available in File Explorer:

Insiders may notice some bugs in the new address bar and search field. Microsoft welcomes feedback with details to help resolve issues.
Moving focus using the keyboard and keyboard shortcuts may not work. Microsoft has implemented an improved implementation of tab switching using keyboard shortcuts, and it will be available soon.
If the address bar displays "...", then clicking on this item will crash explorer.exe.

Problems with commands for recommended files:

When you click on the "Share" button, a system window will open, not a window from OneDrive.
Notifications
The button to quickly copy two-factor authorization (2FA) codes in toast notifications does not work in this build (introduced in build 23403). The issue will be fixed in future builds.
Dynamic Lighting
[New] Using the Wave and Wheel effects may result in inability to enter text in some applications.
Changing settings for all devices does not apply to individual devices.
There are no icons on the device cards in Settings.
Switching between accounts may turn off the LED lights on devices.
Windows Ink
Users can't use ink to delete text in Microsoft Edge.
The address bar in Microsoft Edge may not work correctly.
In Microsoft 365 Apps, the Windows Ink feature does not convert ink to content (such as Word documents or Excel spreadsheets).
In Microsoft 365 apps (such as Word), the search box may not work correctly.
Comment fields may not work correctly in Microsoft 365 apps (such as Word).
Source: Microsoft
Support us
Winaero greatly relies on your support. You can help the site keep bringing you interesting and useful content and software by using these options:
If you like this article, please share it using the buttons below. It won't take a lot from you, but it will help us grow. Thanks for your support!