Dev channel insiders are receiving Windows 11 Build 23466 that comes with a huge number of changes. There are the earlier announced Dev Drive feature, the ability to ungroup taskbar buttons and show their labels, the ability to backup and restore your Store apps to the cloud, and tons of other changes.
What's new in Windows 11 Build 23466 (Dev)
Dev Drive
Dev Drive is a new feature in Windows 11 designed to improve the performance of key developer workloads. With it, you can create a separate partition on your hard drive that will use the Resilient File System (ReFS) file system, which provides better performance and security. The feature is designed to meet the needs of developers to host the project's source code, working folders, and package cache. It is not designed for typical consumer workloads, whether it be storing documents, installing applications, and so on.
You can create a Dev Drive partition from free space on your disk or use VHD/VHDX virtual hard disks. To do this, go to "Settings" -> "System" -> "Storage" -> "Advanced storage settings" -> "Disks and volumes" or use the command line. The Dev Drive partition must be at least 50 GB. More than 8 GB of RAM is also recommended. More details here.
Microsoft Defender Antivirus has a new performance mode that is designed to minimize the impact on developer workloads in the Dev Drive.
Backup and recovery improvements
Microsoft is testing new system settings backup and restore options to make it easier to migrate to a new PC and help developers retain customers. The goal of the changes is to provide users with a familiar desktop so that you can return to work on another device in minutes.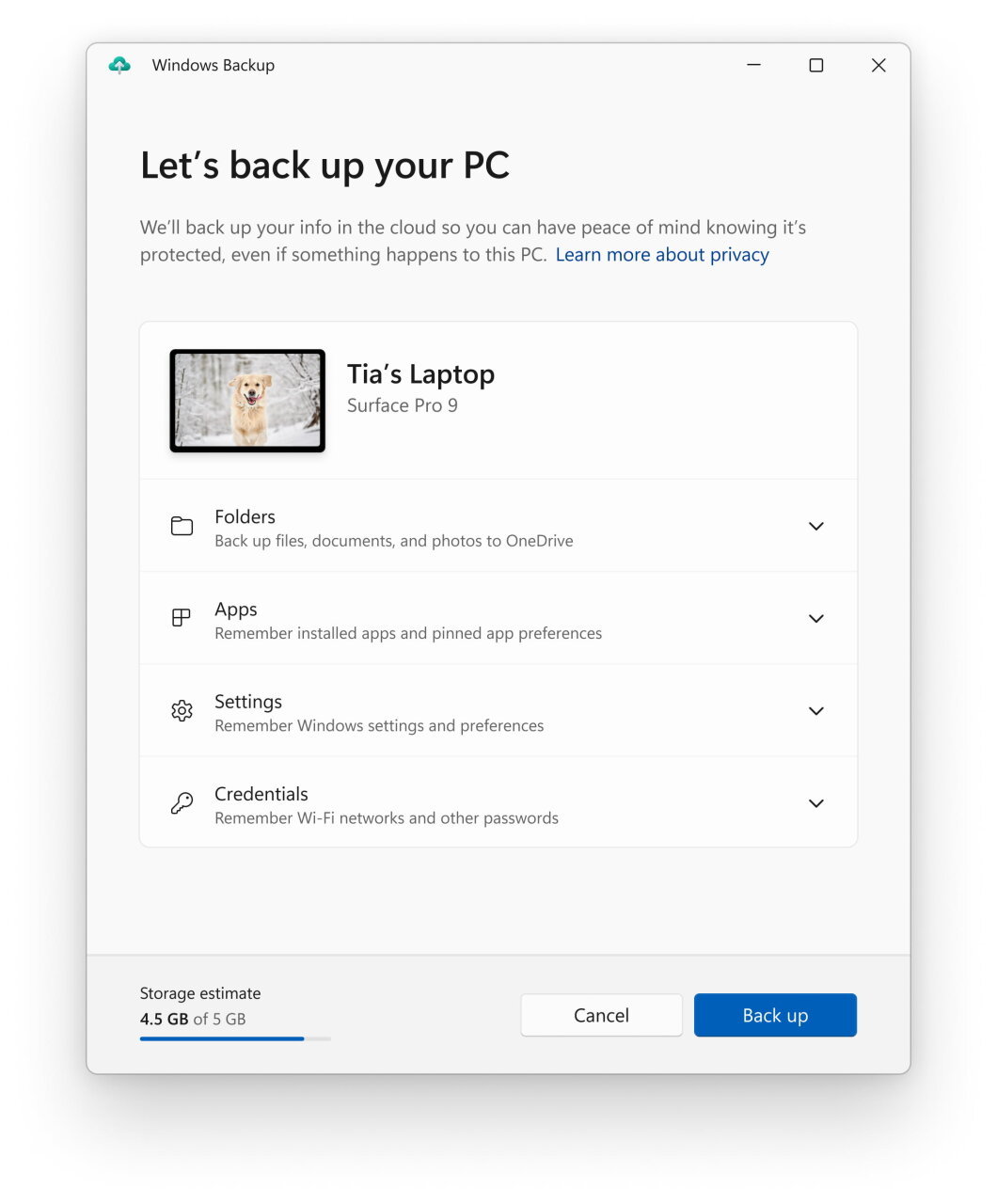 The Windows Backup app is a new app that lets you quickly back up your PC in preparation for migrating to another device.
Pinning apps - Your Microsoft Store apps from your previous PC will be pinned to the same places they were previously. This applies to both the taskbar and the Start menu.
Settings - Settings from your previous computer will be restored to your new device so you can get back to work faster.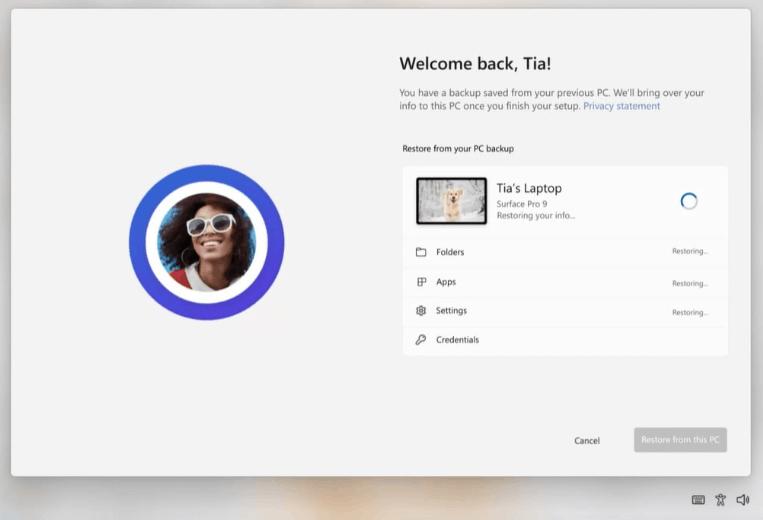 After creating a backup, either using the new Windows Backup app or under Accounts -> Windows Backup, you can try out the restore feature during the Windows 11 Initial Setup (OOBE) on a new PC or after a factory reset on your current device.
Note that backing up desktop (Win32) apps from the Microsoft Store and Android apps is not supported in this build. Backing up work and school accounts is also not supported.
To facilitate the creation of texts through voice commands, two new features have been added.
The "correction" command allows users to correct incorrectly recognized words. It is now possible to correct a specific piece of text or the last dictated text by saying "correct [text]" or "correct that".
A drop-down list, indicated by numbers, will appear with correction options. To select an option, say "click [number]". Additionally, users can dictate the correct text by saying "spell that".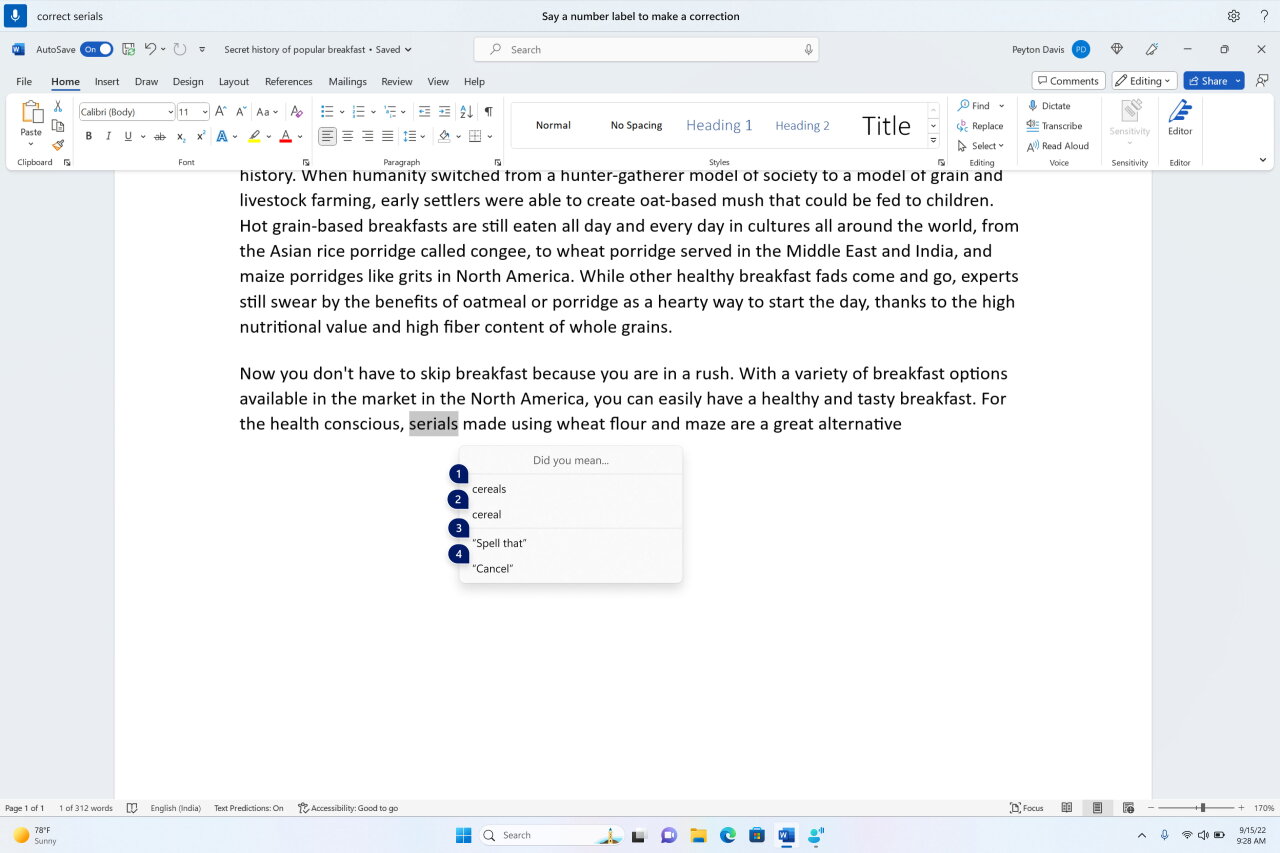 Users can use the "spell that" or "spell out" commands to dictate the correct spelling of non-standard words, such as usernames, topics, etc. This will bring up a spell check window where you can dictate letters, numbers, symbols , phonetic alphabet, etc. Suggestions will appear as you type. All words and phrases dictated using this feature will be added to the Windows dictionary and will be displayed as suggestions in the future.
This change is not yet available to all Insiders in the Dev channel. Microsoft wants to collect feedback from a small group of users before the change is made available to all Insiders.
Narrator natural voices in Chinese
Narrator users can now enjoy browsing the web, reading and sending emails, and more with greater ease, thanks to the addition of new Chinese natural voices. These voices incorporate advanced text-to-speech technologies and can be used offline after downloading the package to your device.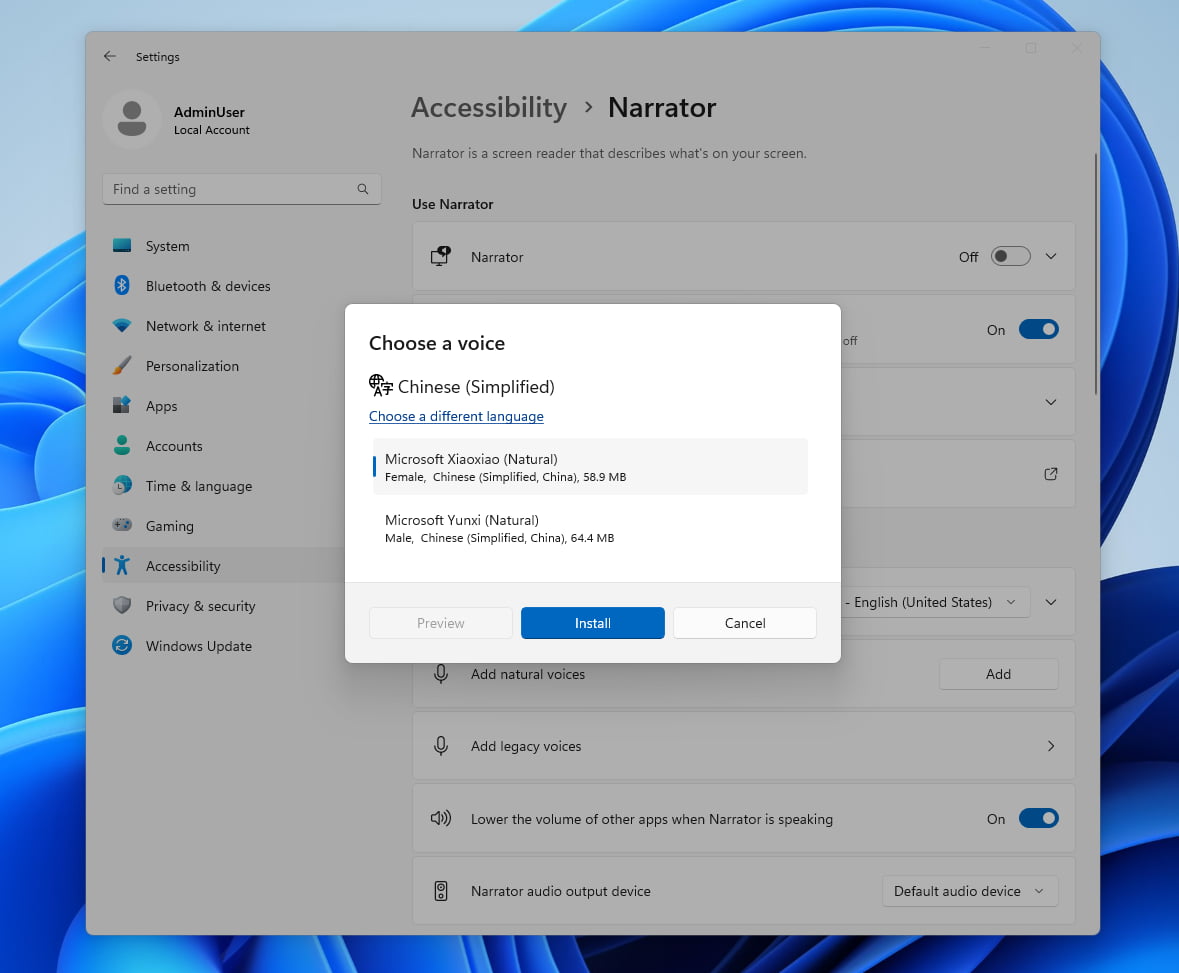 Changes and Improvements
Notifications
To make notification toast less likely to distract you from work, Windows 11 will now detect if a user is interacting with notifications from specific apps. If not, the system will offer to disable pop-up notifications for such applications. However, notifications will still appear in the Notification Center.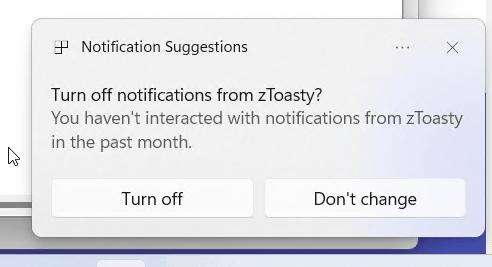 This feature is available to a small group of select Insiders.
Microsoft is currently experimenting with a new ranking model for the Recommended section of the Start menu, specifically for recently used files. This model considers various factors such as the file's last usage time, extension, and more. As a result, files may not be arranged in reverse chronological order.
Taskbar and system tray
This build introduced an early version of the feature that allows you to ungroup items on the taskbar. In this mode, each application window will be displayed as a separate element with the name of the window to the right of the icon. You can find the function in the section "Settings" -> "Personalization" -> "Taskbar" -> "Taskbar Behaviors".


This feature is available to a limited number of insiders
Taskbar Search
Microsoft has resumed testing a new "Search" behavior that activates when the user hovers the mouse over a search bar or button in the taskbar. The company believes that this interaction model is more convenient, as it allows the "Search" pop-up to appear on mouse hover. Users can disable this feature by right-clicking on the taskbar, selecting "Taskbar settings," and choosing their preferred mode of working with "Search."
File Explorer
All insiders in the Dev channel now have access to the Windows App SDK-based version of File Explorer. The pizza icon has been removed from the toolbar.
Emoji
Microsoft has updated several emojis based on user feedback. There are a few bugs in this build that will be fixed in the future.

Windows Security prompts
Microsoft has updated the Windows Security (firewall) notification dialogs that match the Windows 11 visuals.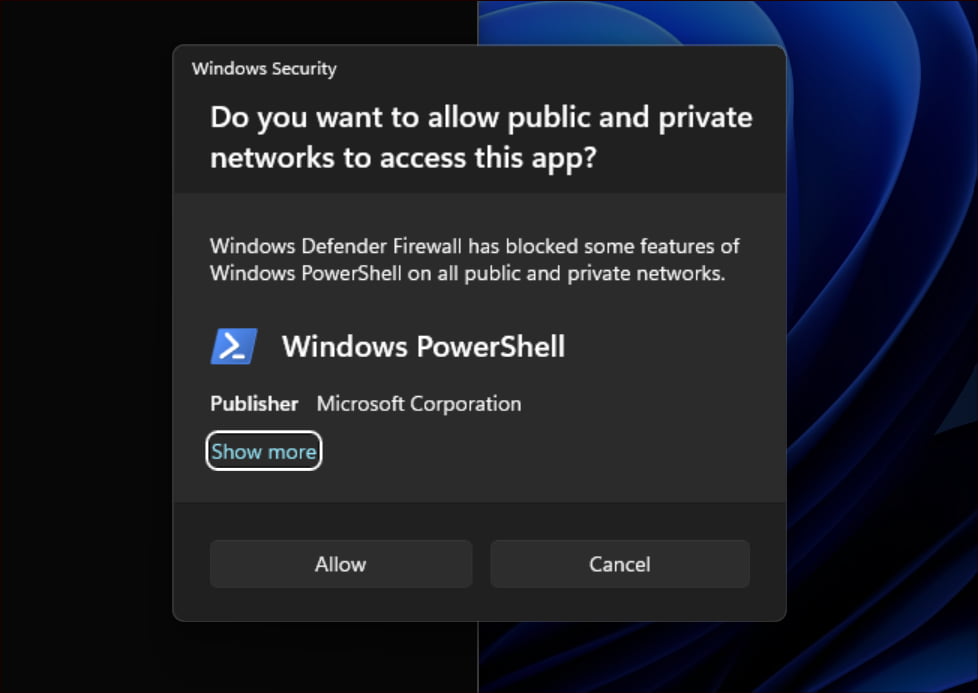 Networking
Added support for connecting "Network Bridge" via the command line using netsh.
Passpoint Wi-Fi networks now provide better connection performance and display the URL in Quick Actions to provide users with event location information.
Added WPA3 support for Hotspot feature in Link to Phone app for more secure connection to smartphone hotspot. Changes have also been made to respect metered connection settings, reduce duplicate profiles, and display the smartphone's display name in the network list.
Settings
Added links to advanced network adapter properties and network connection properties in Settings -> Network and Internet -> Advanced network settings.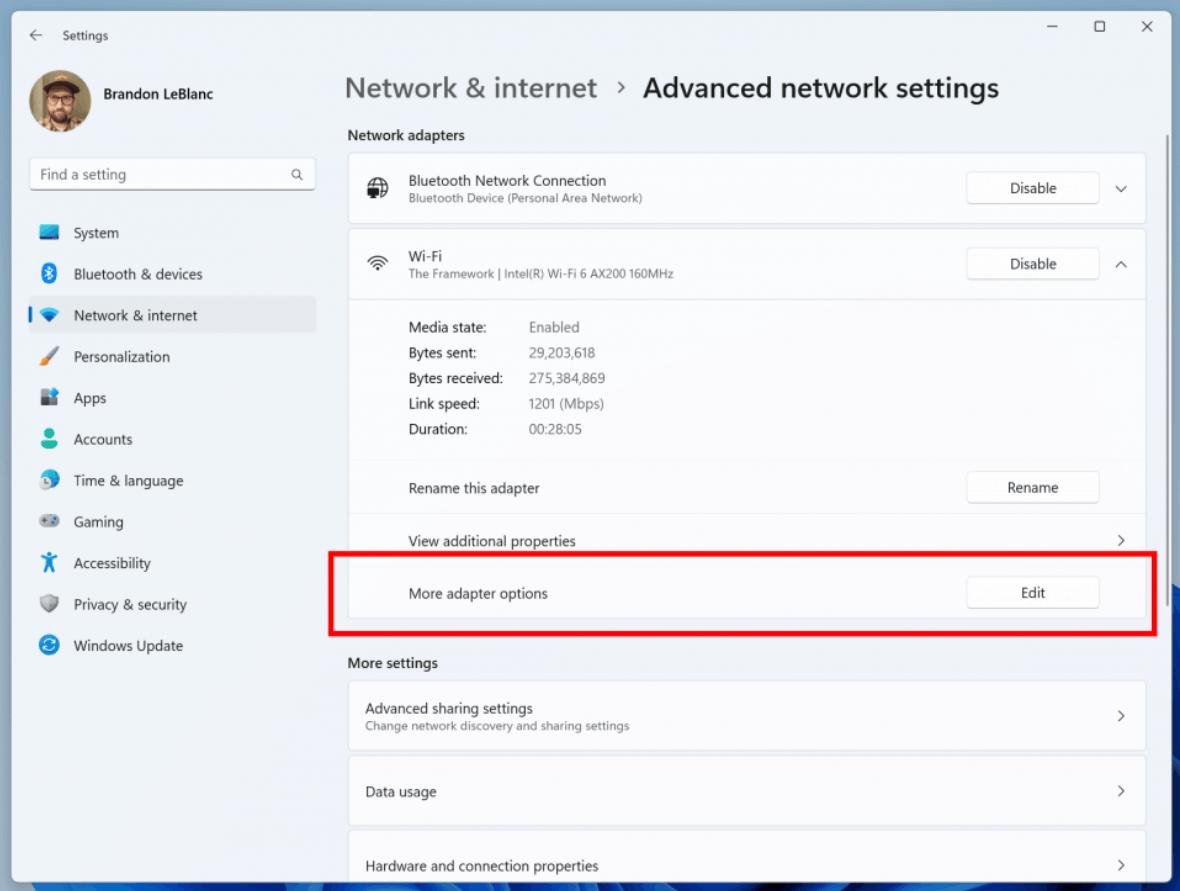 Added the ability to view passwords for known Wi-Fi networks in Settings > Network and Internet > Wi-Fi > Manage Known Networks.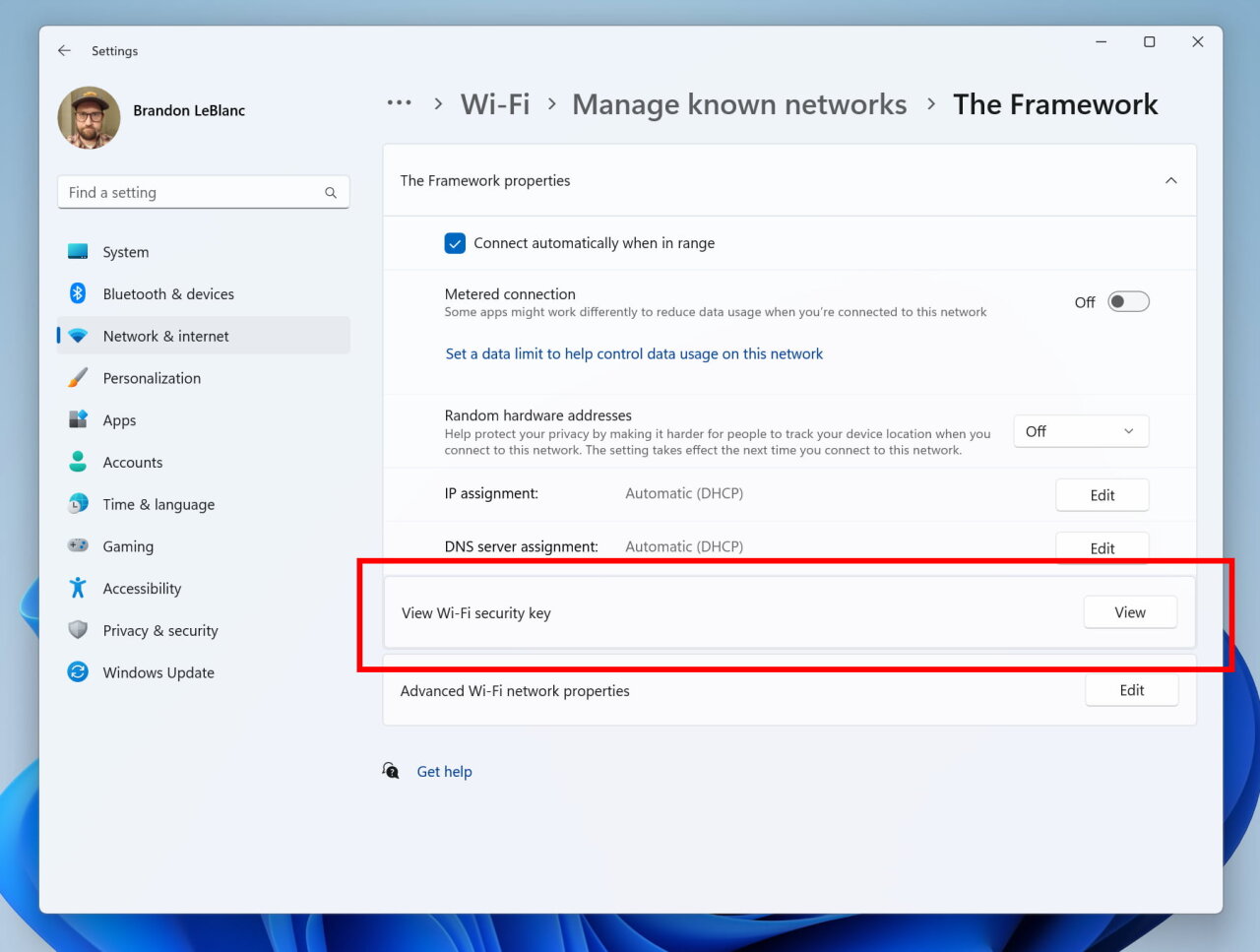 Added the ability to connect to Bluetooth Personal Area Networks under Settings > Bluetooth & Devices > Devices. This option will appear for paired devices, such as smartphones, that can share the Internet via Bluetooth.
Added additional options to the Data Usage page that allow you to set a daily and weekly data limit. Also, the page now displays information about how much the limit was exceeded.
Updated the design of the lists displayed under Settings > Apps > Startup Apps and Settings > Apps > Advanced App Settings > App Execution Alias pages to be more consistent with other Settings pages.
Updated "Settings" > "Applications" > "Startup"  to make it easier to access additional information about apps listed there.
For Developers
The "For Developers" settings page has been moved from Settings > Privacy & security to Settings > System.
Fixes
File Explorer
The following issues have been fixed in the version of File Explorer based on the Windows App SDK: 

Fixed an issue that could cause File Explorer and Control Panel to stop responding to clicks after invoking the context menu.
Fixed an issue resulting in File Explorer and the taskbar not responding to a theme change (between light and dark) until explorer.exe was restarted.

The following issues with the Gallery section have been fixed: 

Added icons for items in the "Collection" dropdown menu in the "Gallery".

Fixed issues with the new Details panel:

Fixed an issue resulting in Narrator not announcing information about opening and closing the Info sidebar.
Taskbar
Fixed an issue where the taskbar when using multiple monitors would show an indicator that the window had focus on the current screen when it actually didn't.
Taskbar Search
Fixed an issue resulting in some users experiencing content flickering when opening the Search window until the content had finished loading.
Fixed an issue that caused Search to crash after launch for some Insiders.
Notifications
Fixed an issue that caused the Notification Center and the Notifications page in Settings to crash when toggling the Do Not Disturb status. The issue has been observed by some Insiders in the last few builds.
Task Manager
The search icon should now be more visible when using a contrasting theme.
Pressing the Enter key while keyboard focus is on one of the sections (e.g. Memory) on the Performance page should now switch sections.
The navigation bar has become a little smaller. If necessary, section titles can be wrapped on a new line.
The submenu for creating a real-time kernel dump file now has keyboard shortcut hints.
Resizing the Task Manager at the top of the window should now work.
Settings
Fixed an issue that caused the Settings app to crash when navigating to certain pages.
Windows Spotlight
Fixed an issue that caused explorer.exe to crash when clicking the "Learn more about this image" button. The problem was observed in the previous assembly.
Note. Some of the fixes listed above may be included in cumulative updates for release versions of Windows 11.
Known Issues
Dev Drive:
[New] Additional filters besides AV can be attached to the Dev Drive on reboot. To check which filters are enabled, run 'fsutil devdrv query: ' in Windows PowerShell. If you see anything other than AV, run 'fsutil volume dismount: ' followed by 'fsutil devdrv query: '. After these steps, you should only see AV filters.
[New] Performance may vary across devices. If you notice a decrease in performance, then do not forget to write a review about it.
Search on the taskbar
[New] Insiders who have access to the new taskbar search box behavior will momentarily see an empty tooltip when hovering over a button inside the box. This issue can also occur for Insiders who are not yet aware of the latest search field changes.
Narrator users will not be able to navigate the left sidebar of the search popup.
Text scaling does not work in search popup.
File Explorer
[New] File Explorer may crash when interacting with the scrollbar or trying to close the window while loading files.
If the "Gallery" section is available in the "Explorer":

To open the Gallery section for the first time, you may need to double-click on the corresponding item in the navigation bar on the left side of the window.
Real-time updating (including for applying a filter) is currently disabled. Use the Refresh button as a workaround.
Thumbnail loading performance for cloud files and excessive RAM usage in large collections are known issues that Microsoft is working on. For performance related issues, be sure to record a trace before submitting feedback to the Feedback Hub.
Rebuilding indexing can help if cloud file thumbnails are missing. To do this, open "Indexing Options" and go to "Advanced Settings" to find the rebuild tool.
Displaying photos from OneDrive for Business may not work correctly.
Some file types (such as HEIC) may not display correctly or may be of poor quality.

If keyboard shortcut hints are available in the context menu:

Keyboard shortcut hints may not appear if no keys are pressed. Pressing the key will make them appear.

Problems with commands for recommended files:

When you click on the "Share" button, a system window will open, not a window from OneDrive.
Taskbar and system tray
[New] If you drag an application window to another desktop using Task View, the icon for that application may not appear on the taskbar on the other desktop.
Notifications
[New]  The button to quickly copy two-factor authorization (2FA) codes in toast notifications does not work in this build (introduced  in build 23403). The issue will be fixed in future builds.
Backup and Restore
[New] Backups of a computer configured with a restore procedure may not appear on subsequent restores.
[New] Restoring monochrome desktop backgrounds is not yet supported.
The official announcement is linked here.
Support us
Winaero greatly relies on your support. You can help the site keep bringing you interesting and useful content and software by using these options:
If you like this article, please share it using the buttons below. It won't take a lot from you, but it will help us grow. Thanks for your support!