According to IDC, in 2020, Windows 10 lost around five market share points to Chromebook. Inexpensive laptops powered by Google's OS also managed to outsold macOS devices for the first time in modern history. Obviously, Windows 10 remains the most popular desktop operating system, but the competition is heating up significantly.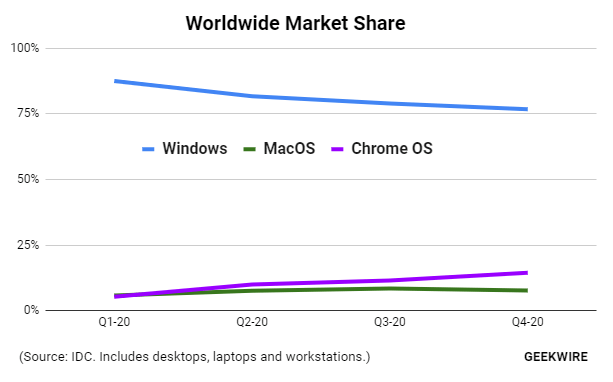 Here are the figures from the latest IDC report:
Windows lost 4.9 points and fell from 85.4% in 2019 to 80.5% in 2020.
Chrome OS went up to second place with additional 4.4 points, up from 6.4% in 2019 to 10.8% in 2020.
macOS is now in third place with 7.5% (0.8 points up from 2019 to 2020).
2020 imposed a unique situation on the PC market. At the beginning of the year, PC supply took the biggest nosedive in history due to quarantine restriction in China. After that, the pandemic spread worldwide and locked everyone at home, causing a significant PC demand increase for remote work and education. The statistic shows that Chromebooks benefited from increased demand drastically. Their affordable price tags made them a hard-to-ignore alternative to more expensive PCs and Macs.
Microsoft does not ignore the rise of Chromebooks. The company is actively working on Windows 10X, a lightweight OS for inexpensive single-screen devices, such as laptops and tablets. You can read more about Windows 10X's capabilities in our coverage.
Source: Geekwire.