Microsoft has released Windows 10 Build 20185 to Insiders in the Dev Channel (formerly Fast Ring). The release is notable for new DNS options in Settings, updated administrative templates, and also includes plenty of fixes.

What's new in Build 20185
Improving DNS configuration in Settings
We're making a few changes to the Network section in Settings:
Making DNS settings more easily accessible: Editing your DNS server assignment is now a top-level option when you go into your network's properties page.
Encrypted DNS controls in the Settings app: Encrypted DNS (DNS over HTTPS, or DoH) can help increase privacy and security while browsing the web. You can now configure DoH directly in the Settings app to more easily take advantage of this feature:
For ethernet connections: Go to Settings > Network & Internet > Status. Click Properties, then select Edit IP assignment or Edit DNS server assignment and it will be available in the popup
For Wi-Fi connections: Go to Settings > Network & Internet > Wi-Fi. Click the adapter properties link, then select Edit IP assignment or Edit DNS server assignment and it will be available in the popup. Currently you will not see the encryption options if you go to the individual network's property page
You can add any IP address listed here to unlock the DoH dropdown and choose to use encryption. Once encryption is enabled, you can confirm it's working by looking at the applied DNS servers in the network properties and see them labeled as "(Encrypted)" servers. If you want to try a custom DoH server we don't recognize yet, you can configure an IP address to be recognized as a DoH server by using the netsh command documented here at the end of the blog post.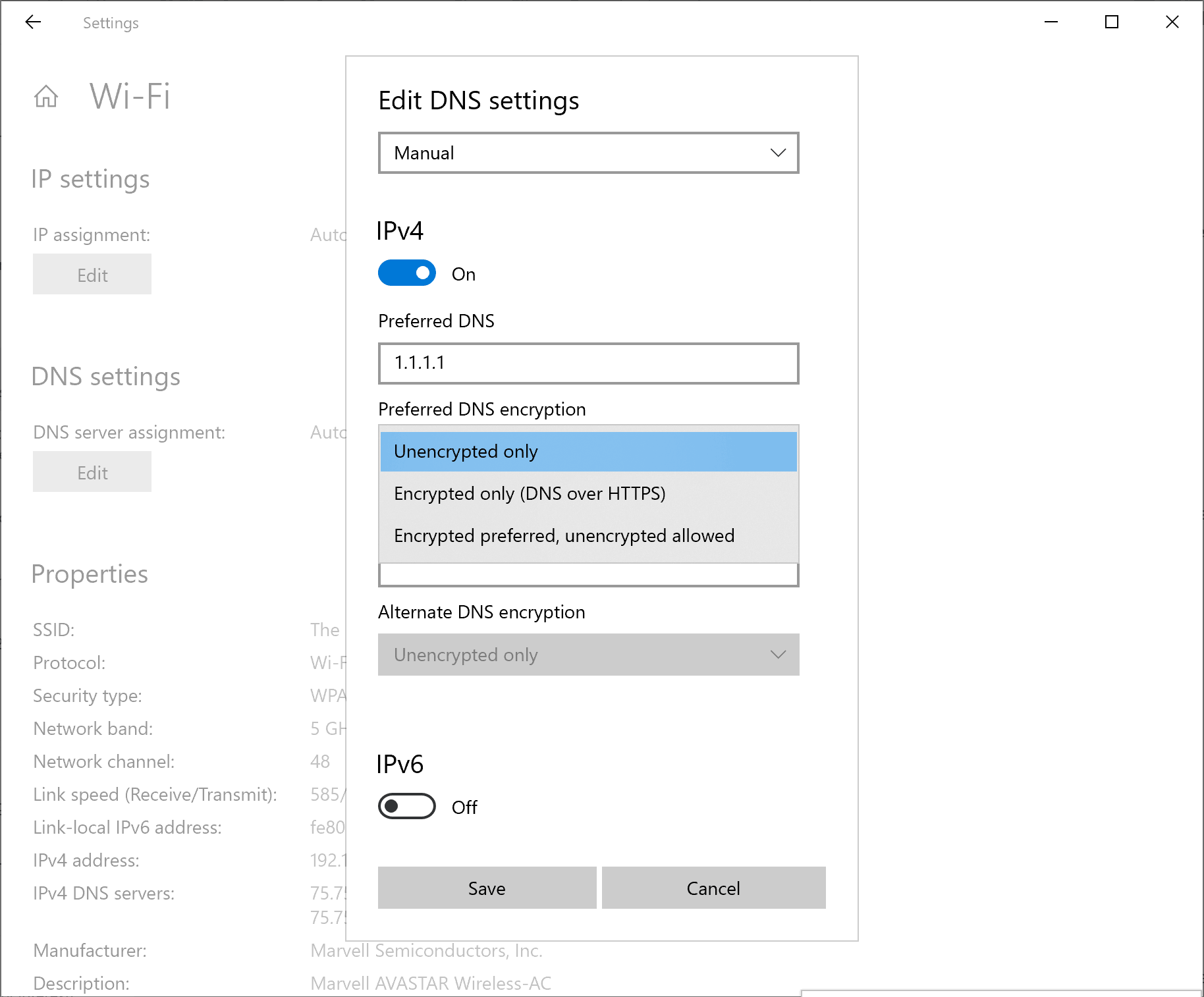 New ADMX Backed Policies for MDM
Starting with Windows 10 Insider Preview Build 20175, we have enabled 647 new MDM policies across 56 ADMX files to enable commercial customers to configure policies that are also supported through Group Policies. Contains ADMX based Policies such as App Compat, Event Forwarding, Servicing and Task Scheduler. These new policies can be configured using Intune custom profile. Intune UX is planned to be available later this year.
ADMX file name:
AddRemovePrograms.admx
AppCompat.admx
AuditSettings.admx
CipherSuiteOrder.admx
COM.admx
Cpls.admx
CtrlAltDel.admx
DigitalLocker.admx
DnsClient.admx
DWM.admx
EncryptFilesonMove.admx
EventForwarding.admx
FileServerVSSProvider.admx
FileSys.admx
FolderRedirection.admx
Help.admx
HelpAndSupport.admx
kdc.admx
LanmanServer.admx
LinkLayerTopologyDiscovery.admx
MMC.admx
MMCSnapins.admx
MSAPolicy.admx
nca.admx
NCSI.admx
Netlogon.admx
OfflineFiles.admx
PeerToPeerCaching.admx
PerformanceDiagnostics.admx
PreviousVersions.admx
QOS.admx
Reliability.admx
Scripts.admx
sdiageng.admx
Securitycenter.admx
Servicing.admx
Setup.admx
SharedFolders.admx
Sharing.admx
Shell-CommandPrompt-RegEditTools.admx
Smartcard.admx
Snmp.admx
TaskScheduler.admxtcpip.admx
Thumbnails.admx
TPM.admx
UserExperienceVirtualization.admx
W32Time.admx
WinCal.admx
WindowsAnytimeUpgrade.admx
WindowsConnectNow.admx
WindowsMediaDRM.admx
WindowsMediaPlayer.admx
WindowsMessenger.admx
WinInit.admx
Changes and Improvements
We're moving the 3D Viewer app into the Windows Accessories folder in the Start menu all apps list.
Fixes
We fixed an issue where sometimes the "close all windows" action in the Taskbar wasn't closing all of the open tabs for pinned sites.
We fixed an issue that could result in the network icon in the Taskbar saying there was no internet although there was an active connection.
We fixed an issue where dragging and dropping an app from Start's all apps list over to the tile grid to pin it wasn't working for certain apps.
We fixed an issue where the letter headers in the Start menu's all apps list had unnecessary left padding when the all apps list was set to hidden.
In order to address an issue where the tiles were difficult to read against certain backgrounds when using full screen Start we're adjusting the background to be slightly less transparent.
We fixed an issue where when using a Start menu layout applied by MDM, tile groups may disappear after a few days of uptime without rebooting.
We fixed an issue where if a notification included an inline image the app icon would be slightly out of line with it.
We fixed an issue where launching an app from its taskbar jumplist wasn't working for certain desktop bridge apps and instead would result in the app disappearing from the taskbar.
We fixed an issue resulting in excessive network traffic when using the Open File dialog to navigate to shared network folders where previous versions where enabled.
We fixed an issue that could result in a blank icon displaying instead of a plus button on the main Default Apps page in Settings after uninstalling the app set as default.
We fixed an issue where opening Storage Settings then immediately going into one of the sub-pages and then back could result in the page not loading.
We fixed an issue resulting in the new Microsoft Edge not being listed in the App History section of Task Manager.
We fixed an issue impacting touch keyboard launch reliability.
We fixed an issue where TextInputHost.exe would enter an unresponsive state, leading to clipboard history, the Emoji Panel, and dictation not appearing when pressing their corresponding keyboard shortcuts.
We fixed an issue that could result in not being able to paste the first entry in clipboard history.
We fixed an issue that could result in ARM64 devices bug checking when resuming from hibernation.
Known issues
We're working on a fix for an issue where some Microsoft Store games protected with Easy Anti-Cheat may fail to launch.
We're looking into reports of the update process hanging for extended periods of time when attempting to install a new build.
We're working on a fix for an issue where the min/max/close buttons are stuck in their original positions after resizing a UWP app. If you move the app window the position should update.
We're investigating reports that the new taskbar experience for pinned sites isn't working for some sites.
We're working on a fix to enable live preview for pinned site tabs.
We're working on enabling the new taskbar experience for existing pinned sites. In the meantime, you can unpin the site from the taskbar, remove it from the edge://apps page, and then re-pin the site.
We're working on a fix for an issue where pinned sites don't show all open tabs for a domain. In the meantime, you can fix this by pinning the site's homepage rather than a specific page (e.g. pin microsoft.com rather than microsoft.com/windows).
We're working on a fix for an issue where Alt + Tabbing to a browser tab sometimes moves the previously active browser tab to the front of the Alt + Tab list as well.
Opening a WSL 1 distribution can result in the error: 'The I/O operation has been aborted because of either a thread exit or an application request'. Please check out this Github issue for the latest updates.
---
The Fast ring, now known as Dev Channel, reflects the latest changes made to Windows code base. It is a work-in-progress, so the changes you see in Fast Ring releases may not appear in the upcoming feature update. Due to the changes coming to the Dev builds, it is possible that will see some of Windows 10X features on Desktop. Microsoft may want to roll out Windows 10X's features to test them with a larger number of devices. So we can expect to see some features which will never appear in stable Windows 10 versions on Desktop.
If you have configured your device to receive updates from the Dev Channel/Fast Ring ring, open Settings - > Update & recovery and click on the Check for Updates button on the right. This will install the latest available Insider Preview of Windows 10.
Support us
Winaero greatly relies on your support. You can help the site keep bringing you interesting and useful content and software by using these options:
If you like this article, please share it using the buttons below. It won't take a lot from you, but it will help us grow. Thanks for your support!