As you may remember, Microsoft now gradually releases features to Windows 11, without shipping a huge new OS versions. Instead, the company uses smaller "Moment" updates. This spring, Microsoft has prepared the Moment 3 update for Windows 11 version 22H2. Let's look what is new in this release.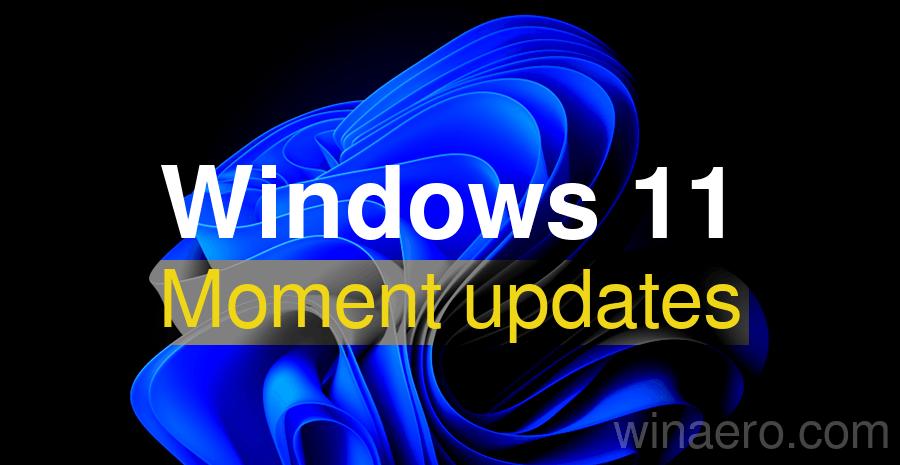 It should be noted that the updates to Microsoft's OS were never officially referred to as "Moments". Instead, this is an internal term used by the company and fans to distinguish between different sets of features.
Microsoft first released the "Moment 3" feature set on May 13, 2023 to Insiders in the Release Preview channel with Build 22621.1776.
What's new in Windows 11 Moment 3 Update
The taskbar
VPN status icon
In the taskbar, a status icon for VPN is visible when an active network connection is established. If you are linked to a recognized VPN profile, the system accent color is used.

Seconds for the clock
The clock on the taskbar can now display seconds, which can be enabled through Settings > Personalization > Taskbar, under Taskbar Behaviors. Additionally, you can navigate to taskbar settings quickly by right-clicking on it.
It is not a new feature to Windows 11. Earlier, it was available in Windows 10, but then briefly disappeared due to the newer code base the taskbar is now based on.
File Explorer
The File Explorer app can now show "access keys", i.e. keyboard shortcut hints in the context menu. It now displays a letter or symbol that corresponds to the name of the action and forms part of the keyboard shortcut. To test out this feature, select any file and press the context menu key on your keyboard.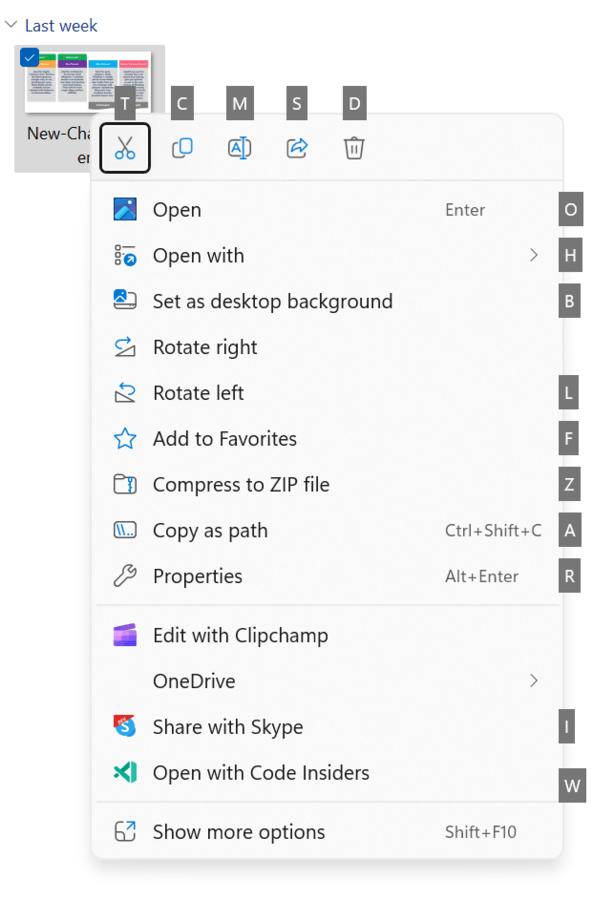 Window management
The Alt+Tab dialog and Task View can now display up to 20 recent tabs from Microsoft Edge. You can change this behavior in the "Settings" -> "Multitasking" section.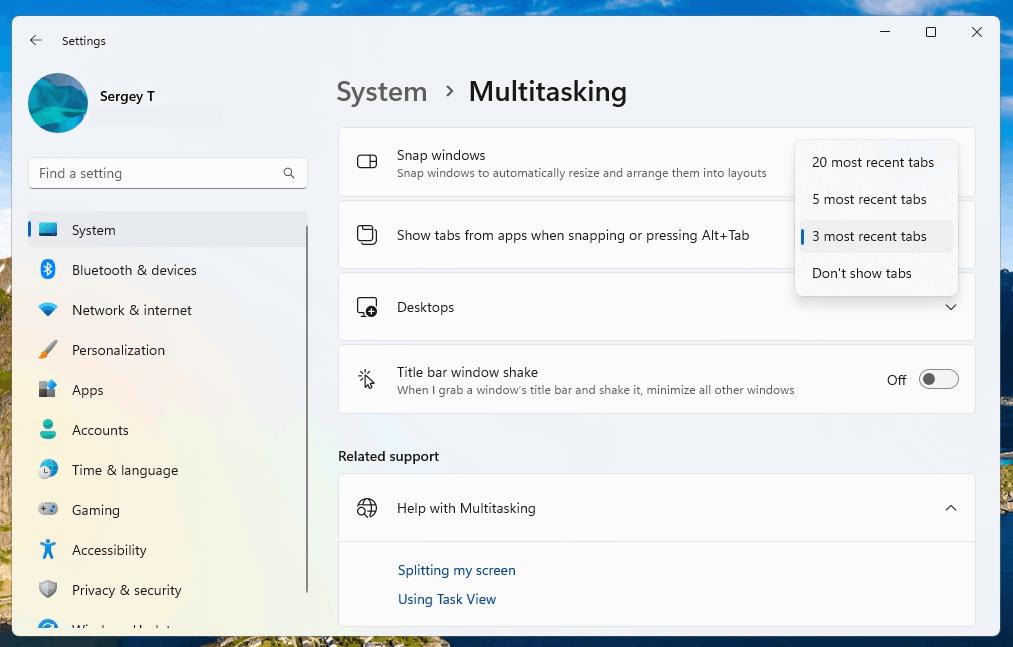 Task Manager
Starting in Moment 3 Update, the Task Manager allows creating live kernel memory dumps (LKD) in addition to existing  process dumps for processes. The purpose of such a dump is to collect data to eliminate the anomalous situation, while the operating system can continue working. This reduces downtime compared to error checking for "non-fatal" but high-impact crashes and freezes. You'll find more details about this change at this link .
To create a live kernel memory dump, go to the "Details" page in the "Task Manager", right-click on the system process and select "Create live kernel memory dump file" . The dump will be saved in the following directory: %LocalAppData%\Microsoft\Windows\TaskManager\LiveKernelDumps.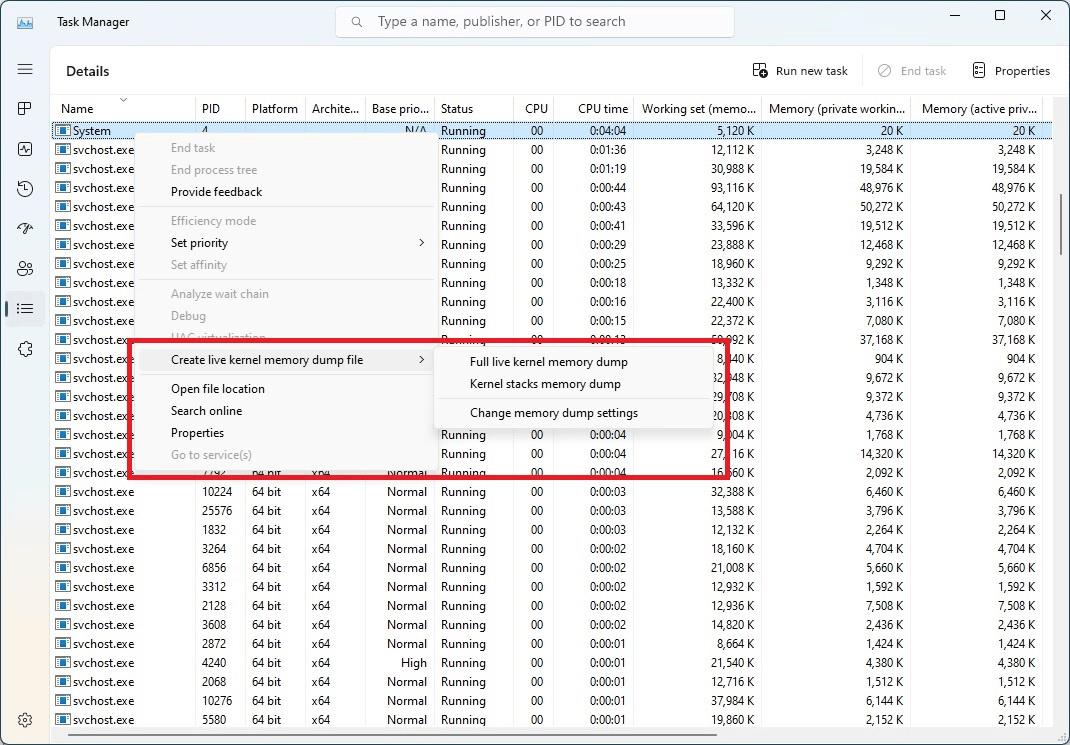 Snipping Tool
Pressing the Print Screen key now opens the Snipping Tool by default. This can be disabled under Settings > Accessibility > Keyboard. However, if you have it disabled prior to installing the Moment 3 update, Windows 11 will remember your preference.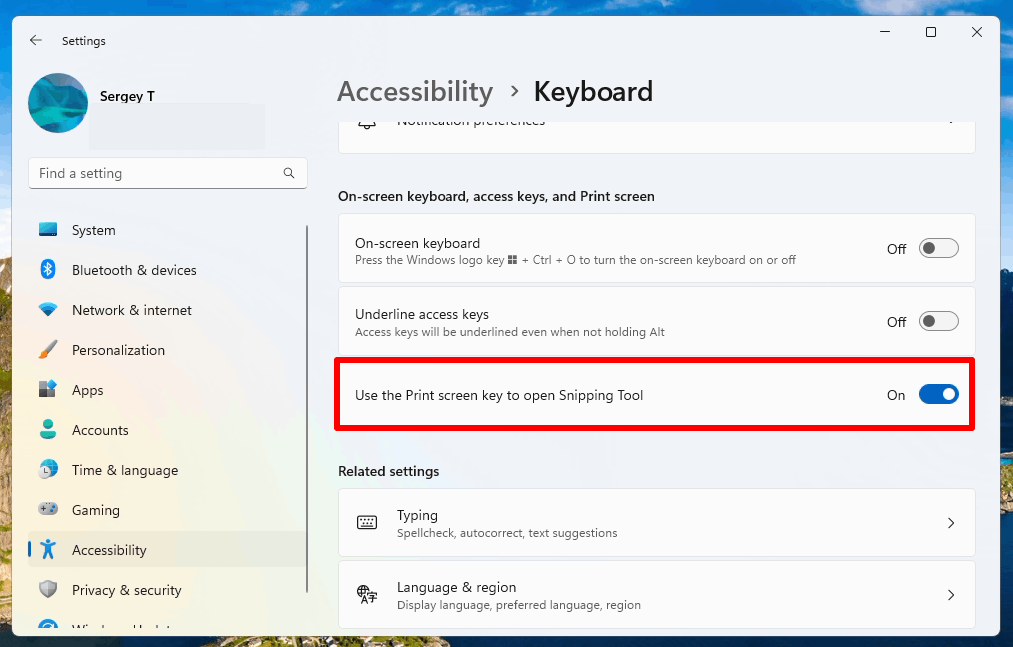 Notifications
A new button has been added to swiftly copy two-factor authentication (2FA) codes in pop-up notifications from applications installed on a PC or smartphone linked to the PC using the Link to Phone application. However, this feature is only available in English.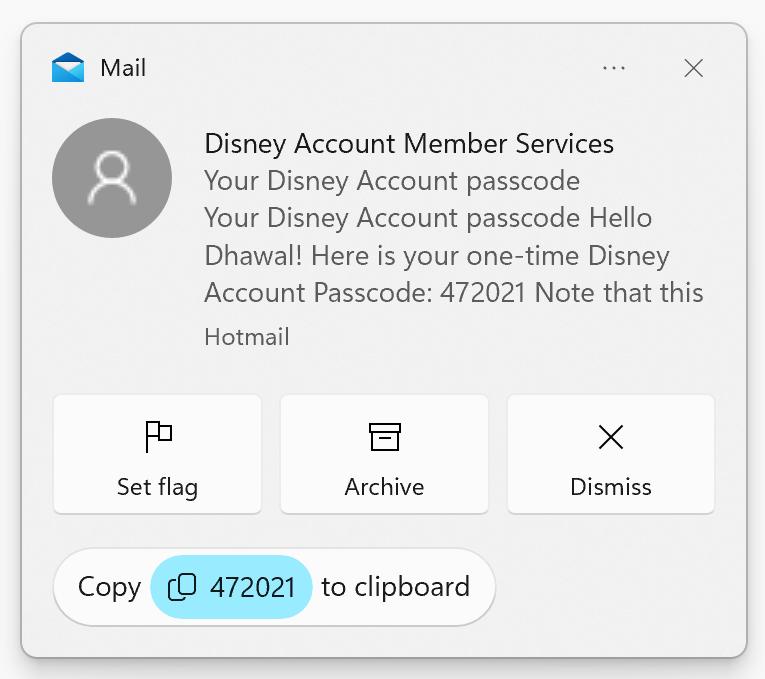 Input
Added a new touch keyboard setting that replaces the "Show touch keyboard when no keyboard is connected" checkbox in Settings > Time and Language > Input > Touch Keyboard. The new drop-down menu includes three options to define when you want the touch keyboard to launch.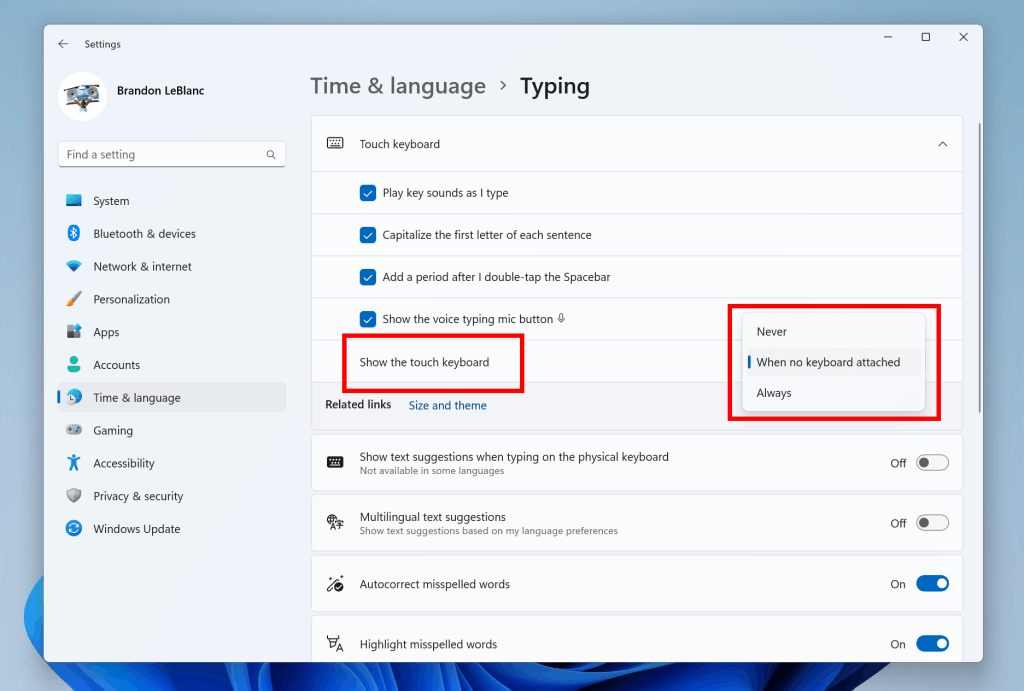 Hardware support
Content Adaptive Brightness Control
Content Adaptive Brightness Control is a smart technology that can help you save battery life on your device. It works by adjusting screen brightness and contrast based on the content that is currently being displayed on the screen.This is different from traditional brightness controls that only adjust based on lighting conditions. For example, if you're using a bright app like a text editor, the feature may lower the screen brightness to save power.
This feature is now available on laptops, 2-in-1 devices, and desktop PCs. To turn it on, go to Settings -> System -> Display and choose the appropriate option based on your device type. Desktop users can try it out by manually selecting the "Always" option and giving feedback on the visual quality.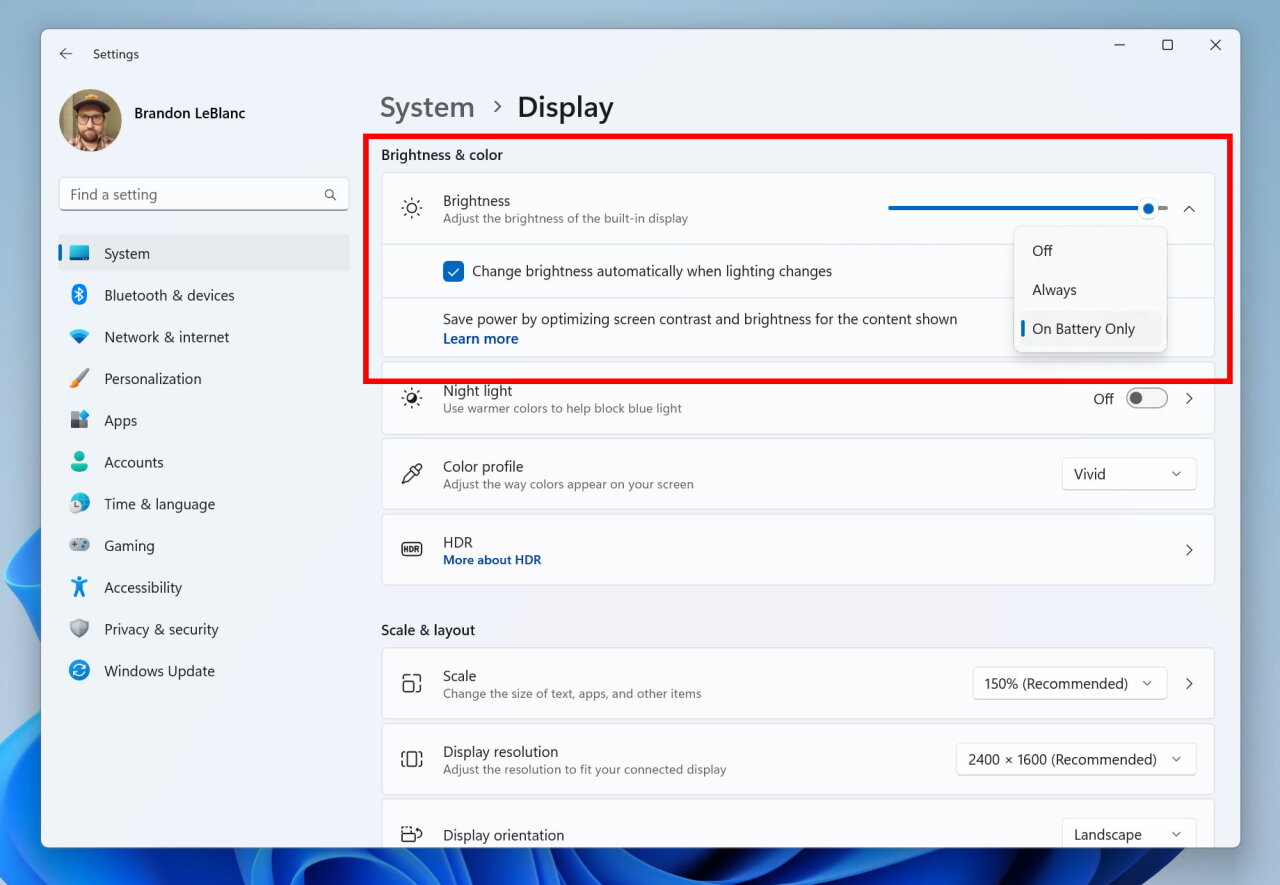 Settings page for USB4 hubs
Added a settings page for USB4 hubs and devices in the "Settings" -> "Bluetooth and Devices" -> "USB" section. USB4 delivers higher performance for docking stations, high performance peripherals, displays and chargers. The USB4 settings page provides information about the capabilities of the system and connected peripherals if the computer supports USB4.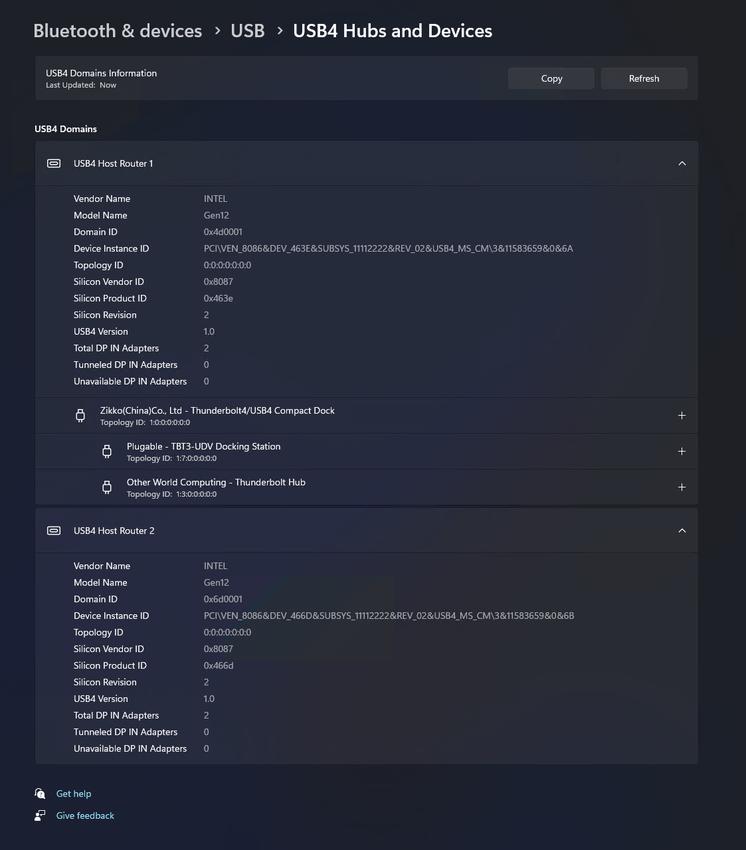 Presence sensing
Microsoft has added new presence sensor privacy settings and APIs. If you have a device with compatible presence sensors, you can now manage your privacy and prevent certain apps from accessing those sensors. Microsoft does not collect images or metadata, and all processing is done locally on the device's hardware to ensure maximum privacy.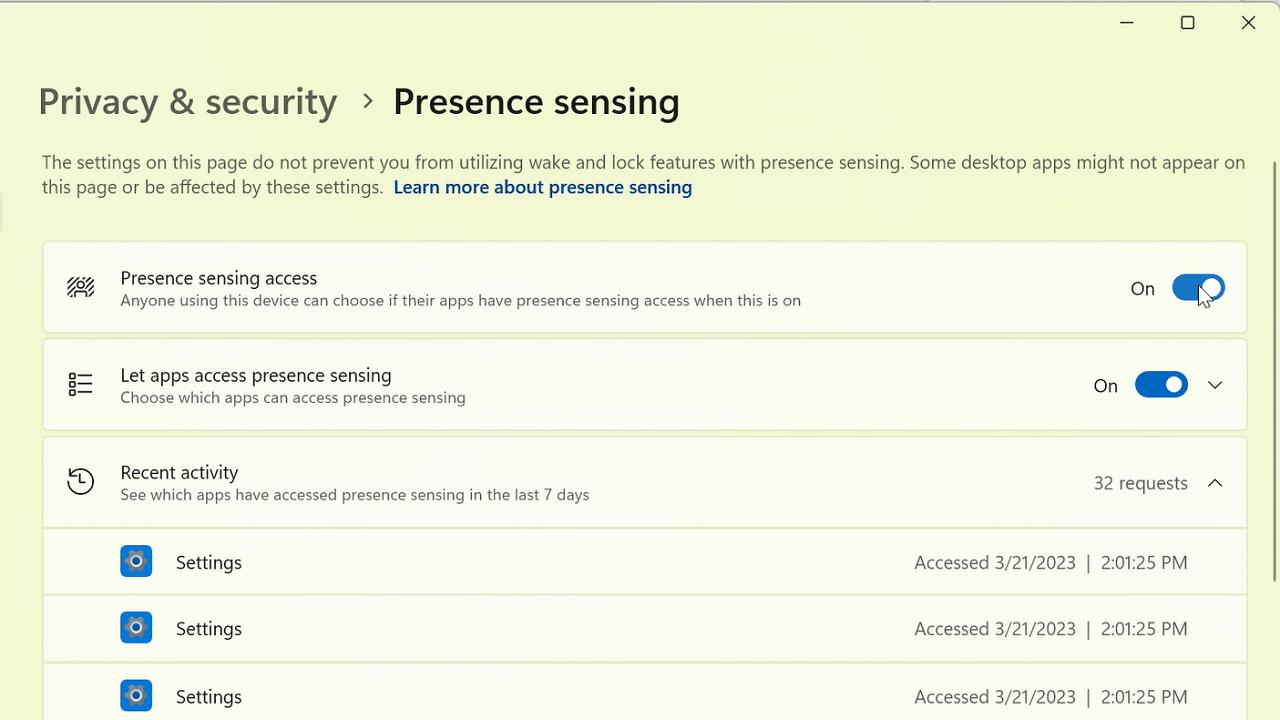 You can find the new setting under Settings -> Privacy & Security -> Presence Detection if your device supports it.
Accessibility
Voice Access
Voice Access now supports other dialects of English, including British, Indian, New Zealand, Canadian, and Australian. There is now an updated  help page for commands in the Voice Access settings application . It is more convenient and understandable. The search field allows users to quickly find the commands they need, and additional recommendations have been added for each category. Also, descriptions and examples of use are offered for each of the commands.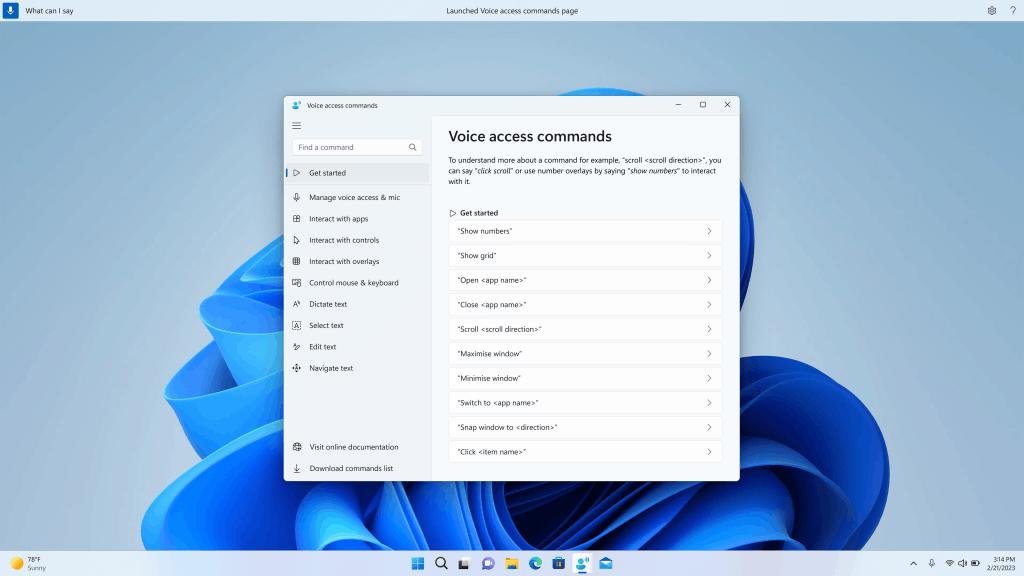 Please note that the page may not contain all available commands, and additional information may not be accurate. If you want a comprehensive list of voice access commands and more information about them, check out the information on the Microsoft website.
Live Captions
The Live Captions feature now supports the following languages:

Chinese (simplified and traditional)
French (France, Canada)
German
Italian
Japanese
Portuguese (Brazil, Portugal)
Spanish
Danish
English (Ireland, other English dialects)
Korean
Other changes
The multi-app kiosk mode is a feature that enables IT administrators to specify which apps are authorized to run and block all others. As a result, it is feasible to generate distinct application and access configurations for multiple user types on a single device.Some of the supported scenarios.
Restrict access to "Settings", except for selected pages (for example, Wi-Fi and screen brightness).
Restrict the Start menu to only show allowed apps.
Block pop-up notifications and windows that cause unwanted user interface.
Isolation of Win32 apps
Windows 11 will now be able to run desktop Win32 applications in a sandbox to prevent unwanted or unauthorized programs from accessing critical Windows components. The feature will significantly increase the security of the operating system. It is important to note that this is a preliminary version of the sandbox, which means that in some cases it may not work correctly.
Windows 365 Boot
Yow you can directly boot into Windows 365 Cloud Desktop and make it the default on your device. When you turn on your computer, it will prompt you to sign in, after which it will immediately start the Windows 365 environment without any additional steps.
Bluetooth Low Energy Audio
Added support for Bluetooth Low Energy Audio. This technology delivers high-quality audio at low power consumption to improve call, video, and music quality on compatible devices, including wireless headphones such as the Galaxy Buds2 Pro.
Finally, there are search performance improvements in the Settings app.
That's it!
Support us
Winaero greatly relies on your support. You can help the site keep bringing you interesting and useful content and software by using these options:
If you like this article, please share it using the buttons below. It won't take a lot from you, but it will help us grow. Thanks for your support!