We covered Vivaldi previously and were particularly interested in it because it promises to be what Opera formerly was. As Vivaldi promised, they started releasing weekly snapshots. The current snapshot is Vivaldi 1.0.94.2. It features several important bugfixes and improved behavior. This is good news, let's see what is under the hood of this weekly snapshot.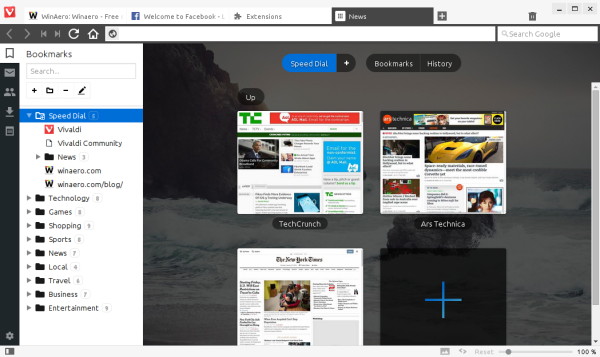 Notable changes in Vivaldi 1.0.94.2
Performance increased;
Added Ctrl+Enter shortcut keys to complete the entered text in the address bar with "www" and ".com";
Ability to go forward/backward through browsing history, to see it in action, press and hold the forward or back navigation button;
Ability to re-open recently closed windows;
Fixed so Settings window would not hijack the session;
Fixed one-key keyboard shortcuts bug appearing in forms/iframes;
Fixed the "black window" issue on Linux where everything appeared black;
Here is the complete change log:
*VB-2808 Vivaldi shows up black on Linux
*VB-2794 Delay autoexpand bookmark folders during drag n drop
*VB-2792 Del keybinding not working on Mac
*VB-2791 Find on page does not search next on enter
*VB-2788 Keyboard shortcuts always firing within iframe.
*VB-2783 Coloring of the tab bar way too bright with green and yellow favicons
*VB-2770 Tab color flickers in a dark color on selection
*VB-2761 Broken media dialog and location dialog
*Navigate back to start page shows incorrect URL.
*VB-2759 Thumbnail for internal pages disappears after few seconds.
*VB-2738 Flash video does not show
*VB-2725 Regression: Leaving fullscreen mode with F11 fails
*VB-2722 Bookmark modal window appears in the wrong postion
*VB-2717 Keying up/down in bookmark tree is slow
*VB-2632 Content Settings crashes
*VB-2597 Expand/Collapse all bookmarks menu item
*VB-2500 Speed dial page issue in fullscreen mode
*VB-2447 No task manager in Tools menu
*VB-2307 Session lost because of settings window
*VB-2288 Space should toggle expand/collapse state of folder
*VB-2256 Avoid closing all tabs accidentally in tab stack
*VB-2171 http not injected to urls in Notes
*VB-2157 scrolling bookmarks panel shakes
*VB-2130 Scrolling does not work with scrollbar in URL dropdown
*VB-2006 Delete bug in notes
*VB-2000 copy to note missing from context-menu when using norwegian language
*VB-1980 Add ability to resize Notes input area
*VB-1967 No screenshot generated in Notes when clicking the frame under 'New note'
*VB-1923 Cannot select multiple items in bookmarks
*VB-1906 Window with more than one tab is not saved to trash
*VB-1849 Tab resizing by mouse difficult
*VB-1539 Ctrl+Enter should implement (www. address complete feature)
*VB-1490 Search in settings only find titles
*VB-761 Close button on tab shows up. Risk for inadvertent clicking.
You can get the refreshed build here:
Windows | Mac | Linux Deb | Linux RPM
Note the Autoupdate feature is not yet available for Vivaldi, so you need to update it manually, but it will be implemented in the near feature.
Support us
Winaero greatly relies on your support. You can help the site keep bringing you interesting and useful content and software by using these options:
If you like this article, please share it using the buttons below. It won't take a lot from you, but it will help us grow. Thanks for your support!