Yet another major public release of the Vivaldi browser was released a few days ago. Vivaldi Beta 3 includes a lot of changes and improvements. Its developers consider this release stable enough and hope that it will be the last beta release before a stable version 1.0 is out. The released Beta 3 has the following build number: 1.0.403.24. Let's see what it offers to the end user.


Vivaldi developers have released a full list of bug fixes since the last Beta 2 version which was released a while ago. Interested users can read it HERE. In this article, I will focus on new impressive features the browser offers to the end user.
User interface scaling and default page zoom
Unlike other mainstream browsers, Vivaldi comes with a native user interface zoom feature. This means you can specify any desired scaling for the browser's controls and options.
This is the default scaling: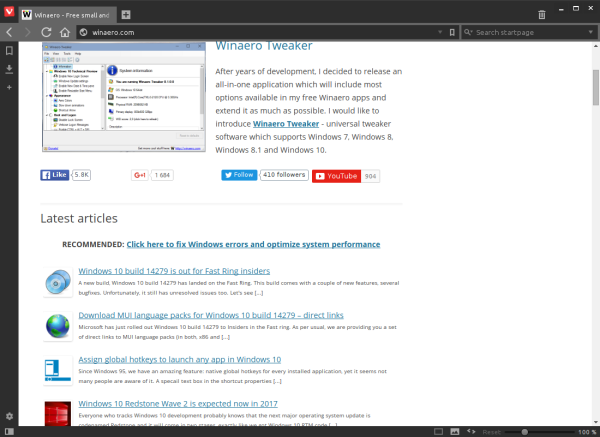 And here is the scaled interface: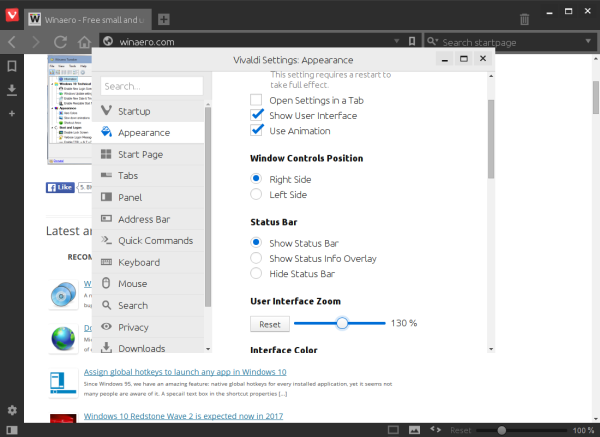 The option scales the interface of the browser but not the page content. A new option in settings allows you to specify the default zoom level for opened pages: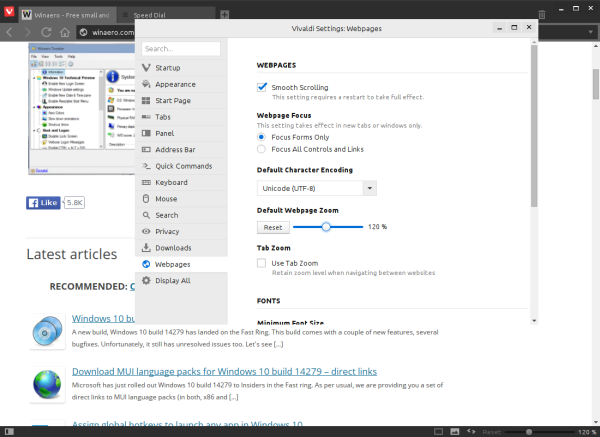 This makes Vivaldi extremely useful on devices with high resolution screens.
Export/Import bookmarks
A new feature will allow you to export your bookmarks to an HTML file. The feature is accessible through the Main menu of the browser, under File - Export Bookmarks...: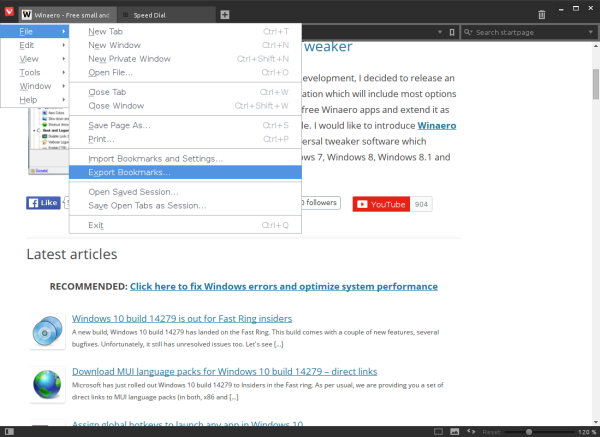 From the Bookmarks feature, you can also import your bookmarks from other browsers: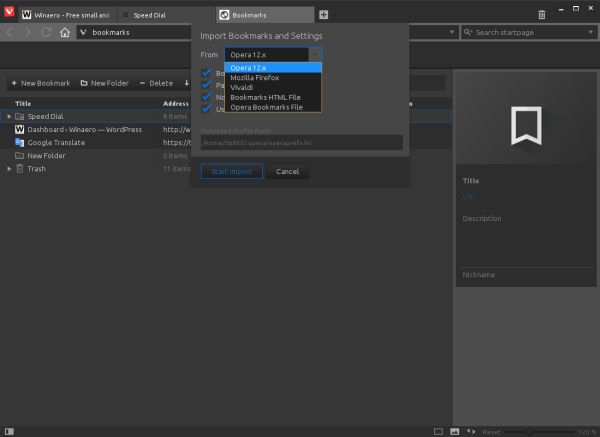 This feature exists in all modern browsers. Finally it has landed in Vivaldi too.
Tab look and feel
Tab management got many improvements in Vivaldi Beta 3. First of all, you can close an open tab by middle click (or by clicking with the mouse wheel).
Now you can also define how the active tab will be highlighted. By default, Vivaldi comes with light and dark color options for the active tab, which you can switch in settings: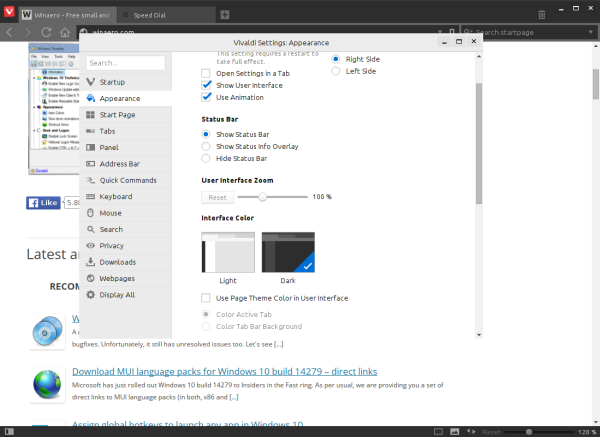 You can enable or disable the active tab from being highlighted. By default, the browser highlights the active tab with the color of the page or its favicon. In the previous release, you could only disable this feature. Now, you can enable the highlighting of the tab bar instead of the active tab. It looks quite interesting: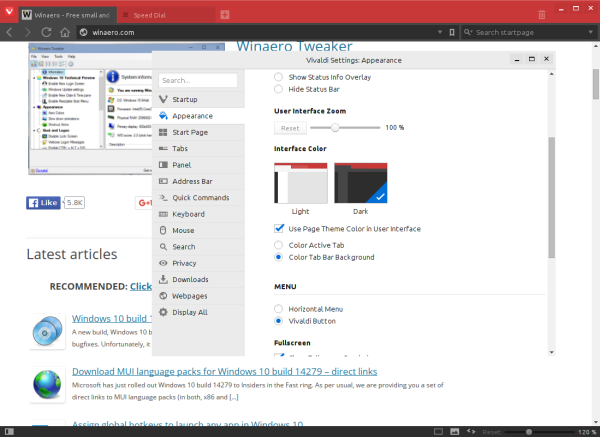 Vivaldi got a bunch of options related to tab appearance and behavior: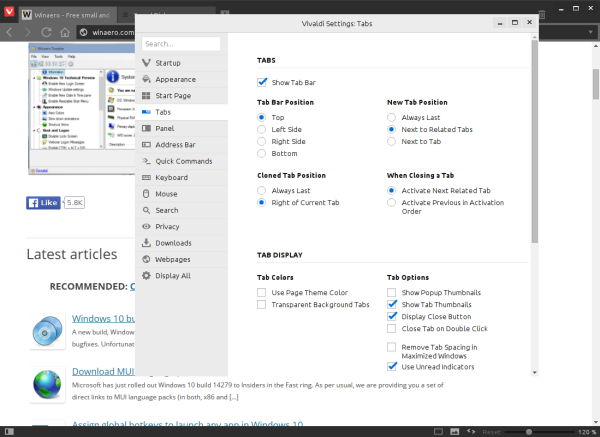 The most interesting options are related to the tab opening/closing behavior. When you open new tabs from a link in your current tab, they are connected. For example, suppose you performed a search in your current tab and used Ctrl + Click on the first search result. It will now open next to its "parent" tab. If you Ctrl + Click the second result, the new tab will place itself immediately after its "sibling".
New tabs that you open via Ctrl + T or by clicking on [+] have no relationships and will therefore open next to the " + " button, just like before.
The tab opening behavior goes hand-in-hand with the tab closing behaviour. With the new default, when a focused tab is closed, Vivaldi will switch to its right-most (or bottom-most) "relative". If there is no relationship between tabs, Vivaldi will switch to the last active tab (the old behavior). This combination of tab relationships and activation order should result in a best-of-both-worlds default and an improvement over what the other browsers are doing.
The new default works especially well when opening many links from one site and then closing them one by one to return to what you were working on before.
All of this can be customized as you like from the Tabs menu in Settings.
Tab hibernation
This new option will allow you to purge all inactive tabs from memory and make the browser use less amount of RAM. If you have many tabs open, simply right click on the active tab and choose 'Hibernate Background Tabs'. This will immediately free up more resources as your tabs are 'put to sleep'. Switching over to any of them will bring them back to life.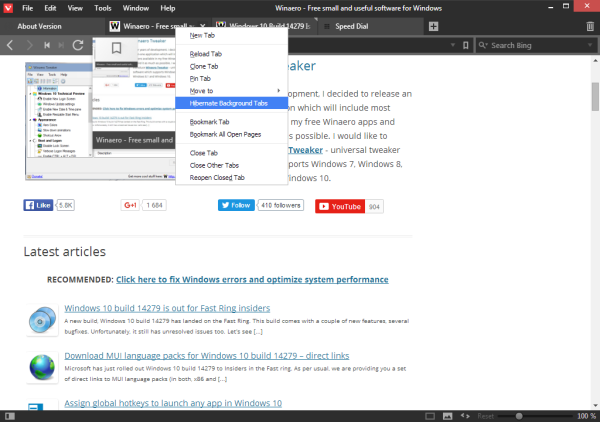 Unfortunately, this useful feature is not accessible in the Linux version of Vivaldi. Developers have disabled it on Linux for now due to a bug.
Sessions
Now Vivaldi will allow you to save and restore a group of open tabs as a session. You can save or load sessions using the File menu: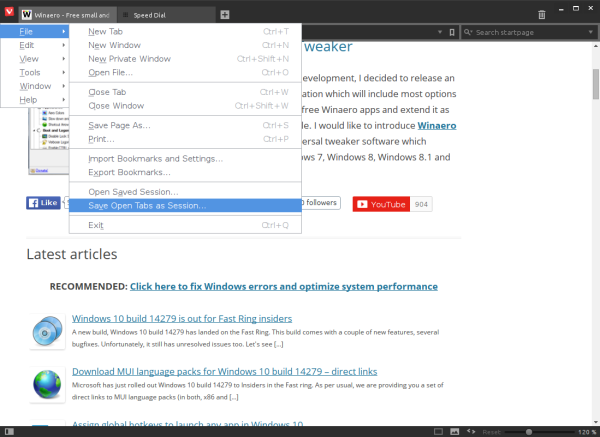 CSS Debugger
A new feature called CSS Debugger is located in page effects. When enabled, it highlights similar CSS elements to easily identify and inspect them. This feature might be useful for web developers.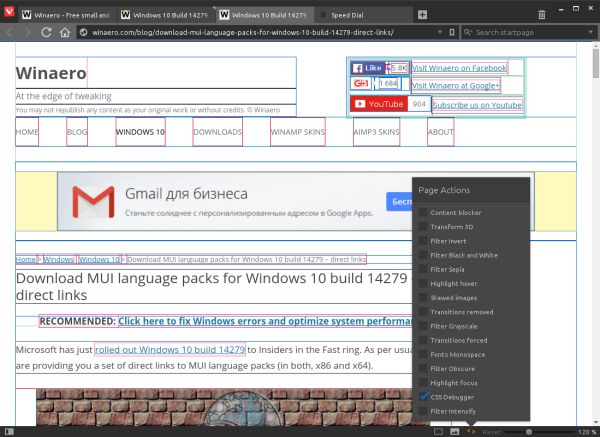 You can download Vivaldi Beta 3 from its official web site:
Try it and tell us your impressions about this customizable browser. Which features do you like and what is missing that prevents you from using it as your primary web browser?
Support us
Winaero greatly relies on your support. You can help the site keep bringing you interesting and useful content and software by using these options: