How to Turn On or Off Notification of USB Issues in Windows 10

Starting in Windows 10 build 10547, the user can disable notifications about issues with connected USB devices on your PC. This can be useful for those who need to have a USB device connected to the PC, and Windows fails to recognize it.  Here is how to disable notifications if you find it useful.
Here is an example of the USB error notification.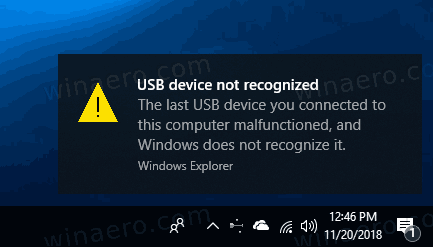 While the notification is useful when you connect USB drives, cameras, printers, and scanners, it may be annoying. For example, you have a dual-boot setup, where all the devices are configured to work in the other OS. Getting USB error notifications in Windows 10 may be really annoying. So, you can finally disable them. Here is how.
To Turn On or Off Notification of USB Issues in Windows 10,
Open the Settings app.
Go to Devices > USB.
In the right pane, turn off (uncheck) Notify me if there are any issues connecting to USB devices. This is enabled by default.
You can re-enable the option at any moment later to make Windows 10 show the notification when Windows 10 has issues with connected USB devices.
You are done.
Alternatively, you can apply a Registry tweak to turn on or off this feature. Here is how it can be done.
Turn On or Off USB Error Notifications in Windows 10
Open the Registry Editor app.
Go to the following Registry key.
HKEY_CURRENT_USER\SOFTWARE\Microsoft\Shell\USB
See how to go to a Registry key with one click.
On the right, modify or create a new 32-Bit DWORD value NotifyOnUsbErrors.
Note: Even if you are running 64-bit Windows you must still create a 32-bit DWORD value.
Set its value to 1 to enable the notification. Otherwise, set it to 0.
You can download the ready-to-use Registry files below:
The undo tweak is included.
That's it.