In an earlier article, we saw that Windows Alt+Tab has bugs that make it not suitable for reliable switching. It also has issues like the icon and the text of the app not being placed next to each other to instantly identify the app. The thumbnail of the app is often smaller and isn't enough to identify exactly which window you are switching to, especially if there are multiple windows of the same app open. A free, third party Alt+Tab replacement, VistaSwitcher solves all these problems.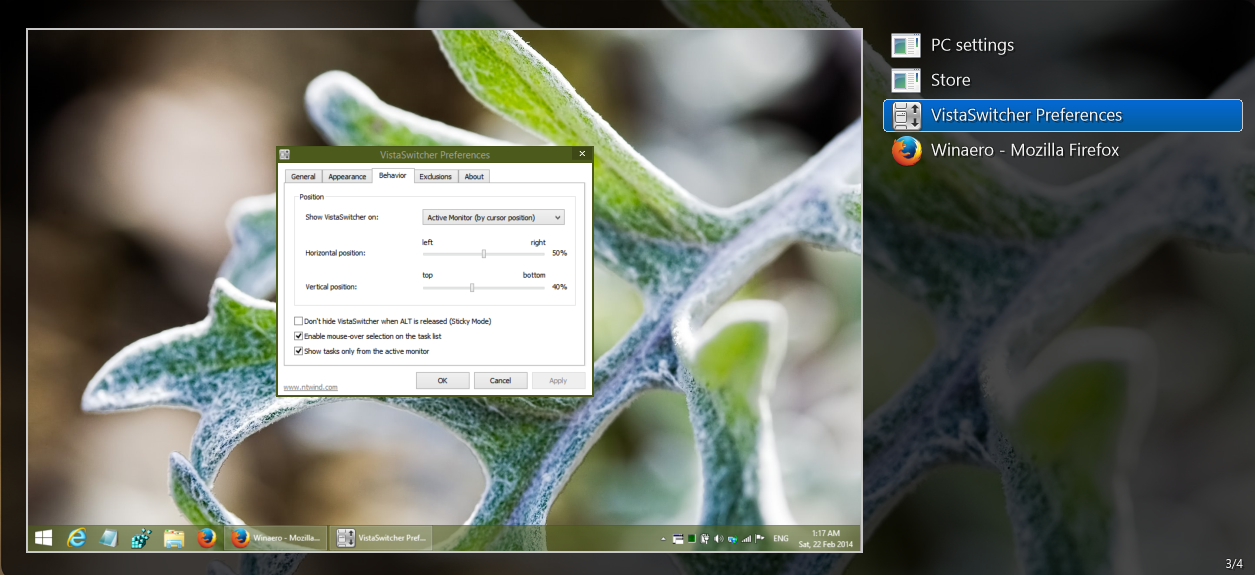 VistaSwitcher is created by NTWind Software and is the successor to their old Alt+Tab replacement for Windows XP, called TaskSwitchXP. It makes use of the Windows Desktop Window Manager (DWM) to show a live preview/thumbnail of the app to which you may want to switch. The preview is optional in VistaSwitcher; it retains the classic way of switching too with icons and text labels. In fact, unlike the Windows Alt+Tab UI which shows the text labels of only one program at a time, VistaSwitcher shows all the text labels right away and a thumbnail which is full-size, making it easier to instantly identify running programs.
We saw previously that if Explorer crashes and restarts in Windows 8/8.1, you can no longer switch to Modern apps using the default Alt+Tab UI. VistaSwitcher also works with Modern Windows 8 apps and lets you switch to them even if Explorer.exe crashes and restarts. It is a very customizable so you can exclude some apps which you never want to see in the Alt-Tab list.
Download and install VistaSwitcher from this page.

By default it loads at startup so it can take over the Alt+Tab UI. VistaSwitcher also places its icon in the notification area (system tray) when it starts. Left clicking this icon opens VistaSwitcher in Sticky Mode, meaning you can hover using the mouse over the list or press the Up/down arrow keys to see a preview and press Enter to switch. Right click this icon to access its Preferences.

The Preferences window has plenty of settings. On the General tab, I checked all the options. The 'Replace the Right Mouse Button+Wheel' option is interesting because it lets you switch apps purely using the mouse. You can press and hold the right mouse button, then scroll the mouse wheel to directly navigate the Alt+Tab list and eventually switch when you leave the right mouse button.You can assign a hotkey to open VistaSwitcher in Sticky Mode. I assigned Ctrl+Shift+Space for this. You can also assign an "Application windows hotkey" when which pressed lets you cycle between only that particular app's open windows! How cool is that!
On the Appearance tab, you can configure how you want the live preview to look - whether each running window shows its preview with the desktop in the background, or whether the window shows an enlarged full size preview. You can also turn off the preview if you don't like having one.There is an option to enable the Aero blur effect, which turns on the glass appearance on Windows 7 and Vista. You may want to uncheck this option for Windows 8/8.1. 'Show task numbers' shows digits to the left of running tasks which you can directly press on the keyboard to jump to that task.

The Task List section on this tab lets you set how big or small you want the items to show. At my resolution of 1280 x 800, I set the Item width to 360, Item height to 35 and Number of Items to 15, which means if I open more than 15 windows, the list will scroll.
The Behavior tab has settings for horizontal and vertical positioning of VistaSwitcher. It also has some very interesting options for multi-monitor users. You can make VistaSwitcher show dynamically on the monitor where your mouse pointer is or where the active window is. You can even show tasks from a specific monitor only which is an awesome feature.
The Exclusions tab lets you specify which windows should never show in the Alt+Tab UI of VistaSwitcher. On Windows 7, you wouldn't require to exclude anything but on Windows 8, the Metro UI has many invisible windows on the desktop which clutter the Alt+Tab task list. You may want to exclude all of these by their window class as shown in the screenshot:

Window management
VistaSwitcher is more than an Alt+Tab replacement. It also integrates some nifty window management functions. When you open it in Sticky Mode, either by left clicking its tray icon or using the assigned hotkey, you can right click on any running window in the task list to perform standard window management functions such as Switch To, Minimize, Maximize, Restore, Close or End Process.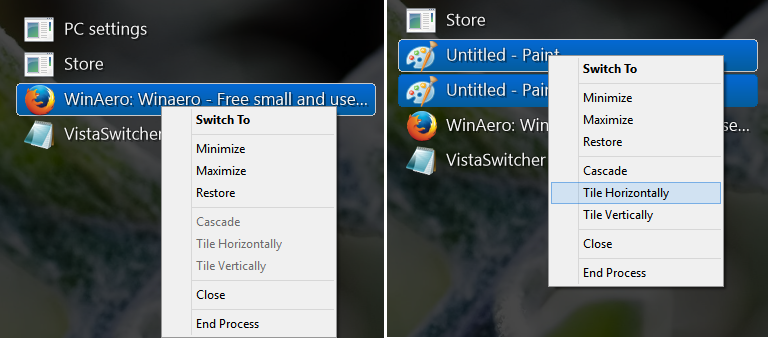 But that's not all. You can select multiple windows from the list by hold down Ctrl just like you would in a File Manager, and then you can right click on any one of them and group close/minimize/maximize them or tile them horizontally/vertically (Aero Snap). The ability to do End Process will also come in handy when one of the windows isn't responding.
When you right click in an empty area or chrome of the VistaSwitcher UI, you get a menu that lets you sort all the open windows in the task list alphabetically or by application.
The app also supports keyboard shortcuts for many of its operations. See this page for a full list of keyboard shortcuts.
Closing words
As you must have realized, VistaSwitcher is a rich Alt+Tab replacement, that has been developed with great attention to detail. You no longer need to cycle through unnamed icons one by one to find the window that you want to switch to. The multi-monitor features of this Alt+Tab replacement are also simply outstanding.
Support us
Winaero greatly relies on your support. You can help the site keep bringing you interesting and useful content and software by using these options:
If you like this article, please share it using the buttons below. It won't take a lot from you, but it will help us grow. Thanks for your support!