Some time ago, Microsoft announced that its service for creating 360° panoramas, called Photosynth will shut down in 2017. Keeping this in mind, if you have used this service or any of its apps to create something, you probably want to download your synths to keep them after the service is gone. Microsoft has published instructions to do so about a month ago, but now the company has released a separate app to view them offline.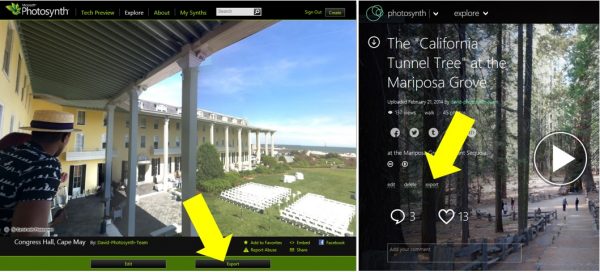 You can find an Electron-based app for Mac or PC simply dubbed as 'offlineViewer'. Get it in its GitHub repository. Hosting it on GitHub means that the app is released as an open-source project and that you can fork it to make improvements anytime if you know programming.
As for downloading your panoramas, check out the instructions below:
First install the new offline viewer from download.microsoft.com using this link for Windows  or this link for Mac. If you have a 32-bit version of Windows, use this version of the app.
Tip: see How to determine if you are running 32-bit Windows or 64-bit.
This viewer supports both panoramas and "Tech Preview" synths. Unfortunately, there is no offline viewer for original synths.
Go to https://photosynth.net, and sign-in to your Photosynth account.
Click "My Photosynths".
Click on one of your panoramas or Tech Preview synths, and look for the "Export" button shown below. If you do not see the export button, it is because you are not signed in, or you are not the owner.
Clicking the Export button will cause the panorama or synth to be packaged for export. This may take a few minutes, especially if the synth is very large. You will see the button change to "Export Requested", and sometime later, it will change to "Download" signaling that the packaging has completed and your synth or pano is ready to download. (Note that you do NOT need to stay on the page waiting for the packaging to complete; you can return to your library and schedule another synth or pano for export while you are waiting.)
Click Download and wait for the file to be downloaded to your computer. Depending on the size of your pano or synth, and the speed of your connection this could take minutes or even hours.
Finally, use the new offline Photosynth viewer you installed in step 1 to open this downloaded file
Microsoft Photosynth was created by their Research division. Although it had a fan following, it never really went mainstream during its life cycle. Personally, I've used it to create some amazing interactive pictures and I'm sad to see the service go offline. But in the ever-changing world of software, there's always an alternative available.
Support us
Winaero greatly relies on your support. You can help the site keep bringing you interesting and useful content and software by using these options:
If you like this article, please share it using the buttons below. It won't take a lot from you, but it will help us grow. Thanks for your support!