If you remember, Money in Excel is a feature that Microsoft announced earlier in March. Now is it available to Microsoft 365 Personal and Family subscribers, but currently in the U.S. only.
The official launch post notes:
Money in Excel is a dynamic, smart template and add-in for Excel that allows you to securely connect your bank, credit card, investment, and loan accounts to Excel and automatically import your transaction and account information into an Excel spreadsheet.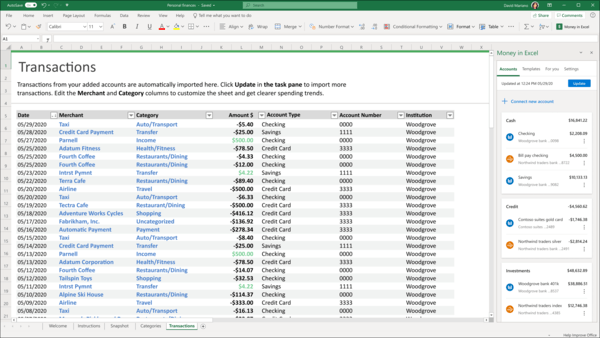 The Money feature is implemented as an add-in which you need to setup manually.
Once downloaded, open the Excel template and follow the on-screen prompts to connect your financial accounts using a secure third-party plugin supported by Plaid. Plaid is a third-party service that currently supports most major U.S. financial institutions. Once your account information is verified, the workbook will be updated with your latest transaction history and is now ready for use.
The add-in also supports 'Snapshots', that allows going through your spending history, and perform a variety of analytics on your financial information.