Microsoft today released a new build to Edge Insiders in the Dev channel. It is notable for having new adaptive notification system, PDF mini menu, the search option in Favorites and History menus, and much more.
Here are changes the official Edge Dev announcement mentions.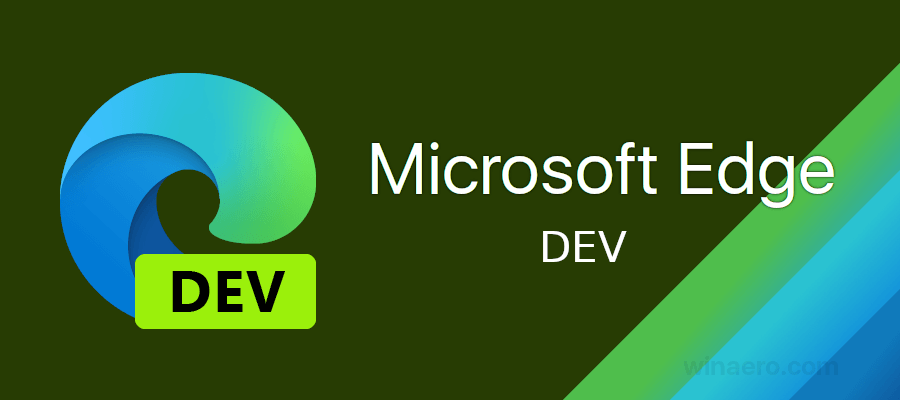 What's new in Edge Dev 90.0.796.0
Highlights
A quieter version of notification requests has got a number of improvements. There is now a score system that automatically enables and disables website notifications depending on how the user interact with a notification prompt dialog.
The PDF mini menu is now officially documented here.
Improvements made to the Partner Center for developers.
Also, Microsoft is asking for feedback on the IE mode feature in Microsoft Edge Chromium.
New features
Added the ability to start typing to search as soon as the favorites and history menus are open and loaded.
Added suggestions from local browsing history when clicking on the empty address bar on the new tab page.
Added support for Friendly Names for certificates in the certificate picker.
Enabled Single Sign-On for Mac, fixing an issue where certain websites can't login.
Improved messaging when certain permissions are restricted when viewing a protected PDF.
Deprecated the management policy to Enable Native Window Occlusion in favor of the newly-added policy to Enable Window Occlusion.  Note that updates to administrative templates or documentation may not have occurred yet.
Enabled support for the management policy to control SSL Error Override Allowed For Origins from upstream Chromium.
Fixes
Fixed a crash when closing the browser.
Fixed a crash when showing the autofill suggestion popup.
Fixed a crash when using Guided Switch.
Fixed a crash for Family Safety users.
Fixed a crash when using speech recognition.
Fixed a crash when copying something when Data Loss Prevention is enabled.
Fixed an issue where the browser uses lots of CPU doing nothing.
Fixed an issue where Smart Copy doesn't work one websites like OneNote.
Changed behavior
Fixed an issue where deleted passwords are sometimes restored unexpectedly via sync.
Fixed an issue where graphics in certain websites like Excel get corrupted over time.
Fixed an issue where print preview sometimes shows the incorrect number of sheets of paper.
Fixed an issue with printing multiple sheets per page.
Fixed an issue where PDFs created by printing a page using Print To PDF don't appear in the Downloads list.
Fixed an issue where the Sign In To Sync button in Settings isn't disabled when sign in or sync are turned off via management policy.
Fixed an issue where dropdown lists on webpages sometimes are missing options or data.
Fixed an issue when dragging a URL from the address bar into a Collection.
Fixed an issue with syncing Collections.
Fixed an issue where pinning a PWA or website installed as an app to the Taskbar also unexpectedly prompts to pin it to the Start Menu.
Fixed an issue where opening a link that's expected to open in a PWA or website installed as an app doesn't open the exact link but instead just navigates to the website's homepage.
Fixed an issue where removing a PWA or website installed as an app doesn't remove its entry from the Start Menu.
Fixed an issue where PWAs or websites installed as apps that open child windows don't get those child windows associated with the main app window, but instead as generic Edge windows.
Fixed an issue where price comparison in the Shopping popup isn't appearing when it should.
Removed autofill capabilities from Application Guard windows.
Known issues
Certain extensions such as the Microsoft Editor extension don't work on Linux.  As soon as they're installed, they crash and are disabled.  We're currently investigating.
Users of certain ad blocking extensions may experience playback errors on Youtube.  As a workaround, temporarily disabling the extension should allow playback to proceed.  See https://techcommunity.microsoft.com/t5/articles/known-issue-adblock-causing-errors-on-youtube/m-p/14... for more details.
Some users are still running into an issue where all tabs and extensions immediately crash with a STATUS_INVALID_IMAGE_HASH error.  The most common cause of this error is outdated security or antivirus software from vendors like Symantec, and in those cases, updating that software will fix it.
Users of the Kaspersky Internet Suite who have the associated extension installed may sometimes see webpages like Gmail fail to load.  This failure is due to the main Kaspersky software being out of date, and is thus fixed by making sure the latest version is installed.
Some users are seeing favorites get duplicated after we made some previous fixes in that area. The most common way this is triggered is by installing the Stable channel of Edge and then signing into it with an account that has already signed into Edge before.  This issue should be reduced now that automatic deduplication has been introduced into Insider channels.  However, we've also seen duplication happen when running the manual deduplicator on multiple machines before either machine has a chance to fully sync its changes, so while we wait for the automatic deduplication to make it to Stable, make sure to leave plenty of time in between runs of the deduplicator.
Some users are seeing "wobbling" behavior when scrolling using trackpad gestures or touchscreens, where scrolling in one dimension also causes the page to subtly scroll back and forth in the other.  Note that this only affects certain websites and seems to be worse on certain devices.  This is most likely related to our ongoing work to bring scrolling back to parity with Edge Legacy's behavior, so if this behavior is undesirable, you can temporarily turn it off by disabling the edge://flags/#edge-experimental-scrolling flag.
For pre-release versions, Microsoft is currently using three channels to deliver updates to Edge Insiders. The Canary channel receives updates daily (except Saturday and Sunday), the Dev channel is getting updates weekly, and the Beta channel is updated every 6 weeks. You can download Edge Insider Preview from here.