Here is how to perform a clean install of Windows 11 from a bootable media. These days, you will probably use a USB flash drive for that purpose. Before proceeding, keep in mind that Clean Install of Windows 11 will remove everything from the drive you choose to setup on.  You will end up with a completely new instance of the OS, without any third-party or custom software and drivers.
Before proceeding, check out the following minimum hardware requirements for the newest OS. Your computer should meet the following check list to install Windows 11 and run it properly.
A 64-bit dual-core 1Ghz CPU or better.
4GB of RAM or better.
64GB of storage or better.
A 9-inch display with a minimum 1366x768 resolution.
A motherboard with UEFI, Secure Boot, and Trusted Platform Module 2.0.
A discrete or integrated GPU with DirectX 12 support and WWDM 2.X.
Clean Install Windows 11
To clean install Windows 11, you need to perform a number of steps. First, you have to prepare a bootable media, if you don't have it yet. After that, you need to configure your hardware to be compatible with Windows 11.
Prepare your computer
Create a bootable media using Windows Media Creation Tool or manually using the diskpart tool.
We suggest you to disconnect all the external devices, and, if possible, hard drives that you are not going to use during the OS installation. This will save you from accidental wrong drive formatting and prevent Windows 11 from placing boot files on the wrong drive.
Open the computer's firmware settings and ensure that you have enabled UEFI, TPM 2.0 and Secure Boot.
Boot from your USB drive
Connect your flash drive to a USB port.
If you have an OS installed, restart it to advanced boot option.
In the Advanced Startup Options, select Use a device.
Click on the USB drive to boot from it.
Done. Finally, you can do a clean install of Windows 11.
Do a clean install of Windows 11
Select your language, time and currency format, and keyboard options,and click Next.
Click on Install now.
Enter your Windows key. If you don't have one, you can enter your Windows 8, Windows 8.1, or Windows 7 key - this old trick still works as of this writing. Alternatively, you can click the I don't have a product key link to specify the key later.
If you clicked on I don't have a product key in the above step, then select the Windows 11 edition you want to install.
Check the I accept the Microsoft Software License Terms option, and click on Next.
On the next page, select Custom: Install Windows only (advanced) option.
On next page, either remove all partitions from the drive or delete a Primary partition to convert it into an unallocated space and install Windows 11 there. Select it and click on Next.
Finally, this will start Windows 11 setup. Your screen may flash and the computer will restart a few times.
After the setup finishes copying the files and installing the drivers, Windows 11 will enter the Out-of-the-box experience stage, also known as OOBE. It allows setting your keyboard layout, add a user account, connect to a network, and more.
Set OOBE options and user accounts
When prompted, select your country and region, and click on Yes.
Select the keyboard layout you need, and click on Yes.
Click Add layout or Skip according to your preferences.
Enter your PC name. Unlike Windows 10 which automatically generates a name for your PC, Windows 11 asks for a PC name.
Windows 11 will check for an existing Internet connection. If this fails, it will prompt you to configure a new connection or connect to a wireless network.

If you are installing Windows 11 Home and need a local account, refer to this blog post for the required steps.
You can also press Alt + F4 to bypass the Internet requirement for Windows 11 and continue with a local account.
Windows 10 Pro and Enterprise editions will allow you proceed with a local account as "Limited setup".

If you are installing a Windows 11 Pro edition, select either Set up for personal use (home PC) or Set up for work or school (domain) to configure your device properly, and click on Next. This dialog doesn't appear in Windows 11 Home.
Next, you have to set up a user account to be able to use your machine.
Set up a Microsoft account
A Microsoft account is an online account. It will require you to use an existing email, enter your phone number and other data. You can use your Microsoft Account on multiple Windows 11 devices and sync your settings and files between them.
To continue setup with your Microsoft Account, do the following.
If you have a Microsoft Account, type your email address and click on Next.
Type your password for the Microsoft account, and click Sign in.
Provide any other required information, e.g. your phone number, two-step verification code, etc, and click Verify.
When prompted for a PIN, create a new one using the appropriate button.
Enter a PIN you want to use to sign in with, and click OK.
If you are using settings sync between your computers, you will be prompted to restore them from the cloud. Select a device to restore the settings from, or click on Set up as new device to start from scratch.
Customize the privacy settings according to your preferences, and click on Next.
On the Customize your experience page, check all the way you are going to use this device, or click Skip to omit the device usage configuration.
Select either Automatically store my files in OneDrive or Only store files on this device depending on how you plan to use OneDrive.
You are done! You just configured your Microsoft Account.
Note: You may see extra pages like Microsoft 365 subscription promotion. You can safely skip them if you are not interested.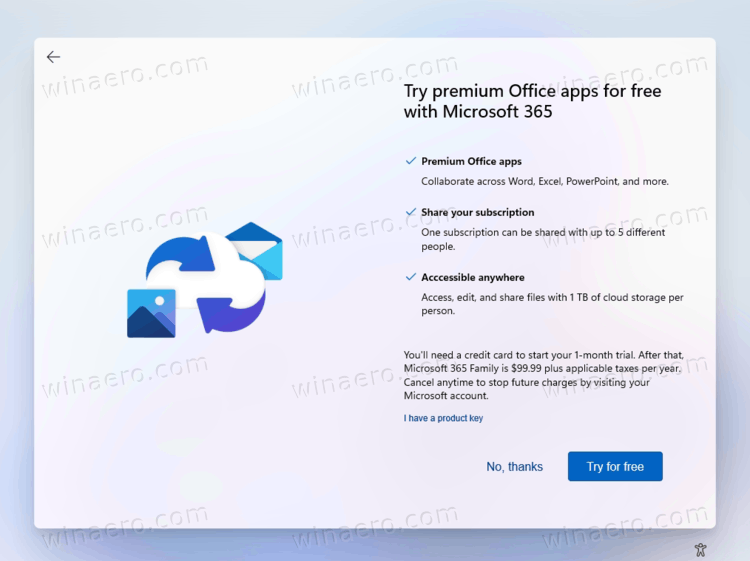 Setup a local account
If you running Windows 10 Home, enter some fake email account and fake password, such as 1@1.com. The procedure is reviewed in detail in this post.
If Windows 10 Pro, click on Sign-in option.
On the next page, click on Offline account.
On the next page you can read what's the difference between the offline and online accounts. To continue with a local offline account, click on Skip for now.
Again, click on Don't sign in with Microsoft Account.
Finally, you can specify the desired name for your local account.
On the next page, enter your password.  It can be blank.
If you specified a password, you will be asked to fill in security questions which will help you to restore a forgotten password.
Customize your privacy options for what you want.
You are done!
Finally, after a brief welcome animation you will see the Desktop.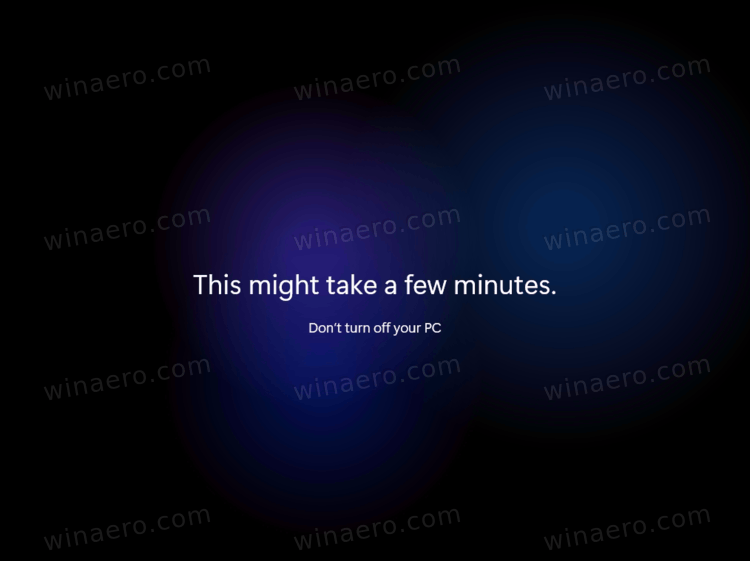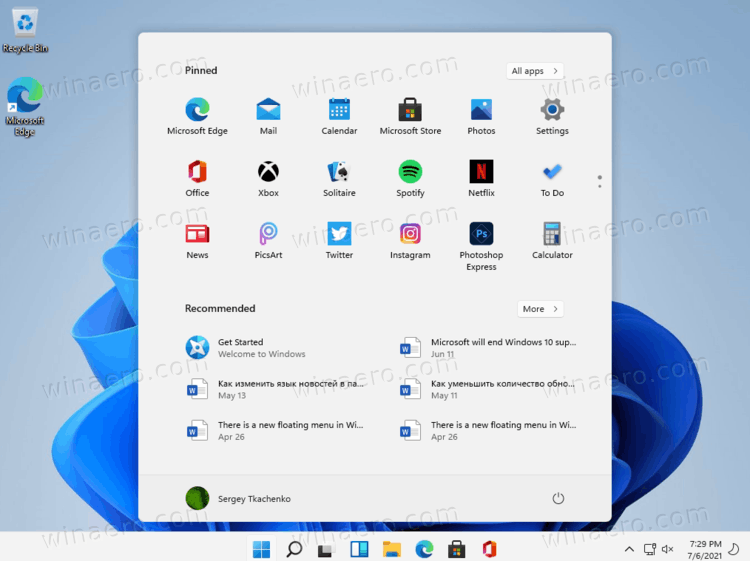 Congrats, you have done a clean install of Windows 11.
Support us
Winaero greatly relies on your support. You can help the site keep bringing you interesting and useful content and software by using these options:
If you like this article, please share it using the buttons below. It won't take a lot from you, but it will help us grow. Thanks for your support!