Here's how to enable Name Window Option in Microsoft Edge if it doesn't appear visible for you.
Both Microsoft Edge and Google Chrome both include the ability to change a window name. However, it has disappeared from Microsoft Edge in a few recent Dev and Canary builds. Microsoft made it hidden, but you can make it visible again.
We recently covered that Microsoft re-arranged the app menu in the Edge browser, and moved the option to name a window from the window context menu to the app menu, under More tools.
Earlier: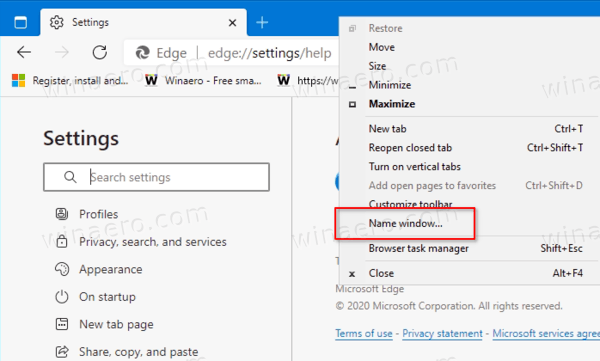 Now: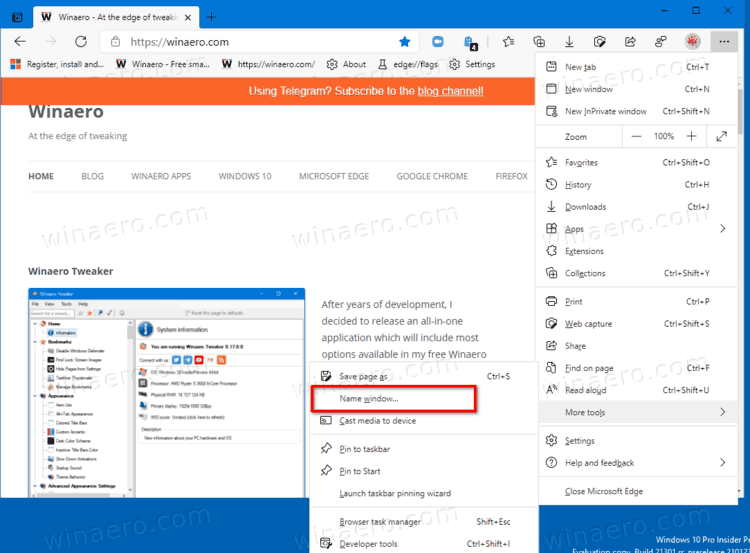 However, if you install the latest Edge build, you won't find any of those options.
This post will show you how to enable the Name Window option in Microsoft Edge.
To Enable Name Window Option in Microsoft Edge
Right-click the Microsoft Edge shortcut, e.g. on your Desktop.
Select Properties from the context menu.
Add --enable-features=WindowNaming after the msedge.exe portion in the Target box.
Click OK and Apply.
Close Edge if you have it running, and launch it using the modified shortcut.
The Name Window option is now enabled.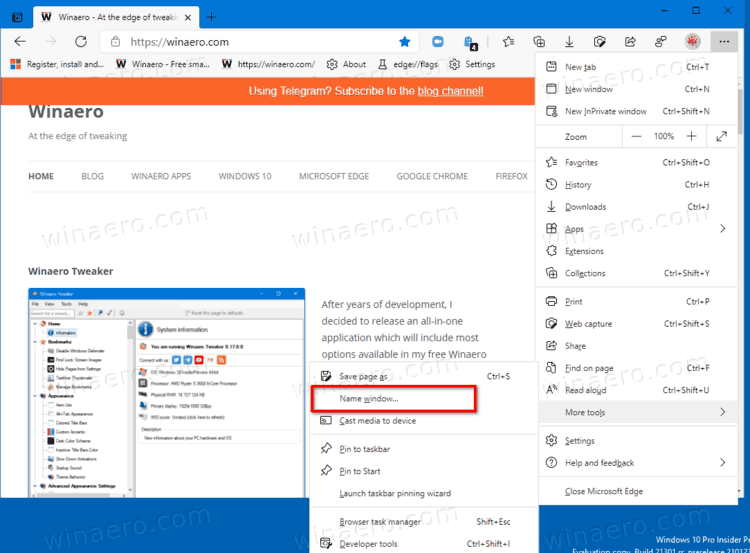 Note that the above WindowNaming option can be combined with other options. If you want to specify multiple features to enable or disable, separate them by a comma like --enable-features=option1,option2. See this post to learn more: Add multiple Disable-Features to Edge and Chrome shortcut.
Also, the above only works in Insider versions of Edge, in Dev and Canary as of this writing. The ability to name a window doesn't work in stable and Beta versions of Edge, as it requires a newer Chromium base.
The ability to name a window is a welcome change in the browser. It allows assigning a meaningful name to open browser windows, and makes it easy to find the required Edge window. Users who prefer to organize their online activities in windows rather than in browser profiles will definitely appreciate it.