Microsoft has started a new program which will allow users to test pre-release versions of individual Store apps. This new program is completely independent of the Windows Insider Program.
RECOMMENDED: Click here to fix Windows errors and optimize system performance
By joining the program, the user will be able to try out most recent versions of built-in apps like Camera, Photos, Alarm and Clock, Mail, etc. As of this writing, the list of apps available in the program looks as follows:
Feedback Hub
Microsoft Photos
Microsoft Sticky Notes
Microsoft Tips
Paint 3D
Windows Alarms & Clock
Windows Calculator
Windows Camera
Windows Mixed Reality Viewer
Windows Voice Recorder
The official announcement claims the following.
We're making it easier to try out the latest app updates with Insider Preview builds with the new Windows App Preview Program. We heard feedback from Windows Insiders that having to opt-in to Skip Ahead to receive the latest app updates wasn't ideal as it required Insiders to also be on super-early and sometimes unstable builds of the OS. Insiders told us they wanted to be able to try out the latest app updates but be on the latest Insider Preview builds from the Fast, Slow, and Release Preview rings. Now through the Windows App Preview Program, Insiders in any ring can opt-in to preview individual apps.
To opt-in to a preview for an app just go to the Settings or About page of the app and click the "Join preview" button. See the following screenshot: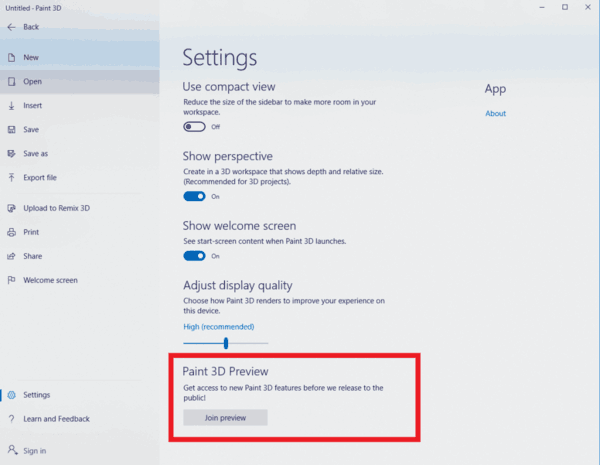 If the limit has been met for that app preview for the app you will get a notification on clicking the button and as more slots open up you can join the preview. Additionally, if you need to leave an app preview you can do so by also going to the Settings or About page and clicking the "Leave preview" button.
The new program will allow Fast Ring Insiders to get access to the very latest versions of Store apps, previously available exclusively on the Skip Ahead ring.
Note: If you are an Insider on Skip Ahead, you do not need to opt-in to the new program. You will already be getting the latest versions of the apps.
As of the time of this writing, the Windows App Preview Program is only available to Windows Insiders, but this may change in the future.
Source: Microsoft
RECOMMENDED: Click here to fix Windows errors and optimize system performance