In Windows 10, Microsoft has removed the Start screen which was available in both Windows 8 and Windows 8.1. Instead, Windows 10 offers a unified new Start menu, which can be used as the Start screen. A special option allows you to make the Start menu full-screen. Let's see how it can be done.

RECOMMENDED: Click here to fix Windows errors and optimize system performance
Here is how the Start menu looks: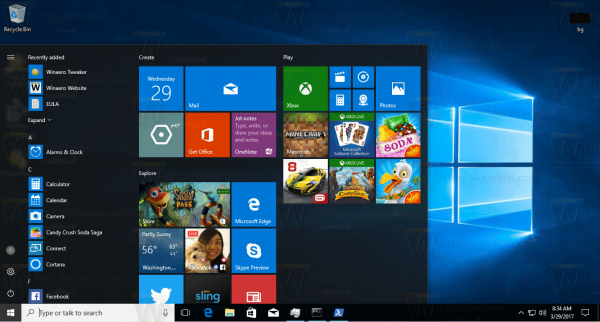 Here is how it looks in full screen mode: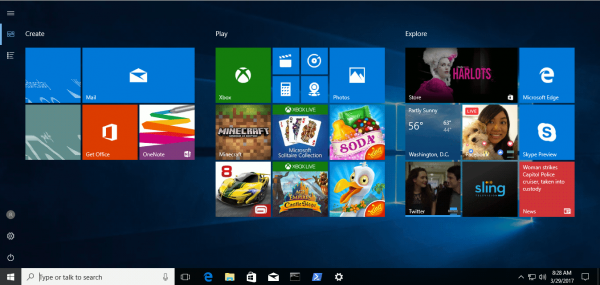 In full screen mode, the Start menu shows a special hamburger menu button in the top left corner. It expands items like All apps, the user account picture, app and folder icons, and the power icon. When collapsed, these items are displayed as tiny icons for faster access. In full screen mode, the Start menu looks more transparent without the blur effect.
A special option can be enabled in Settings in order to make Start open full-screen. Settings is the modern replacement for the classic Control Panel app.
To make Windows 10 Start menu full-screen, do the following.
Open Settings.
Go to Personalization - Start.
On the right, find and enable the option Use Start full screen.
This will enable the full-screen Start menu in Windows 10.
Note: If you have enabled the Tablet Mode feature, the Start menu will always be full-screen until tablet mode is disabled.
The full-screen Start menu can also be enabled with a Group Policy tweak. This way, you can force it for all users. Here is how. Ensure that you are signed in as Administrator before proceeding.
Open Registry Editor.
Go to the following Registry key:

HKEY_LOCAL_MACHINE\SOFTWARE\Policies\Microsoft\Windows\Explorer

Tip: See how to jump to the desired Registry key with one click.

If you do not have such a key, then just create it.

Here, create a new 32-bit DWORD value ForceStartSize. Note: Even if you are running 64-bit Windows, you still need to use a 32-bit DWORD as the value type.
Use one of the following values as its value data:
1 = Force the default Start menu appearance
2 = Force full-screen Start menu
Delete the value to allow the user to choose the option in Settings as described above.
Note: If you create the ForceStartSize value under HKEY_CURRENT_USER\Software\Policies\Microsoft\Windows\Explorer instead of the HKEY_LOCAL_MACHINE key, the restriction will be applied to the current user account only.
That's it.