Your Desktop is a special folder which shows your background wallpaper that you have chosen and your files, folders, documents, shortcuts and all such items you have stored. It appears every time you sign in to Windows. Today, we will learn how to enable or disable drop shadows for Desktop icon labels in Windows 10. We will review two methods, including the GUI, and a Registry tweak.
RECOMMENDED: Click here to fix Windows errors and optimize system performance
Tip: In earlier Windows versions, the Desktop had important icons enabled by default - This PC, Network, Control Panel, and your User files folder. They were all visible by default. However, in modern Windows versions, Microsoft made most of these icons hidden. In Windows 10, only the Recycle Bin is present on Desktop by default. Also, the Windows 10 Start Menu does not have links to these icons either. You can enable classic Desktop icons as follows:
Enable Desktop Icons in Windows 10
By default, Windows shows a drop shadow for each icon label on the Desktop. These drop shadows are designed to make icon names readable with both light and dark Desktop wallpapers.
Drop shadows enabled: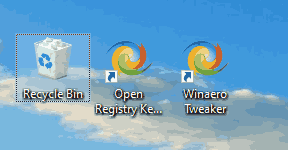 Drop shadows disabled: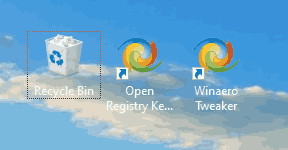 If the drop shadow feature doesn't play nice with your current desktop background, or if you are using a plain color instead of a colorful image, you can try to disable the drop shadows feature.
To Disable Drop Shadows for Desktop Icon Labels in Windows 10,
Press Win + R hotkeys on the keyboard. The Run dialog will appear on the screen. Type the following into the text box and press Enter:

SystemPropertiesAdvanced

Advanced System Properties will open. Press the Settings button in the Performance section on the Advanced tab.
The following dialog will be opened: There are a number of presets available at the top of the window.

Let Windows choose what's best for my computer - the operating system will automatically enable and disable some visual effects that it determines will run fine on your hardware.
Adjust for best appearance - This will enable all available visual effects.
Adjust for best performance - All visual effects will be disabled.
Custom - This will allow you to enable or disable visual effects manually. Once you change the check boxes in the list below, this option will be selected by default.

Turn off (uncheck) the option named Use drop shadows for icon labels on the desktop.
To re-enable the feature, open the same dialog and turn on (check) the Use drop shadows for icon labels on the desktop option.
Tip: You can open the System Performance dialog even faster by entering  SystemPropertiesPerformance.exe into the Run box.
Disable Drop Shadows for Desktop Icon Labels with a Registry Tweak
Open the Registry Editor app.
Go to the following Registry key.

HKEY_CURRENT_USER\Software\Microsoft\Windows\CurrentVersion\Explorer\Advanced

See how to go to a Registry key with one click.

On the right, modify or create a new 32-Bit DWORD value ListviewShadow.
Note: Even if you are running 64-bit Windows you must still create a 32-bit DWORD value.
Set its value to 1 to enable drop shadows for Desktop icon labels. A value data of 0 will disable them.
To make the changes done by the Registry tweak take effect, you need to sign out and sign in to your user account. Alternatively, you can restart the Explorer shell.
To save you time, you can download these ready-to-use Registry files.
That's it.
Related articles.
RECOMMENDED: Click here to fix Windows errors and optimize system performance