During Build 2016, Microsoft announced the official name of the Redstone 1 update. The next major Windows 10 version, which should be released in July 2016 will be named "Anniversary Update". Microsoft has explained in detail several new features the user can expect in Windows 10 Anniversary edition.

Linux executable file format support
The first interesting feature is native support for Linux binaries using API virtualization. Microsoft teamed up with Canonical, who is the creator of the popular Ubuntu Linux distro to implement a Linux subsystem (user land) inside Windows. Windows 10 will get a special layer to execute Linux binaries and apps. Microsoft claims it works faster than a Linux virtual machine. In the current implementation, which Microsoft demonstrated at Build, the user can get access to the following tools: apt, ssh, rsync, find, grep, awk, sed, sort, xargs, md5sum, gpg, curl, wget, apache, mysql, redis, python, perl, ruby, php, gcc, tar, vim, emacs, diff, patch etc.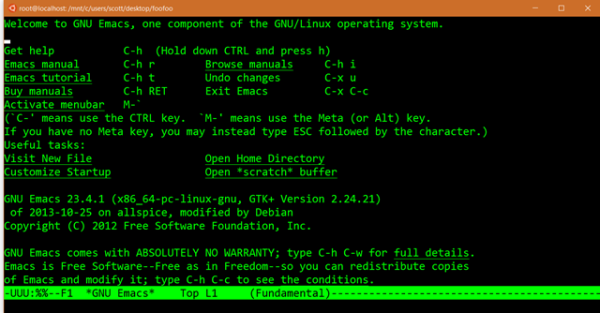 They will be able to install more apps from Ubuntu's repositories.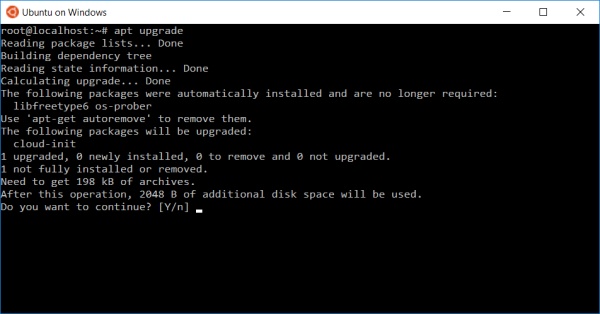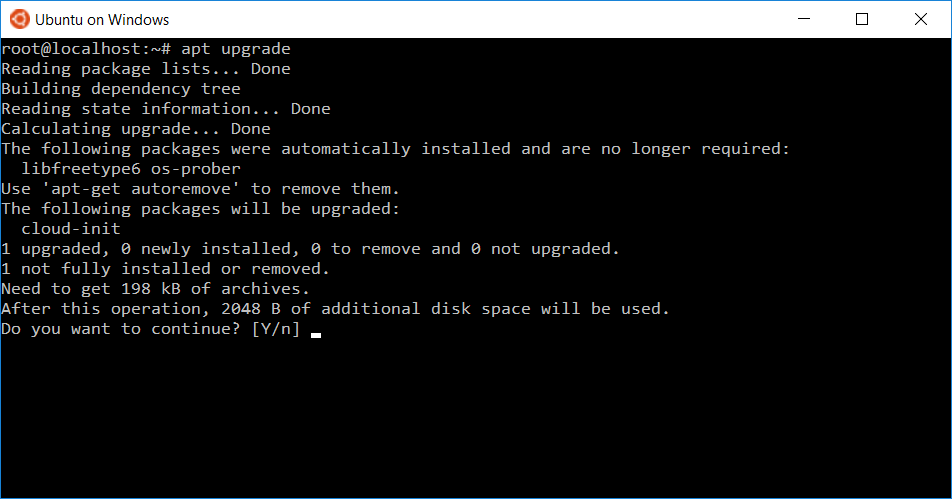 Some console apps have issues due to poor/improper terminal and VT100 standards. Due to this, you cannot use apps like screen or tmux. The situation is not clear about GUI apps. Probably these apps will not be supported.
Ubuntu apps will run in a separate area of the file system which replicates the file system hierarchy of Linux. The Windows file system will be accessible as a partition mounted to /mnt. For example, the folder "C:\Users\Kirkland\Downloads" will be accessble as "/mnt/c/Users/Kirkland/Downloads". See the screenshot below: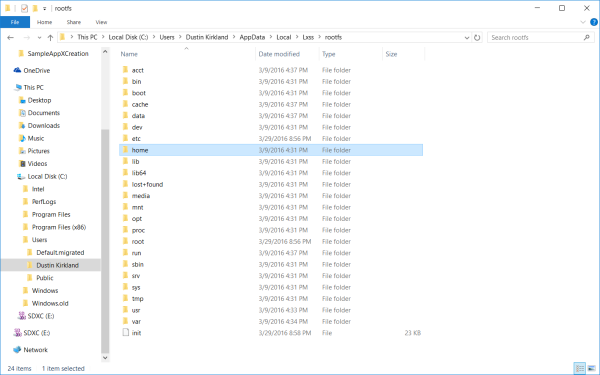 Microsoft describes the Linux integration as follows:
This isn't Bash or Ubuntu running in a VM. This is a real native Bash Linux binary running on Windows itself. It's fast and lightweight and it's the real binaries. This is a genuine Ubuntu image on top of Windows with all the Linux tools I use like awk, sed, grep, vi, etc. It's fast and it's lightweight.

The binaries are downloaded by you - using apt-get - just as on Linux, because it is Linux. You can apt-get and download other tools like Ruby, Redis, emacs, and on and on. This is brilliant for developers that use a diverse set of tools like me.

This runs on 64-bit Windows and doesn't use virtual machines.
The following video shows Linux apps running on Windows 10 in action:
Those who have been using Windows for a long time will not be surprised by this because the Windows NT family has supported multiple subsystems since its inception. Win32 is one of the subsystems in Windows, and at one time, Microsoft had a subsystem for OS/2 and POSIX (Unix-based applications).
Microsoft Edge improvements


Microsoft is continuing their work to make Edge feature-rich. The current implementation of this browser is very basic and feature limited.
To change this, the Anniversary Update will include:
Extensions support. The Insider Preview already has an option to try them in action. Also, Edge extensions were successfully ported to Google Chrome. Microsoft claims the opposite will be very easy.
Support for Windows Hello in Edge: The browser will allow the user to sign in to web sites with face recognition or with a fingerprint.
An improved new tab page with the ability to pin and remove sites, and re-arrange tiles.
Improvements to the browser's core, new APIs and web notifications support.
Cortana and Bots

With the Anniversary Update, Microsoft extends Cortana support to new regions. As we wrote earlier, Cortana will become a system wide assistant. Cortana will be accessible from the Lock screen, it will "listen" to your commands so you won't even need to unlock the device.
Microsoft is going to power Cortana with machine learning abilities, so it will become a self-trained app. The more you use it, the better search results and assistance it will provide. As was shown during Build 2016, Cortana was able to add an appointment automatically to Calendar after reading an email about an upcoming flight.
Another source of information for Cortana will be the built-in apps. It will access Skype calls and conversations and pick up information from there. For example, it will prompt the user to book a hotel room or a train ticket when this information appears in the Skype conversation's subject.
---
Windows 10 Anniversary Update will include a number of other improvements and changes. It will feature improved Windows Ink services with better user input recognition. An interesting feature is that Windows will be able to analyze certain words and statements that you write using the pen. Cortana will recognize dates for example from your handwritten notes and set calendar notifications automatically.
According to Microsoft, the release date for Windows 10 Anniversary Update is still not final. While the company plans to release it in July 2016, it can be postponed too.
What do you think about these changes? Do you welcome them or do you think such features are unnecessary and yet another reason to be concerned about your privacy?
Support us
Winaero greatly relies on your support. You can help the site keep bringing you interesting and useful content and software by using these options:
If you like this article, please share it using the buttons below. It won't take a lot from you, but it will help us grow. Thanks for your support!