Winamp is definitely one of the best media players available for Microsoft Windows. It has a long history, impressive popularity and still has plenty of users around the world. Unfortunately, the project started to lose its popularity due to AOL and their management policies. Winamp got a paid pro version, and there was no UI improvement for many years. Since 2013, there hasn't been a single release of the app. Suddenly, this week a beta version of the upcoming Winamp 5.8 found its way to the Internet.
The Winamp app was originally created and released in 1997 by Justin Frankel. Later in 1999, Winamp was sold to AOL. Finally, it was acquired by Radionomy in 2014, which is the current owner of the app.
Winamp is still one of the most popular media players available for Windows. From my personal experience, it is one of the most versatile and feature-rich media players, has an enormous variety of plugins and skins available and is stable enough for every day use.
This week, a new version appeared on the Internet. Winamp 5.8 Beta was not officially announced by Radionomy or related people, instead, it is an anonymous leak. The app build is dated October 26, 2016.
Here are some screenshots: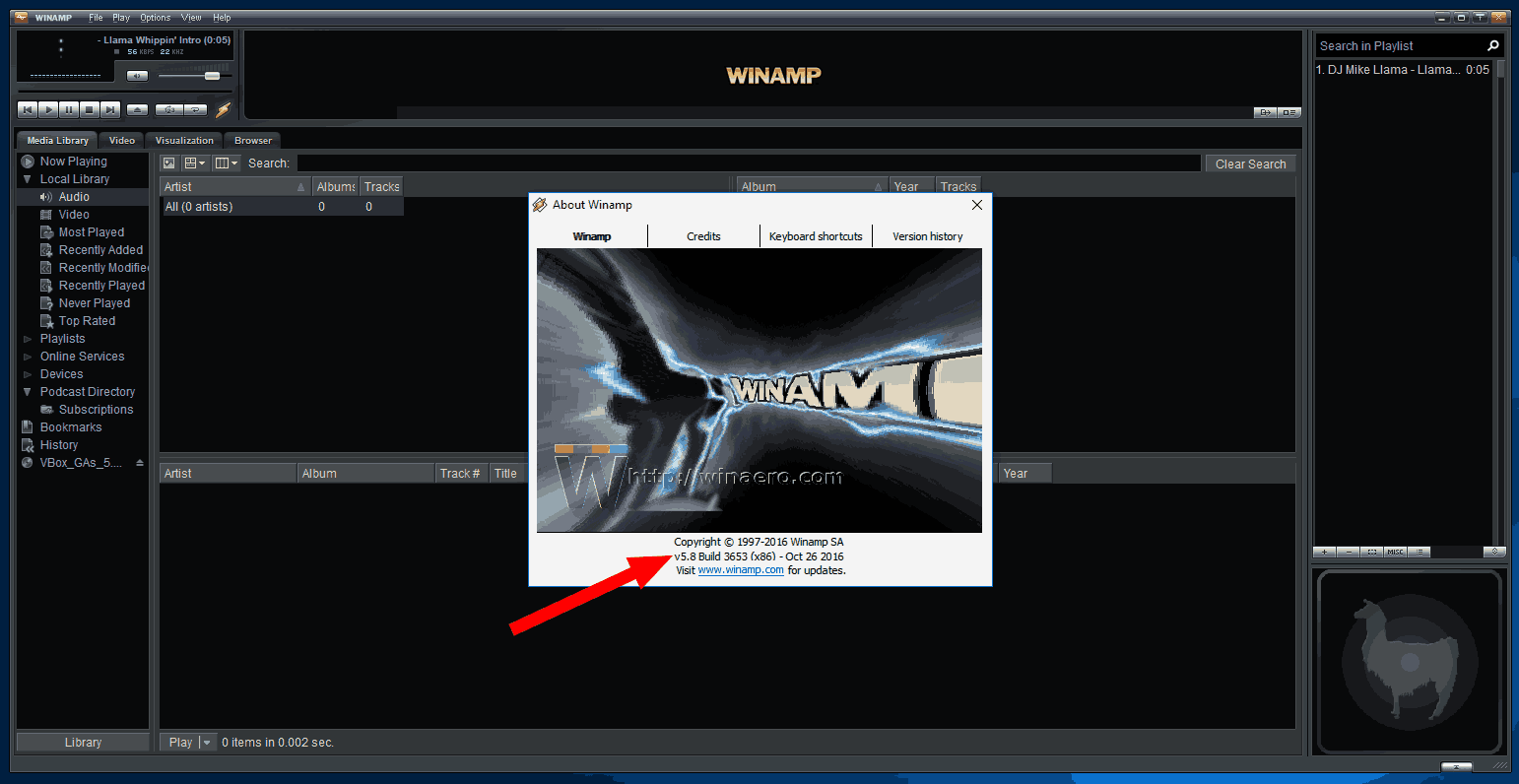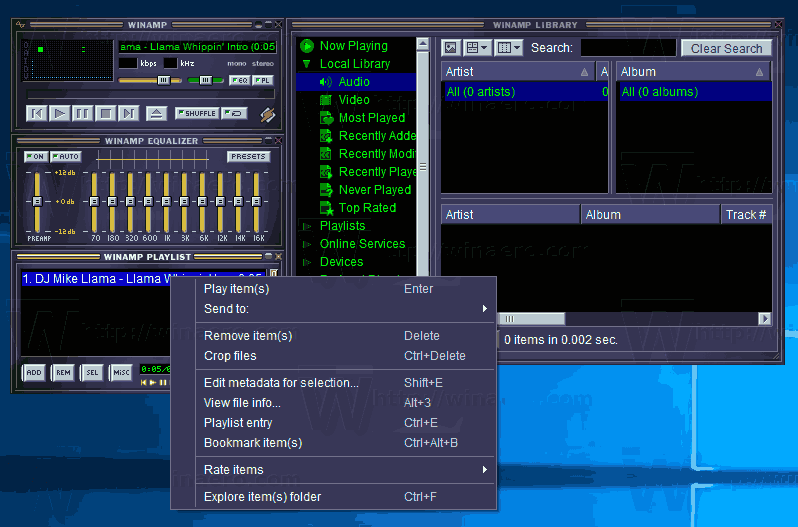 This version is compatible with all modern versions of Windows, including Windows 10.
Its change log highlights the following improvements and changes.
New: Windows Audio (WASAPI) Output plug-in (w.i.p.)
Improved: Added an option to completely disable Winamp's video support
Improved: Added an auto-fullscreen option to video prefs
Improved: Added /ENUMPLAYLISTS to the command-line support
Improved: Windows 8.1 and 10 compatibility
Improved: [in_mod] OpenMPT-based Module Player (replaces old MikMod player)
Improved: [ml_playlists] Added browse path & edit title functions in Ctrl+E editor
Improved: [Bento] Updated scrollbars and buttons and other tweaks (thanks Martin)
Improved: [Bento & Modern skins] Added a Playlist Search feature (thanks Victor)
Fixed: New URLs not being remembered after using Reset history in Open URL dialog
Fixed: Various memory leaks
Fixed: [gen_tray] Not showing correct current icon pack in preferences
Fixed: [in_avi] Divide-by-zero crash with badly formed files (thanks ITDefensor)
Fixed: [in_mp3] Crashing with some ID3v2 tags
Fixed: [ml_wire] Slow loading issue
Fixed: [ssdp] Crash on load if jnetlib was not correctly initialized
Misc: Minimum required OS is now Win XP sp3 (Windows 7 or higher recommended)
Misc: More general tweaks, improvements, fixes and optimizations
Misc: Moved shared DLLs to Winamp\Shared folder
Misc: MP3 Encoder must now be downloaded manually (to Shared folder)
Removed: All former "Pro" licensed functions (Winamp is now 100% freeware again)
Removed: gen_jumpex & UnicodeTaskbarFix (making way for native implementations)
Removed: [in_wm] DRM support
Replaced: CD playback and ripping now using native Windows API (instead of Sonic)
Replaced: MP3 Decoder now mpg123 based (instead of Fraunhofer)
Replaced: AAC Decoder now using Media Foundation (Vista and higher)
Replaced: H.264 Decoder now using Media Foundation (Vista and higher)
Replaced: MPEG-4 Pt.2 Decoder now using Media Foundation (Vista and higher)
Updated: [in_vorbis] libogg 1.3.2 & libvorbis 1.3.5 (aoTuV b6.03)
Updated: [libyajl] libyajl v2.1.0
Updated: [OpenSSL] OpenSSL v1.0.1i
Updated: [png] libpng v1.5.24
Interested users can visit via and download the file from the link provided by the news source. Unfortunately, development of Winamp has stagnated, and nobody knows if we will ever see a stable official version of the app.
Support us
Winaero greatly relies on your support. You can help the site keep bringing you interesting and useful content and software by using these options:
If you like this article, please share it using the buttons below. It won't take a lot from you, but it will help us grow. Thanks for your support!