A new version of Winaero Tweaker is out, featuring a significant number of new features. Along with new features, I fixed some minor bugs and made some improvements to the user interface of the app.

I found two minor bugs which caused folders you added to This PC/Computer folder to be shown without icons under 64-bit Windows in 32-bit apps. I fixed them; now everything works as expected.
Another minor bug was that trackbars (sliders) were cut off on high DPI displays. I have fixed the trackbar control layout to eliminate this.
Now, let's talk about new features.
Ability to add custom folders and system locations to the navigation pane of File Explorer
The most notable and significant change of this release is the ability to add custom folders and system locations to the navigation pane of File Explorer. Starting with this release of Tweaker, you can add any folder you want to the navigation pane! You can pick any custom folder on your disk, or add any system folder from a long list of shell locations: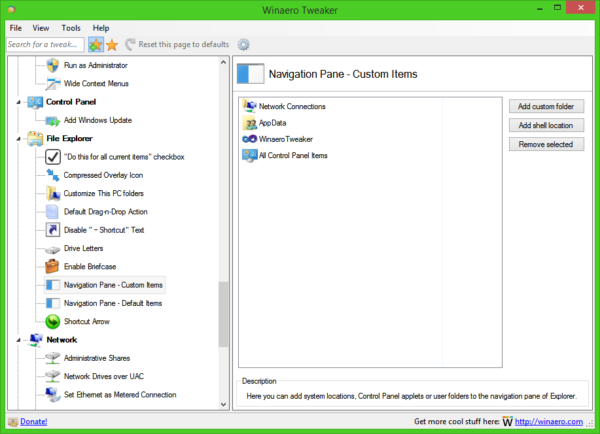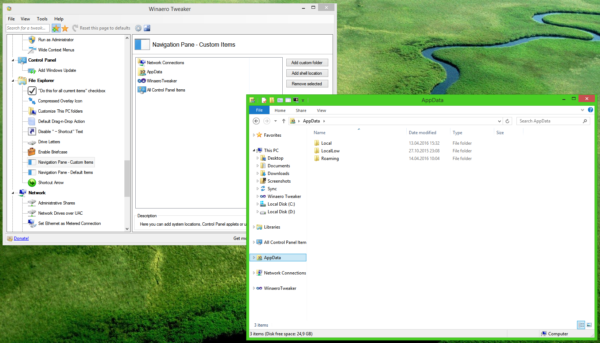 You are not limited to customizing the navigation pane. Winaero Tweaker will also allow you to hide default items like Quick Access, This PC, Homegroup and so on besides adding custom folders. Let's hope Microsoft keeps this ability in Windows.
Wallpaper JPEG quality for Windows 10
As we covered earlier, , Windows 10 reduces the quality of JPEG images you set as the desktop background. If you compare the original image and the wallpaper, you can see that the wallpaper has minor JPEG artifacts. Winaero Tweaker 0.5.0.5 gives you control over this issue and lets you adjust the wallpaper image quality easily using the following user interface: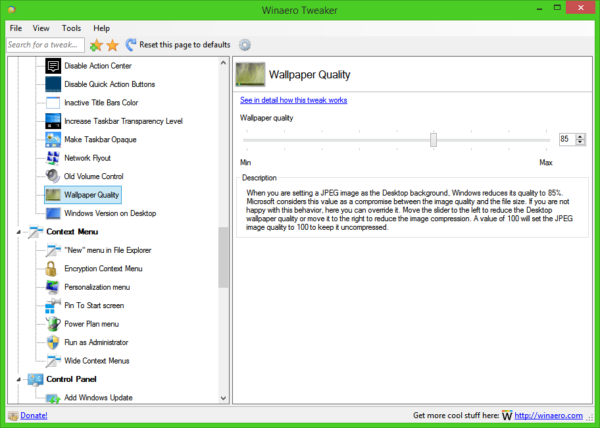 Restore Briefcase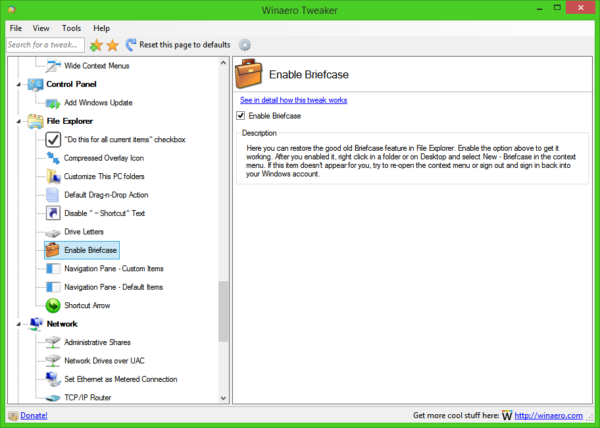 Although modern Windows versions offer you several data synchronization solutions such as OneDrive and Offline Files, they are both limited. OneDrive requires Internet access and Offline Files requires a network. If you simply wish to keep 2 folders in sync on your local drive or across different locations such as your local drive and a USB flash drive, you may still find the Briefcase feature incredibly useful. Unfortunately, the old "Briefcase" feature was removed in Windows 8. Briefcase offers you simple two way data synchronization and it kept track of files by date modified so you could quickly update outdated copies. With a new option I added to Winaero Tweaker, you can get Briefcase working with just one click on Windows 8 and Windows 10!
Show Windows version on the Desktop
I added the good old tweak which allows the user to show the operating system name, edition and the build number in the bottom right corner of the Desktop. While beta/Insider builds of Windows already show this, stable releases don't. Many users like to see this information on the Desktop: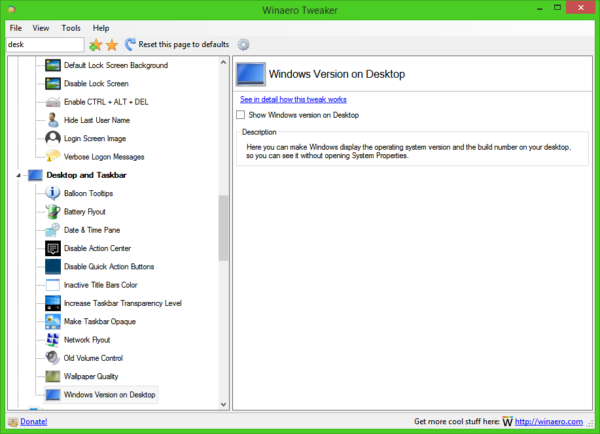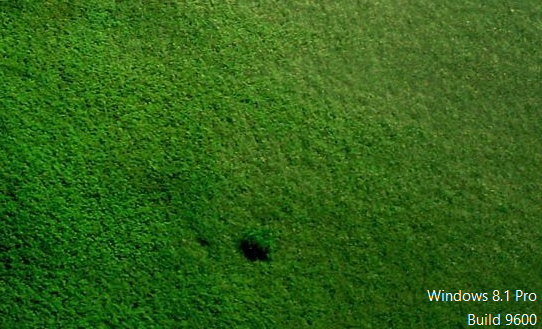 User interface changes and improvements
I tried my best to make Winaero Tweaker's left area not look cluttered by organizing it into logical categories. Now, it has two new categories.
Taskbar and Desktop - this category will contain all the tweaks related to the appearance and behavior of the Desktop and Taskbar in Windows 10, Windows 8 and Windows 7. Features like Old Sound Volume applet, Opaque Taskbar, Disable Action Center and so on will appear there.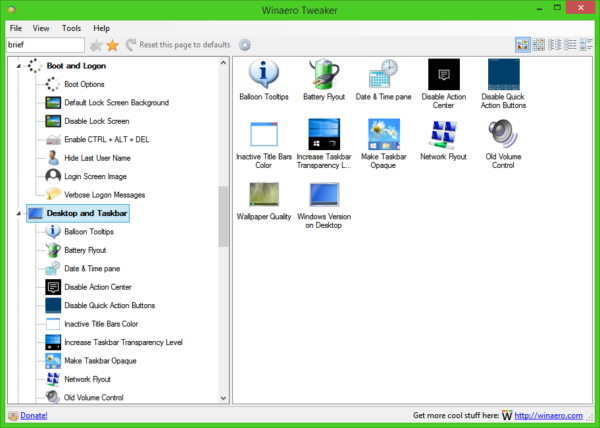 File Explorer - this category will include options related to Windows Explorer.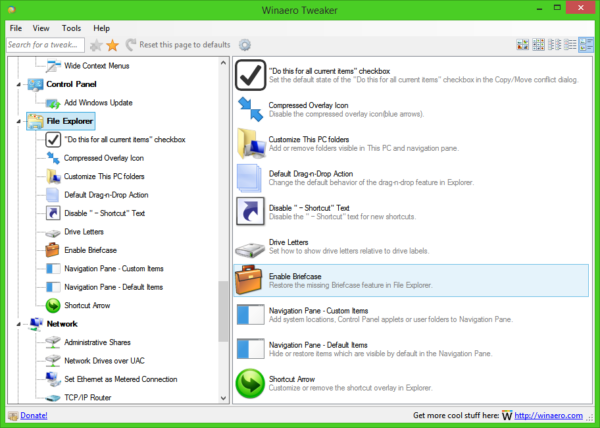 So, two existing categories, "Appearance" and "Behavior" have become less cluttered and the application's pages are better organized now.
Note: if you affected by the following issue:
I launched a version for Windows 7, added folders and shell, but these are duplicated on the desktop. My Win7 is x64.
Then just re-download the app. I already fixed this minor bug.
That's it. Feel free to report any bugs you find and make your own suggestions. You can download Winaero Tweaker here:
Download Winaero Tweaker | The list of Winaero Tweaker features | Winaero Tweaker FAQ
Support us
Winaero greatly relies on your support. You can help the site keep bringing you interesting and useful content and software by using these options:
If you like this article, please share it using the buttons below. It won't take a lot from you, but it will help us grow. Thanks for your support!