The team behind the most innovative Vivaldi browser released a new snapshot of the upcoming version of the app. Vivaldi 2.2.1369.6 makes the address bar customizable, features the ability to mute tab without switching to them.
Vivaldi was started with the promise of giving you a highly customizable, full-featured, innovative browser. It looks like its developers kept their promise - there is no other browser on the market which offers the same amount of options and features. While Vivaldi is built on Chrome's engine, power users are the target user base, like the classic Opera 12 browser. Vivaldi was created by former Opera co-founder and developed keeping in mind Opera's usability and power.
Today, Vivaldi got yet another feature which was available in the classic Opera: the ability to customize the toolbar.
Customize the toolbar
It is possible to remove any button using the right-click menu of a control. There is a new context menu item, Cuztomize, that includes the new Remove from toolbar command. Using it, you can make the toolbar show only the buttons you need.


Mute other tabs
As you may already know, Vivaldi has a keyboard shortcut and a quick command to mute other tabs available from the foreground tab. Now you can right click any background tab and mute all EXCEPT that tab.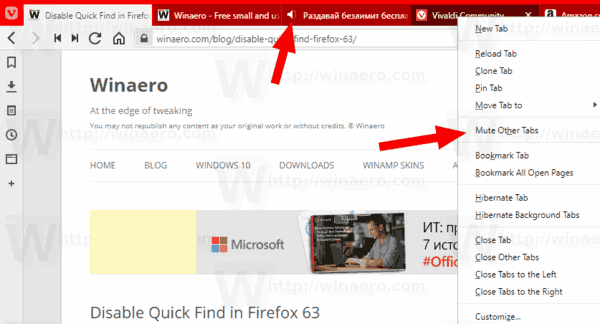 Finally, Chromium was updated to version 71.0.3578.45
Download (1369.6)
Changelog
[New] Configurable Toolbar and Toolbar Button components (VB-45486)
[New] Mute all other tabs (VB-11239)
[New] Search box on Speed Dial (VB-23505)
[Regression] First char entered in URL field is selected (VB-45843)
[Regression] Homepage button doesn't take the user to the correct page when controlled by extension (VB-46164)
[Regression] Page zoom doesn't work on untiled tabs (VB-46007)
[Regression] Quick Commands 'Focus Search Field' doesn't work (VB-45260)
[Regression] Right-click does not work in dev tools inspector (VB-45331)
[Regression][Linux] Widevine does not work at all (VB-45977)
[Mac] Problem with Show/Hide Window Panel state on Menu Bar (VB-32080)
[Windows] Logo lacking gap in header (VB-45831)
[Address bar] Ability to toggle only selected extensions (VB-35195)
[Address bar] Arrow up behavior when dropdown menu is not open (VB-45754)
[Address bar] Esc in URL field closes dropdown and losses focus (VB-46092)
[Address bar] URL field focused twice, blinks (VB-44799)
[Focus] Cursor switches place based on mouseclick up location (VB-45820)
[Notes] Notification firing from background windows (VB-46074)
[Notes] Pasting a note with screenshot adds another screenshot (VB-46073)
[Quick Commands] Search result tuning (VB-45938)
[Panels] Vertical main menu shows incorrect accelerator keys initially when panel is hidden (VB-42330)
[Search] Arrow up in search bar suggestion causes caret to jump (VB-45886)
[Speed Dial] No rocker gestures on Speed Dial (VB-10512)
[Speed Dial] Tabs inaccessible with New Tab Page other than Start Page (VB-39875)
[Sync] Converting more settings to syncable types (VB-45835)
[UI] Allow identical underscored letters in menus as last resort (VB-45887)
[Window panel] allow middle click to close tab or stack (VB-34686)
Source: Vivaldi.
Support us
Winaero greatly relies on your support. You can help the site keep bringing you interesting and useful content and software by using these options:
If you like this article, please share it using the buttons below. It won't take a lot from you, but it will help us grow. Thanks for your support!