As you might recollect, recently Linux Mint 18 left the beta stage and became available for everyone. It is now possible to upgrade the Cinnamon and MATE editions of Linux Mint 17.3 to version 18.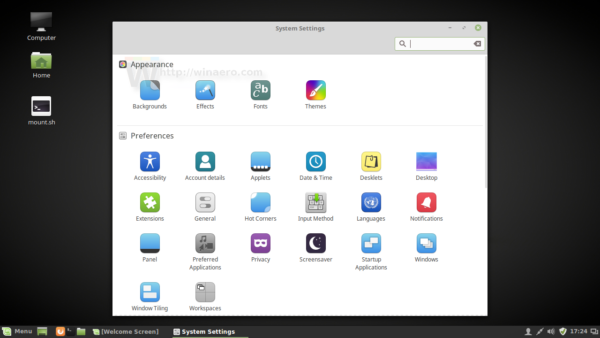 Linux Mint developers do not force you to upgrade. Unlike Microsoft, who force their latest OS on everyone, including those who do not want to upgrade, Mint developers clearly state the following:
Upgrade for a reason

"If it ain't broke, don't fix it".
...
If your version of Linux Mint is still supported, and you are happy with your current system, then you don't need to upgrade.
Linux Mint 13 is supported until 2017 and Linux Mint 17, 17.1, 17.2 and 17.3 are supported until 2019. So you need to find a strong reason to upgrade your PC. You can always try a Live CD/USB mode to check out all the changes yourself and decide if you really need them.
Linux Mint 18 offers updated software versions of essential apps and introduces new themes and new "x-apps", a set of apps available in all supported desktop environments. You can read in detail here:
You can smoothly upgrade only Cinnamon or MATE editions of Linux Mint 17.3. The upgrade tool does not support other editions, because Linux Mint 18 Xfce is not released yet, and the KDE edition comes with a different KDE version called Plasma and can't be upgraded.
So, if you are still running Linux Mint 17, 17.1 or 17.2, you need to upgrade first to Linux Mint 17.3 using the Update Manager. Do it as follows:
In the Update Manager, click on the Refresh button to check for any new version of mintupdate and mint-upgrade-info. If there are updates for these packages, apply them.
Launch the System Upgrade by clicking on "Edit->Upgrade to Linux Mint 17.3 Rosa".

Now follow the official upgrade guide, as follows.
Upgrade Linux Mint 17.3 to Linux 18
Open the Update Manager and click on the "Refresh" toolbar button to fetch a list of available updates. Install all updates of 1 - 3 level.
Open the Terminal app.
In Terminal app, click on "Edit"->"Profile Preferences"->"Scrolling".
There, enable the unlimited scrolling option.
Install the upgrade tool using the following command:

sudo apt install mintupgrade

To simulate an upgrade, execute the following command:

mintupgrade check

Then follow the instructions on the screen.
This command temporarily points your system to the Linux Mint 18 repositories and calculates the impact of an upgrade.
Note that this command doesn't affect your system. After the simulation is finished, your original repositories are restored.

Using the simulation mode, you can check which apps will be removed and which changes will be performed on your PC. This is a very useful and safe operation. If you are not satisfied with its output, you can stop here and not continue with the actual upgrade operation.

If you decide to continue, you need to download the packages necessary to upgrade to Linux Mint 18. Type the following command:

sudo mintupgrade download

This command will set up Linux Mint 18 repositories and download necessary packages required for the upgrade.

Run the command:

sudo mintupgrade upgrade

This will upgrade the operating system to the latest version.
That's it. Source: Mint Blog.
Support us
Winaero greatly relies on your support. You can help the site keep bringing you interesting and useful content and software by using these options:
If you like this article, please share it using the buttons below. It won't take a lot from you, but it will help us grow. Thanks for your support!