Windows 10 is well known for resetting apps which the user has set by default. After various updates and build upgrades, Windows 10 resets the default browser back to Edge, the email app back to the Universal Windows Platform Mail app. The same happens for Photos, Groove Music and so on. If you are getting annoyed by having your file associations reset to default Metro apps after certain updates, here is how you can try to prevent it.

Actually, updates are not the only reason why Windows 10 resets your default apps. When no file association has been set by the user, or when an app corrupts the UserChoice Registry key while setting associations, it causes file associations to be reset back to their Windows 10 defaults. The UserChoice key stores an encrypted hash which indicates that the association was set by the user and not by some malware. It is a part of the new protection mechanism which exists in the operating system since Windows 8.
For instance, Photos may take over your image file associations after an update, or due to the above mentioned reason. When this happens, Action Center notifies you that an app default was reset: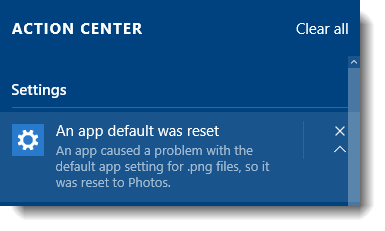 To fix this manually, you can apply a simple Registry tweak. For the Photos app for example, the following steps need to be done:
Go to the following Registry key:

HKEY_CURRENT_USER\SOFTWARE\Classes\Local Settings\Software\Microsoft\Windows\CurrentVersion\AppModel\Repository\Packages\Microsoft.Windows.Photos_16.122.14020.0_x64__8wekyb3d8bbwe\App\Capabilities\FileAssociations


Tip: You can access any desired Registry key with one click.
Note: The above key is only applicable if you have version v16.122.14020.0_x64 of the Photos app installed, which is the current version on my PC as of this writing. If you have any other version or build number, choose the appropriate key. It will be in this format:

Microsoft.Windows.Photos_nn.nnn.nnnnn.n_x64__8wekyb3d8bbwe

Where the nnn… is a placeholder for the actual version/build number. Also watch out for the x64/x86 portion.

In the right-pane, look at the value of the image file type, e.g. .jpg. In the screenshot below, it is AppX43hnxtbyyps62jhe9sqpdzxn1790zetc:
Now go to the following key:

HKEY_CURRENT_USER\SOFTWARE\Classes\VALUE_FROM_THE_PREVIOUS_STEP

In our case it is

HKEY_CURRENT_USER\SOFTWARE\Classes\AppX43hnxtbyyps62jhe9sqpdzxn1790zetc

Create a new string value here named NoOpenWith and don't set its value data (leave it empty):
This will prevent the Photos app from taking over image files type associations! You need to repeat these steps for every app which takes over your default apps. After that, Windows 10 will not change your default file associations.
To save your time, you can use the following Registry tweak, which is tested and works in Windows 10 build 10586 as of this writing:
Windows Registry Editor Version 5.00

;-------------------
;Microsoft.3DBuilder
;-------------------
;File Types: .stl, .3mf, .obj, .wrl, .ply, .fbx, .3ds, .dae, .dxf, .bmp
;... .jpg, .png, .tga
[HKEY_CURRENT_USER\SOFTWARE\Classes\AppXvhc4p7vz4b485xfp46hhk3fq3grkdgjg]
"NoOpenWith"=""

;-------------------
;Microsoft Edge
;-------------------
;File Types: .htm, .html
[HKEY_CURRENT_USER\SOFTWARE\Classes\AppX4hxtad77fbk3jkkeerkrm0ze94wjf3s9]
"NoOpenWith"=""

;File Types: .pdf
[HKEY_CURRENT_USER\SOFTWARE\Classes\AppXd4nrz8ff68srnhf9t5a8sbjyar1cr723]
"NoOpenWith"=""

;File Types: .svg
[HKEY_CURRENT_USER\SOFTWARE\Classes\AppXde74bfzw9j31bzhcvsrxsyjnhhbq66cs]
"NoOpenWith"=""

;File Types: .xml
[HKEY_CURRENT_USER\SOFTWARE\Classes\AppXcc58vyzkbjbs4ky0mxrmxf8278rk9b3t]
"NoOpenWith"=""

;-------------------
;Microsoft Photos
;-------------------
;File Types: .3g2,.3gp, .3gp2, .3gpp, .asf, .avi, .m2t, .m2ts, .m4v, .mkv
;... .mov, .mp4, mp4v, .mts, .tif, .tiff, .wmv
[HKEY_CURRENT_USER\SOFTWARE\Classes\AppXk0g4vb8gvt7b93tg50ybcy892pge6jmt]
"NoOpenWith"=""

;File Types: Most Image File Types
[HKEY_CURRENT_USER\SOFTWARE\Classes\AppX43hnxtbyyps62jhe9sqpdzxn1790zetc]
"NoOpenWith"=""

;File Types: .raw, .rwl, .rw2 and others
[HKEY_CURRENT_USER\SOFTWARE\Classes\AppX9rkaq77s0jzh1tyccadx9ghba15r6t3h]
"NoOpenWith"=""

;-------------------
; Zune Music
;-------------------
;File Types: .aac, .adt, .adts ,.amr, .flac, .m3u, .m4a, .m4r, .mp3, .mpa
;.. .wav, .wma, .wpl, .zpl
[HKEY_CURRENT_USER\SOFTWARE\Classes\AppXqj98qxeaynz6dv4459ayz6bnqxbyaqcs]
"NoOpenWith"=""

;-------------------
; Zune Video
;-------------------
;File Types: .3g2,.3gp, .3gpp, .avi, .divx, .m2t, .m2ts, .m4v, .mkv, .mod
;... .mov, .mp4, mp4v, .mpe, .mpeg, .mpg, .mpv2, .mts, .tod, .ts
;... .tts, .wm, .wmv, .xvid
[HKEY_CURRENT_USER\SOFTWARE\Classes\AppX6eg8h5sxqq90pv53845wmnbewywdqq5h]
"NoOpenWith"=""

Here you can download ready-to-use reg files:
After you have applied this tweak, you need to open Control Panel > Default Programs and set file associations or app defaults as you prefer. None of the built-in Universal Apps should reset the file associations from now on.
That's it.
Support us
Winaero greatly relies on your support. You can help the site keep bringing you interesting and useful content and software by using these options:
If you like this article, please share it using the buttons below. It won't take a lot from you, but it will help us grow. Thanks for your support!