Microsoft has released two new PowerToys versions. PowerToys 0.21.1 is now available in the stable branch of the app suite, and resolves a bunch of various issues in tools included in the suite. PowerToys 0.22 is a new preview release. It is notable for a new tool, Video Conference Mute. The new tool will mute not your audio and video with a single keystroke.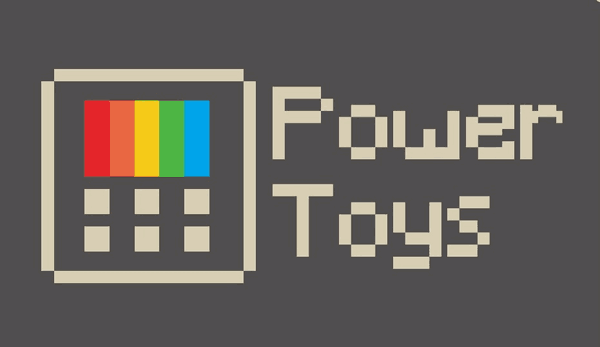 PowerToys is a set of tiny handy utilities which were first introduced in Windows 95. Probably, most users will recollect TweakUI and QuickRes, which were really useful. The last version of the classic PowerToys suite was released for Windows XP. In 2019, Microsoft announced that they are reviving PowerToys for Windows and making them open source. Windows 10 PowerToys obviously are completely new and different, tailored for the new operating system.
PowerToys 0.22: Video Conference Mute tool
The new Video Conference Mute tool is only included in the pre-release version of PowerToys installer, version 0.22. This PowerToy requires Windows 10 1903 (build 18362) or later.
The utility will mute not just your audio but your video as well with a single keystroke. You can do audio, video both. Microsoft considers the ability to quickly mute while on a conference call is critical regardless of where you are on your computer.
Usage
Win+N to toggle both Audio and Video at the same time
Win+Shift+O to toggle video
Win+Shift+A to toggle microphone
When the camera is in use, you'll see the following dialog on where you set it on your screen to get your state. With a quick click or a keystroke, your state will be updated.

To have the camera set, all you need to do is select the PowerToys camera. It also includes a number of other settings.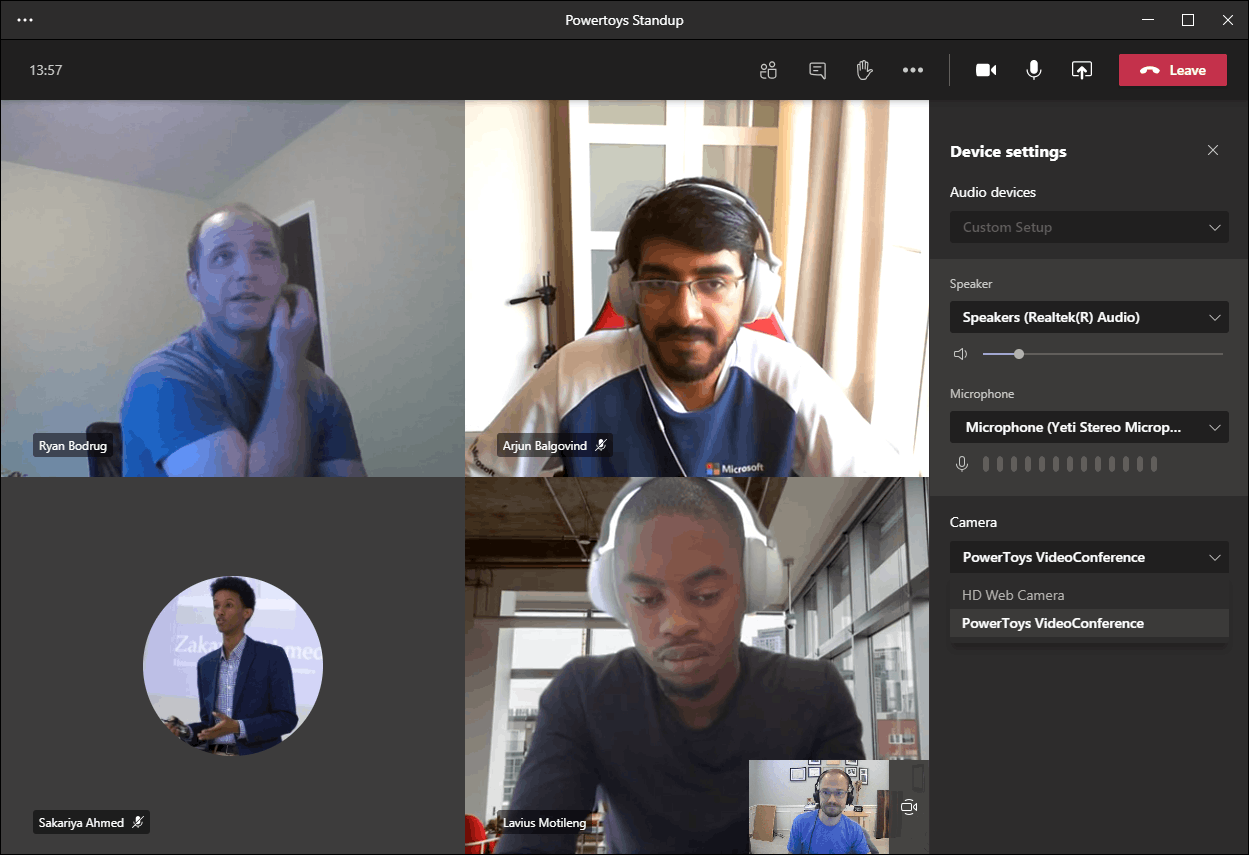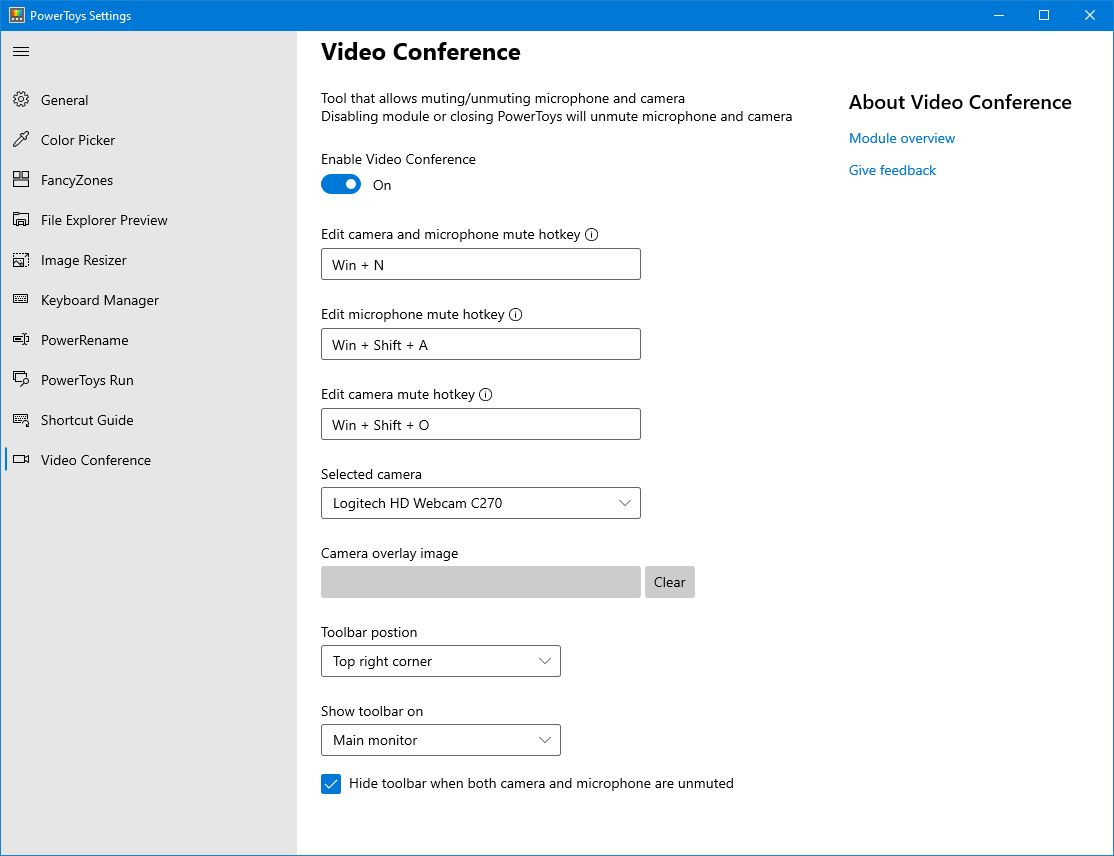 To mute audio or video, the tool does the following.
Audio: PowerToys uses global microphone mute API in Windows. Apps should recover when this is toggled on and off.
Video: PowerToys has a virtual driver for the webcam. It routes the video through the driver and back to the application. When a user tells the app to stop broadcasting the video, it stops streaming. The application itself still thinks it is getting video except all it is getting is a stream of black. When you toggle the stream back on, the driver just restores the actual video stream.
To download PowerToys 0.22 Preview, navigate to the following page on GitHub:
What's new in PowerToys 0.21.1
This release doesn't include new tools or features. It is a maintenance update to the stable version 0.20, which is notable for having the long-awaited color picker tool. It comes with the following fixes.
PT Run:
Removed need for space in action keywords. This means you now can type >ipconfig
Icon caches fixed and now has colored icons
Improved font rendering via ClearType (Shout out to @AnuthaDev doing the heavy lifting here)
Result speed improvements
URLs are supported
Fixed bugs including calculating bugs
FancyZone:
Win+Arrow key is directional based on zone rect
Fixed bugs
Runner:
Fixed toast notifications running elevated from non-admin account
Shortcut Guide:
Improved vkey catching which will fix some use cases of it not showing up
SVG in File Explorer:
Embedded image tags will now render in Explorer
Color Picker:
Fixed bug where it would launch via false positive keystrokes
Accessibility:
Settings, PT Run and KBM undergoing improvements
Localization:
Pipeline is now setup and will be doing a full E2E pass on all utilities shortly.
Dev quality of life improvements:
Continued warning count reduction. This release ~80 removed
StyleCop enabled E2E
FxCop starting to be added in E2E
Download PowerToys
You can download the app from its Releases page on GitHub:
Available Tools
As of now, Windows 10 PowerToys include the following apps.
Video Conference Mute tool - an experimental tool that allows muting both audio and video on your computer with a single keystroke or click.
ColorPicker - a simple and quick system-wide color picker that allows you to get the color value at any point of what you see on the screen.
PowerRename - a tool that is intended to help you rename a large number of files using various naming conditions like search and replace a portion of the file name, define regular expressions, change letter case, and more. PowerRename is implemented as a shell extension for File Explorer (read plugin). It opens a dialog box with a bunch of options.
FancyZones - FancyZones is a window manager that is designed to make it easy to arrange and snap windows into efficient layouts for your workflow, and also to restore these layouts quickly. FancyZones allows the user to define a set of window locations for a desktop that are drag targets for windows. When the user drags a window into a zone, the window is resized and repositioned to fill that zone. 
Windows key shortcut guide - The Windows key shortcut guide is a full screen overlay utility that provides a dynamic set of Windows key shortcuts that are applicable for the given desktop and currently active window. When the Windows key is held down for one second, (this time can be tuned in settings), an overlay appears on the desktop showing all available Windows key shortcuts and what action those shortcuts will take given the current state of the desktop and active window. If the Windows key continues to be held down after a shortcut is issued, the overlay will remain up and show the new state of the active window.
Image Resizer, a Windows Shell Extension for quickly resizing images.
File Explorer - a set of addons for File Explorer. Currently includes two Preview Pane additions to show contents of *.MD and *.SVG files.
Window Walker is an app that lets you search and switch between windows that you have open, all from the comfort of your keyboard.
PowerToys Run, provides a new Run command with extra options like quick search for apps, files, and docs. It supports extensions to get features like a calculator, dictionaries, nd online search engines.
Keyboard Manager is a tool that allows remapping any key to a different function. It can be configured in the main PowerToys dialog.It allows you to remap a single key, or a key sequence (shortcut).
Support us
Winaero greatly relies on your support. You can help the site keep bringing you interesting and useful content and software by using these options:
If you like this article, please share it using the buttons below. It won't take a lot from you, but it will help us grow. Thanks for your support!