According to Microsoft, users are moving to Windows 10 very quickly. Since they are using all possible ways to coax the average user to switch from previous Windows releases to the latest version, it might be working. Microsoft has shared some of their official stats which show that 16% of users were already on Windows 10 in November 2015. This comes with a very important footnote though which mentions that this usage data is obtained from customers who have opted to send Microsoft telemetry data.



Microsoft periodically reports how many users have downloaded and installed Windows 10. These are installation figures, which do not necessarily indicate active users. Many users may have downloaded Windows 10 and reverted back to Windows 7 or 8. But Microsoft claims that Windows 10 is being adopted quickly. PC vendors have started shipping all new devices with Windows 10 only. Existing users can upgrade their OS from Windows 8 or Windows 7 to Windows 10 for free for a limited time.
The company has been promoting Windows 10 very aggressively. Various KB updates land on users' PCs and show offers to begin the installation of Windows 10. The most recent update offer comes without a prominent Cancel button. Microsoft has also made Windows 10 a recommended upgrade which means like other components which install for Windows like .NET Framework, Silverlight etc, Windows 10 will also be automatically downloaded.
Thanks to these pushy campaigns, the usage share of Windows 10 reached 16% last November. The company is trying hard to reach their goal of 1 billion devices running Windows 10 by 2017 or 2018. It is not known why there are no statistics available after November 2015. Also, there will be millions of Windows users who turned off telemetry completely so these PCs will not be counted in these stats, completely skewing their accuracy.

Anyway, here is the link to these official stats which I admit are quite interesting:
Besides revealing that Windows 7 is the most popular release still, the stats also highlight other interesting PC hardware specifications. The majority of Windows users have only 4 GB of RAM and up to 500 GB of storage.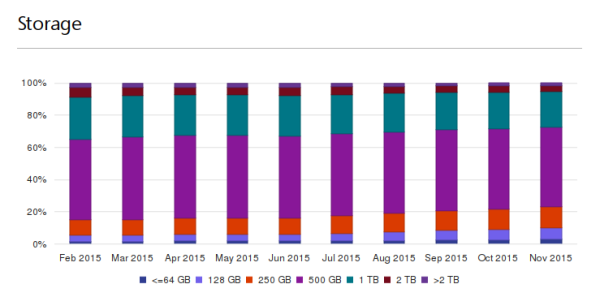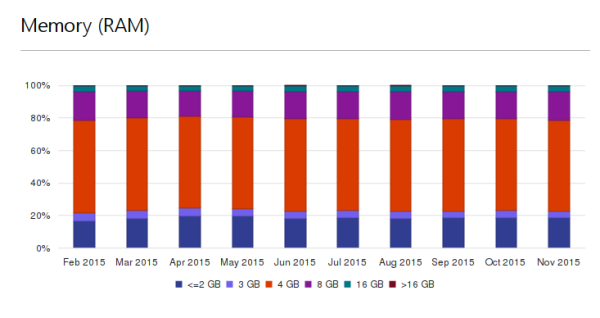 The majority of graphics chips (GPUs) in use support DirectX 11 and resolutions up to 720p are the most common.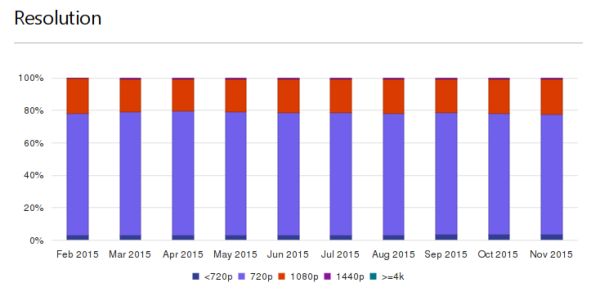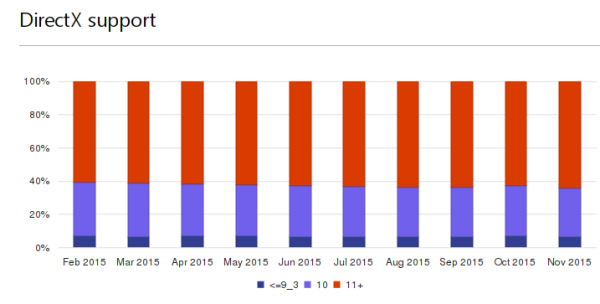 App store related figures show that games are the most popular kind of free as well as paid apps. This is expected because except for games and a few apps that use web services like Netflix, Pandora etc, none of the apps are good enough or more capable than Windows desktop apps.
What are your observations from these statistics - how many people around you are running Windows 10? Do they like it or not?
Support us
Winaero greatly relies on your support. You can help the site keep bringing you interesting and useful content and software by using these options: