Unlike Microsoft Edge Legacy, which was initially exclusive to Windows 10, modern Chromium-based Edge is available on every modern and supported platform. You can download Edge for Windows 11, 10, 8.1, 7, macOS, iOS, Android, and even Linux. The latter, though, is currently available only in preview. Linux was the last operating system Microsoft has added to the list of supported systems; no wonder the stable version is not available yet.
If you use Linux and want to try Edge, there is good news for you: Microsoft is about to release the first stable version of Edge for Linux.
Microsoft Edge Stable for Linux
Stable Edge for Linux is not available on the official website yet, but Microsoft has already published the "microsoft-edge-stable_95" rpm and deb packages in the repository. Linux users can install those packages on Ubuntu, OpenSuSE, Fedora, and Debian.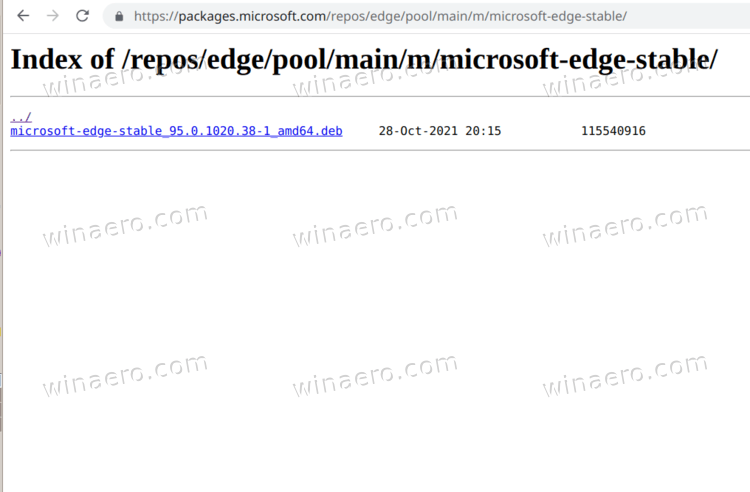 The edge://version page reveals that Edge 95.0.1020.38 is the first official stable build of the browser for Linux users. Meanwhile, the official website offers only Dev and Canary versions. As you can tell, judging by the version number, Edge Stable for Linux is based on Chromium 95, which is the most recent stable version available on other platforms.
The deb package comes with the following metadata:
Package: microsoft-edge-stable
Version: 95.0.1020.38-1
Architecture: amd64
Maintainer: Microsoft Edge for Linux Team <null@null.com>
Installed-Size: 378115
Pre-Depends: dpkg (>= 1.14.0)
Depends: ca-certificates, fonts-liberation, libasound2 (>= 1.0.16), libatk-bridge2.0-0 (>= 2.5.3), libatk1.0-0 (>= 2.2.0), libatomic1 (>= 4.8), libatspi2.0-0 (>= 2.9.90), libc6 (>= 2.17), libcairo2 (>= 1.6.0), libcups2 (>= 1.6.0), libcurl3-gnutls | libcurl3-nss | libcurl4 | libcurl3, libdbus-1-3 (>= 1.5.12), libdrm2 (>= 2.4.38), libexpat1 (>= 2.0.1), libgbm1 (>= 8.1~0), libgcc1 (>= 1:3.0), libglib2.0-0 (>= 2.39.4), libgtk-3-0 (>= 3.9.10) | libgtk-4-1, libnspr4 (>= 2:4.9-2~), libnss3 (>= 2:3.22), libpango-1.0-0 (>= 1.14.0), libuuid1 (>= 2.16), libx11-6 (>= 2:1.4.99.1), libxcb1 (>= 1.9.2), libxcomposite1 (>= 1:0.4.4-1), libxdamage1 (>= 1:1.1), libxext6, libxfixes3, libxkbcommon0 (>= 0.4.1), libxrandr2, libxshmfence1, wget, xdg-utils (>= 1.0.2)
Recommends: libu2f-udev, libvulkan1
Provides: www-browser
Section: web
Priority: optional
Description: The web browser from Microsoft
Microsoft Edge is a browser that combines a minimal design with sophisticated technology to make the web faster, safer, and easier.
Microsoft Edge Stable for Linux will offer all the features users enjoy on Windows and macOS. They include Microsoft Account synchronization, tracking prevention, Reading Mode, shopping assist, vertical tabs, efficiency mode, collections, and the recently introduced Super-Duper Secure Mode. The latter improves security by disabling JIT (Just-in-time) compiler in the V8 JavaScript engine and applying other security mitigations.
There is no information on when Microsoft plans to announce Edge Stable for Linux, but that should not take too long, considering the first builds are ready for download. It took Microsoft a year to prepare a stable version of Edge for Linux (the first preview went out in October 2020), and now the company appears to be ready to push it to the public.
Support us
Winaero greatly relies on your support. You can help the site keep bringing you interesting and useful content and software by using these options:
If you like this article, please share it using the buttons below. It won't take a lot from you, but it will help us grow. Thanks for your support!