Today, Linux Mint 19 beta ISO images were released to the public. The user can download Cinnamon, MATE, and XFCE editions to try out Mint 19 "Tara". Let's see what it offers to the end user.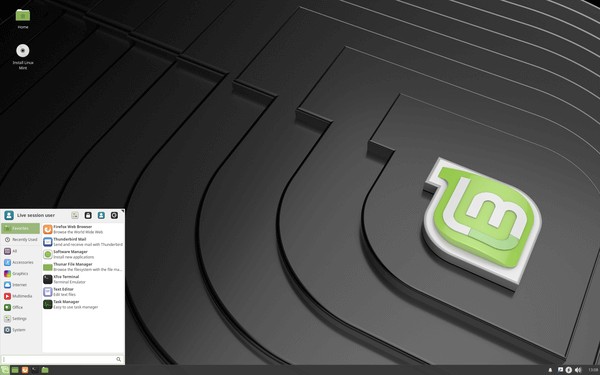 Linux Mint 19 is codenamed Tara. It is based on Ubuntu 18.04 LTS. The operating system will be supported till 2023. The official announcement says the following:
Linux Mint 19 is a long term support release which will be supported until 2023. It comes with updated software and brings refinements and many new features to make your desktop even more comfortable to use.
Linux Mint 19 uses GTK 3.22, a major stable release for GTK3. From here, the theming engine and the APIs are stable. This is a great milestone for GTK3. It also means Linux Mint 19.x (which will become our main development platform) uses the same version of GTK as LMDE 3, and distributions which use components created by the Linux Mint project, such as Fedora, Arch Linux, etc. This should ease development and increase the quality of these components outside of Linux Mint.
The brief list of changes looks as follows:
The Mint-Y theme is set by default.
Cinnamon 3.8 for the appropriate edition
A refined look of the Welcome Screen app
A number of improvements made to Software Manager, Update Manager
GNOME Calendar is bundled with the OS.
Improved system performance.
The TimeShift app to manage OS snapshots.
Timeshift is an excellent tool which focuses on creating and restoring system snapshots. It's a great companion to mintBackup which focuses on personal data. With Timeshift you can go back in time and restore your computer to the last functional system snapshot. If anything breaks, you can go back to the previous snapshot and it's as if the problem never happened.
This greatly simplifies the maintenance of your computer, since you no longer need to worry about potential regressions. In the eventuality of a critical regression, you can restore a snapshot (thus canceling the effects of the regression) and you still have the ability to apply updates selectively (as you did in previous releases).
This release features Cinnamon 3.8, MATE 1.20, and Xfce 4.12. The kernel version is 4.15.
Other interesting changes include
The USB stick formatting tool now supports exFat.
The Software Sources tool is able to show the installed packages from a PPA.
A new option was added to the login screen to improve multi-monitor support. You can choose among your monitors which one should show the login form (by default the form jumps from one screen to another as you move your mouse cursor between them).
The multimedia codecs now include the Microsoft fonts.
All the Mint tools support HiDPI, GTK3 and Python3. Many also transitioned to AptDaemon and pkexec.
Pidgin was removed from the default software selection. It will continue to be available in the repositories but it is no longer installed by default.
The PIA Manager, the set up tool for PIA VPN connections (available in the repositories), now remembers your username, password and gateway settings.
To get Linux Mint 19, refer to the following official announcements:
Support us
Winaero greatly relies on your support. You can help the site keep bringing you interesting and useful content and software by using these options:
If you like this article, please share it using the buttons below. It won't take a lot from you, but it will help us grow. Thanks for your support!