Some of you may already know about Microsoft's intention to distribute themes for Windows 10 via the Windows Store. This move will not only allow developers to sell their own themes on Microsoft's platform, but will also secure users from the dangers of downloading potentially dangerous UI customization tweaks from other unknown or untrusted sources. Well, at least that's what Microsoft wants us to believe. The first set of themes seems to be already available in Windows Store and was spotted by some enthusiasts, who made them available to download ahead of schedule.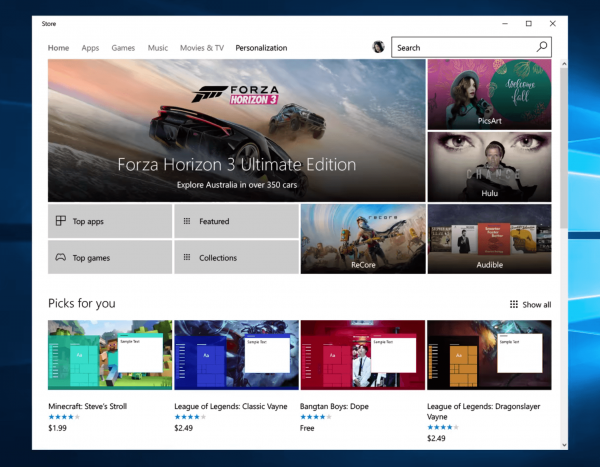 These themes are no different from what Microsoft has been distributing earlier and contain only a few wallpapers and custom accent colors. These themes are supposed to be supported by the new Windows 10 Insider Preview builds that will be out in the early weeks of 2017. Right now, installing them from Store doesn't really change anything versus installing them from another source like Winaero.com.
You can still check them out — just head to the Windows Store, download them and find their files under Program Files\WindowsApps. From there, you can just double-click the .themepack files to apply them.
While you're waiting for more themes from the Store and the proper theme support to arrive in the latest Insider builds, you can also check out our large collection of themes right here at Winaero. Our themes have several backgrounds in one theme file and are compatible with all versions of Windows starting with Windows 7.