Another interesting detail about Windows 10 was revealed during the October 2016 Microsoft Event. It looks like the Redmond giant is going to start selling themes for Windows 10. They seem to have adopted the freemium model where the base OS is free and additional value-added features are paid. In-app purchases with micropayments are very common on mobile platforms. Now they might come to the Windows 10 platform.

RECOMMENDED: Click here to fix Windows errors and optimize system performance
With Windows 10 Creators Update, the ability to buy themes from the Windows Store was spotted in one of the videos demoed at the event. While it was not even mentioned officially, it can be seen in the video clearly.
The following screenshot shows Microsoft's plans to sell themes: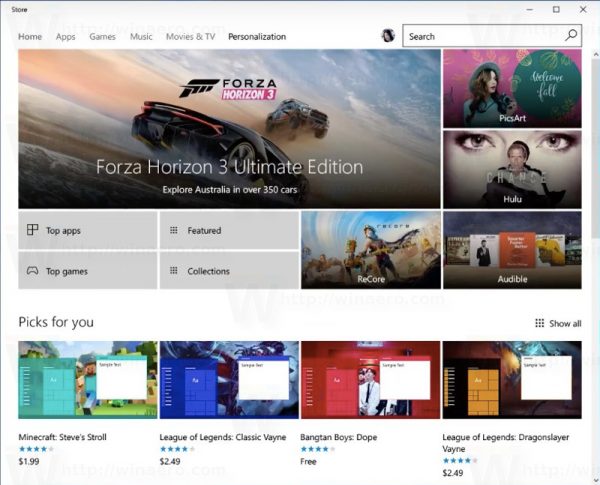 You can see the video below. The screenshot above was captured at the 0:19 mark.

In the video, a new "Personalization" tab is present in the Store, which is not available in the current version of the app. It contains paid themes listed in the "Picks for you" section.

There is no known information on what those themes will contain and to what extent they will allow customization. Current themes supported by Windows 10 are freely available already from many sites like this or from Winaero.com. Check out our theme gallery here:
They do not change the appearance of the window frame or UI controls and elements. Instead, they just come with a custom accent color and a custom wallpaper. It is not clear if the Store will come with some advanced theming functionality. From the screenshot, they appear to be regular [desk]themepack files available since Windows 7.
As you can see in the screenshot above, not all of these themes are free! Every theme has a price attached which varies from "free" to $2.49. It is quite possible that Microsoft will make it possible for third-parties to earn with theme submissions in the Windows Store. There are no details about the situation as of this writing. Microsoft hasn't commented on it officially yet.
Windows 10 Creators Update will be released in March 2017, so any added theming functionality may arrive in an Insider preview build before it is out for everyone.
Source: Neowin.
RECOMMENDED: Click here to fix Windows errors and optimize system performance