Some users are extremely unhappy with new "modern" task manager in Windows 8. Although some of its functions are not bad, like the "command line" column in the task list or performance graph, I don't really need them. The old Task Manager provides a more consistent way of task management for me, it is familiar and the new one does not even remember the last active tab. So I am definitely one of those who want the good old, more usable Task Manager back in Windows 8. Let me show you how to do that with a few simple steps.
How to restore the good old Task Manager in Windows 8
Download the following ZIP file (containing classic Task Manager files and msconfig.exe to manage startup apps) and unpack the installer to any folder you want.
You should get the following:
Double-click on the classic-taskmgr+msconfig-win8-win10.exe file and follow the setup wizard. It will register the classic Task Manager app (and msconfig.exe if you keep it) in the operating system.
That's it! You don't need to reboot, you don't to do anything else. Just press the Ctrl+Shift+Esc keys on your keyboard and enjoy the return of your good old friend:

Note: To restore the "new" Task Manager of Windows 8 back, go to Control Panel\Programs\Programs and Features. There, you can uninstall classic apps and restore defaults.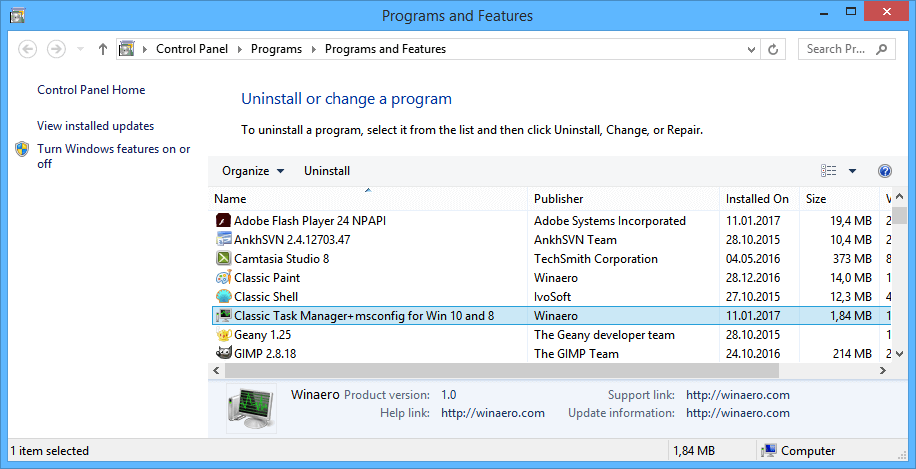 Tip: we have a standalone msconfig package here. Refer to the following article: Get classic msconfig.exe back in Windows 10 and Windows 8.
The package supports both Windows 10 32-bit and Windows 10 64-bit. It comes with almost the full set of MUI files, so it will be in your native language out-of-the-box. The following locale list is supported:
ar-sa
bg-bg
cs-cz
da-dk
de-de
el-gr
en-gb
en-us
es-es
es-mx
et-ee
fi-fi
fr-ca
fr-fr
he-il
hr-hr
hu-hu
it-it
ja-jp
ko-kr
lt-lt
lv-lv
nb-no
nl-nl
pl-pl
pt-br
pt-pt
ro-ro
ru-ru
sk-sk
sl-si
sr-latn-rs
sv-se
th-th
tr-tr
uk-ua
zh-cn
zh-hk
zh-tw
The installer is required only to install MUI files and register apps. It doesn't modify anything else in your operating system.
How does it work:
In the example above, I used the old, famous trick  with the "debugger" option. As you may or may not be knowing, you can specify a debugger application for every executable file in Windows. It is possible to set it via the following registry key:
HKEY_LOCAL_MACHINE\SOFTWARE\Microsoft\Windows NT\CurrentVersion\Image File Execution Options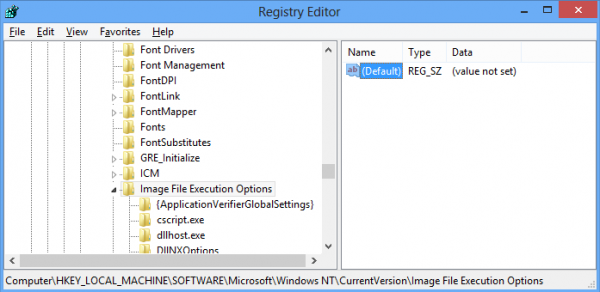 Here you can see a list of executable files. It is possible to create the "debugger" option for every file shown in that list.
The "debugger" option usually contains the full path to the executable file which should act as the debugger. It will get the full path to the running executable file. We can use this to override the executable file of Task Manager.
I have extracted the genuine Taskmgr.exe and Taskmgr.exe.mui from the boot.wim file of Windows 8. But I can't use them directly, because the files have the same names as the new Task Manager from Windows 8. Also, even though replacing them is possible, SFC /scannow will restore the "original" one when it runs. So the files must be renamed before I can set the old Task Manager as the debugger. That's why the file is named "Tm.exe" file in the ZIP archive you downloaded above.
What do you think about the new Task Manager in Windows 8? Do you like it or do you still prefer the old one? Feel free to share your feedback in the comments.
Support us
Winaero greatly relies on your support. You can help the site keep bringing you interesting and useful content and software by using these options:
If you like this article, please share it using the buttons below. It won't take a lot from you, but it will help us grow. Thanks for your support!