There are at least two ways to open the Internet Explorer browser in Windows 11 if your tasks require it. While it is officially buried and discontinued, some folks may really need it to access some outdated website or enterprise technology.
Internet Explorer is one of the oldest software Windows has onboard. It was introduced in 1995 along with Windows 95. Until 2013 it was the main browser Microsoft offered to users.
In 2015, the company has changed the direction to Edge. It has become the default browser on Windows, with IE taking the back seat.
Since June 2022, Internet Explorer is officially dead and discontinued. It will no longer receive any update. More than that, it is well hidden deep inside Windows 11. The average user hardly access it now, despite all its file are actually in their places. But if you directly launch it, it will redirect you to Microsoft Edge.
Most users already forgot about IE, as it was outdated, slow and lacks all modern trends and technologies. But there are also some who need to access a legacy project, such an enterprise portal or a website that refuses to work properly in any modern browser. Instead of running a virtual machine with an aged Windows release and IE, it could be faster launch IE right in Windows 11. Here's how.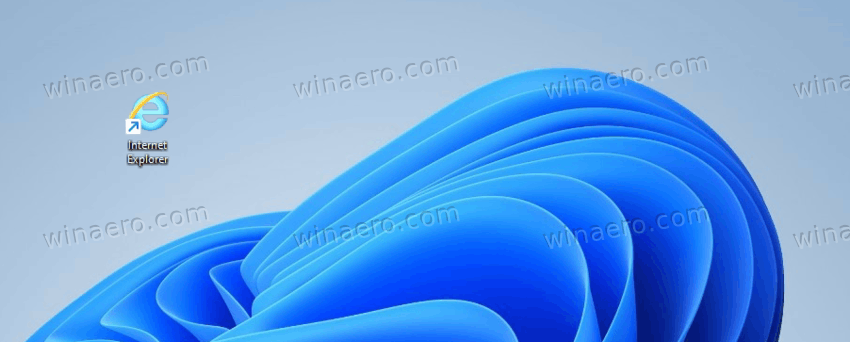 How to Open Internet Explorer in Windows 11
Open the Start menu and type Notepad to launch the app.
In the new document, paste the following line: CreateObject("InternetExplorer.Application").Visible=true.
Save the document as a file with the VBS extension, like "ie.vbs". For that, surround the file name into quotes in the Save file dialog.
Now, double-click your ie.vbs file. It will bring up you Internet Explorer!
You are done.
Download ready-to-use VBS file
To save your time, you may want to download a ready-made file.
Click this link to download the ZIP archive with the VBS file. Extract it to any folder of your choice.
Windows Smart Screen marks VBS files from the Internet as unsafe, so you need to unblock them to avoid Smart Screen.
Right-click the ZIP file and select Properties from the menu.
On the General tab, place a check mark  for the Unblock option.Now you can extract the VBS file from the ZIP archive it the way you want.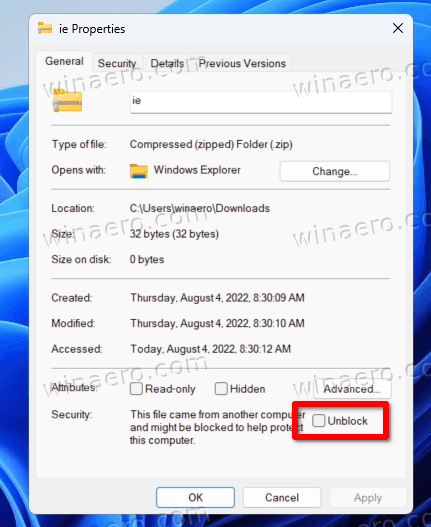 In some cases, a third-party app can take over the VBS extension, and open it say in a text editor instead of running it when you click such a file. If this behavior fits your daily task flow, perhaps you won't want to change the file association for VBS. In this case, it is better to create a shortcut to launch the Internet Explorer.
Create a shortcut for Internet Explorer
Right-click the desktop background and select New > Shortcut.
In the "Type the location of the item" box, type the following line: wscript <path\to\ie.vbs>. Enter the correct path to the file, e.g. wscript d:\data\ie.vbs.
On the next page, name your shortcut as "Internet Explorer", and click Finish.
Now, right-click the shortcut you just created, and choose Properties from the context menu.
Click on the Change icon button and pick an icon from the "C:\Program Files\Internet Explorer\iexplore.exe" file.
Click Apply and OK. Now you have a nice desktop shortcut that opens Internet Explorer on demand.
Finally, there is a different method of opening IE on Windows 11, discovered by @XenoPartner. The classic Internet Options applet of the Control Panel is still able to launch it.
Launch Internet Explorer in Windows 11 via Internet Options
Press Win + S or click the search icon in the taskbar.
Type Internet Options in the search text box.
Open the appropriate control panel applet from the list of results.
Switch to the Programs tab.
Now click  Manage add-ons.
Finally, click the Learn more about toolbars and extensions link on the left.
This will instantly launch Internet Explorer for you.
This method is good when you need to open IE just for one time. If you need to open it more than once, then use the first method with the VBS file instead. It is a more convenient solution.
Support us
Winaero greatly relies on your support. You can help the site keep bringing you interesting and useful content and software by using these options:
If you like this article, please share it using the buttons below. It won't take a lot from you, but it will help us grow. Thanks for your support!