In previous Windows versions (Windows 7, Windows XP etc), when new OS updates were available, Windows used to show a special icon in system tray notifying you of them. It was a very useful way to instantly know about new updates. You could click on the icon and open the Windows Update Control Panel item to see which updates were available and install them. With Windows 8 and Windows 8.1 Microsoft has removed the tray icon. Notices about updates being available are shown on the logon screen, which appears only for a few seconds if your account has no password protection, e.g. in case when you are automatically logging in to Windows. Fortunately, it is possible to get those notifications back in the system tray.

Windows Update Notification Tool
, a freeware created by developer 'Quppa' aka David Warner, serves to resolve this issue and brings back the update noticiation tray icon and balloon popup. This tool is portable (it does have an installer too if you prefer that) and can be used in both 32-bit and 64-bit editions of Windows 8 or Windows 8.1.


Besides the notification, it also allows you to hide its own icon from the system tray if there are no new updates available, so it will act like the genuine Windows 7 update icon. You can even change the tray icon to the one that Windows 7 used by right clicking its tray icon. You can optionally load Windows Update Notification Tool at startup too.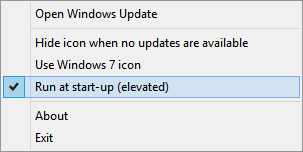 Windows Update Notification Tool by Quppa is really a must have application for all users who need to see Windows Update notification in Windows 8.x. It is available for download from the developer's website. You will also need to install the Visual C++ 2012 Redistributable runtime: from http://www.microsoft.com/download/details.aspx?id=30679 if you don't already have it installed.
Hidden registry settings and command line switches of Windows Update Notification Tool
The tool also has some settings in the Registry that you can tweak. You can configure exactly how often it will check for updates and notify you. By default, the tool checks for updates every 60 minutes, but you can change that. To configure that:
Download and install the Windows Update Notification Tool.
Open Registry Editor (see how).
Go to the following Registry key after installing the tool:

HKEY_CURRENT_USER\Software\Quppa.net\Windows Update Notification Tool

Create a DWORD value called UpdateCheckFrequency at this registry key.
Note that this value is in minutes and not seconds. Double click the UpdateCheckFrequency value and switch to the Decimal base. Now enter the value you want in minutes. For example, if you want the tool to check for updates once a day, that is, every 24 hours, set it to 1440 minutes. If you want it to check every 8 hours, set it to 480. You get the idea.
The tool also has some command line switches. If you don't want it running constantly in the background, use the /checkonce switch to check for updates only once and exit the tool after it checks for updates. You can also create a scheduled task using the /createtask switch. Use our ElevatedShortcut tool to create a shortcut because the tool needs to be run as admin when using the /createtask or /deletetask switches.
Windows Update Notification Tool has an additional cool feature to automatically install specified updates by Knowledge Base ID (KBID). To automatically install the updates you want,
Open Registry Editor (see how).
Go to the following Registry key after installing the tool:

HKEY_CURRENT_USER\Software\Quppa.net\Windows Update Notification Tool

Create a multistring value called AutoInstallKBIDs at this registry key. A multistring value can store data on multiple lines. Double click the AutoInstallKBIDs value, and carefully enter on each new line, the KBID (only the number minus the prefix 'KB') of the updates you wish to install. e.g. like this:

Turning off redundant Windows notifications
Finally, since you've already installed this tool to get all update notifications, you don't need redundant full screen Metro style notifications that Windows 8 sometimes although very unreliably shows:


Not only is the above notification unnecessary once you have set up the balloon notifications using Quppa's tool, but these are full screen and require you to take some action before you can continue working. To avoid getting these redundant notifications again from Windows, go to Windows Update settings in the PC Settings app (see how) and set it to Never check for Updates. Now only the Windows Update Notification Tool will notify you that updates are available like Windows 7.
Support us
Winaero greatly relies on your support. You can help the site keep bringing you interesting and useful content and software by using these options:
If you like this article, please share it using the buttons below. It won't take a lot from you, but it will help us grow. Thanks for your support!