This article will show you how to enable or disable Airplane Mode in Windows 11 in case your airline mandates using it during take-offs and landing. Also, using Airplane Mode can help you save as much battery as possible when you do not need an active Internet or other wireless connection.
Airplane mode, also known as "flight mode", is a fastest way to disable all wireless communication devices at once on your PC. When you turn on Airplane Mode in Windows 11, the operating system disables Wi-Fi and Bluetooth. Besides them, cellular, GPS, and Near Field Communication (NFC) will also go offline in this mode.
Note: You can prevent Windows 11 from disabling Bluetooth when using Airplane Mode.
So, when you enable Airplane Mode, Windows 11 will turn off all wireless devices. Also, you will notice the airplane icon on the taskbar quick settings area (notification area). Note that you can re-enable any wireless communication device on demand when in Airplane mode.
Probably the fastest way to turn on Airplane Mode in Windows 11 is the option in the Quick Settings menu. Here is how to use it.
Enable Airplane Mode in Windows 11
Click the network, volume, or battery icon in the notification area (bottom-right corner of the screen). You can also use the Win + A shortcut.
Click the Airplane Mode button to enable Airplane Mode in Windows 11.
By clicking on the same button, you will restore connections and turn off the Airplane feature.
After that, Windows 11 will turn off Bluetooth, Wi-Fi, and other wireless modules in your tablet, laptop, or desktop PCs. Once you turn the airplane mode off, Windows 11 will automatically re-activate all wireless devices that were previously turned on when you turned on airplane mode.
If, for some reason, you don't see the Airplane Mode button in Quick Settings, perform the following steps to add it there.
The Quick Settings menu in Windows 11 is fully customizable, which means you can add or remove any of the available buttons. If you cannot find the Airplane Mode, someone may have disabled it. Here is how to restore the Airplane Mode button in the Quick Settings menu.
Open the Quick Settings menu by pressing Win + A.
Click the Edit button with a pencil icon.
Press Add, then select Airplane Mode from the list.
Click Done to save changes.
Alternatively, you can activate Airplane Mode in Windows 11 using the default Windows Settings app.
Using Windows Settings
Press Win + I to open Windows Settings.
On the left, click on the Network and Internet section.
Find the Airplane Mode toggle and turn it on.
To disable Airplane Mode in Windows 11, switch off the toggle option.
You are done.
In addition to the GUI, you can use a special hardware button, which is often present on the keyboard of modern devices.
Using a Airplane key on the keyboard
Some Windows 11 device come with a dedicated key on the keyboard. Often, it is also a physical switch to quickly turn on or off airplane mode. In case of the button, yon may need to combine it with the Fn key to get the Airplane mode active and inactive.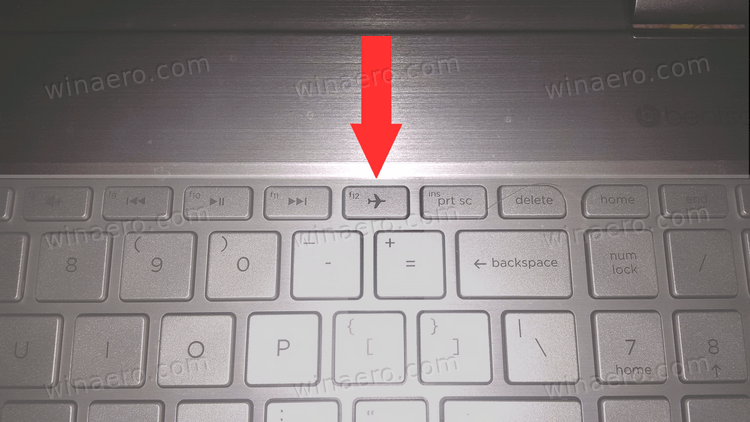 If the above methods are not enough, there is a method for advanced users and true geeks. You can switch on and off flight mode using a simple Registry tweak.
Enable or Disable Airplane Mode in the Registry
Open the Registry editor, by pressing Win + R and typing regedit into the Run box.
Navigate to the following key: HKEY_LOCAL_MACHINE\SYSTEM\CurrentControlSet\Control\RadioManagement\SystemRadioState.
In the right pane, modify the default unnamed value, which is of the DWORD type. Set its data to the following values:
You may need to restart Windows 11 to apply the Registry change.
You are done.
That is how you can enable or disable Airplane Mode in Windows 11.
Support us
Winaero greatly relies on your support. You can help the site keep bringing you interesting and useful content and software by using these options:
If you like this article, please share it using the buttons below. It won't take a lot from you, but it will help us grow. Thanks for your support!