Google Chrome 89 is now available for download. This is a major release of the world's most popular browser, which brings a lot of new features to the stable branch of the app.
Here are the most important changes.
What's new in Google Chrome 89

Chrome 89 is the first browser version that requires support for SSE3 in CPU. It has been supported by Intel processors since 2003, and by AMD CPUs since 2005.
New Play Protect certified device requirement
The Android version of Chrome will now only run on Play Protect certified devices. Also, it will only run in virtual machines and emulators developed by Google. You can check whether the device is certified or not in the Google Play app in its Settings (the "Play Protect certification" status is shown on the settings page at the very bottom). For non-certified devices, such as when using third-party firmware, users will be asked to register their devices to launch Chrome.
HTTPS in manually typed domains
By default, when you type a website domain without specifying the protocol, Chrome uses HTTP and then switches to HTTPS if a website supports this encrypted protocol. For a small select group of users this behavior is now modified to always use HTTPS. We have reviewed this in details here:
Enable HTTPS for Typed Domains in Google Chrome Address Bar
Profile manager
You can now create a new Chrome profile and set its options when connected to a specific Google account using an updated Profile manager. It allows sharing bookmarks, settings and browsing history between different user accounts. When trying to log into an account linked to a different profile, the user will be prompted to switch to that profile.
In addition to the traditional way to change Chrome profiles, Google introduces a "profile picker" - a special window that shows all the available accounts whenever you launch the browser. This window will make sure you do not open your kid's profile, spouse's work account, etc. Considering how many settings are closely tied to each Chrome profile (passwords, bookmarks, apps, theme, extensions, and other parameters), this is a significant quality-of-life improvement.
If the user has a binding to several profiles, he will be prompted to select the required profile. To visually differentiate profiles, you can apply a color scheme.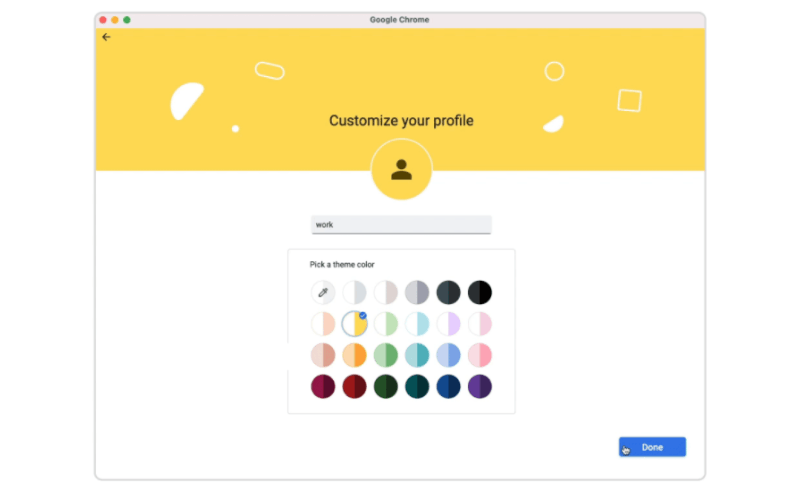 Reading list
There is a new Reading List feature that reminds of the Collections feature of Microsoft Edge. Reading list allows saving pages for later in a similar to Pocket or Instapaper manner. The feature has a dedicated flag in options, chrome://flags/#read-later, but it is already activated by default for a small number of users.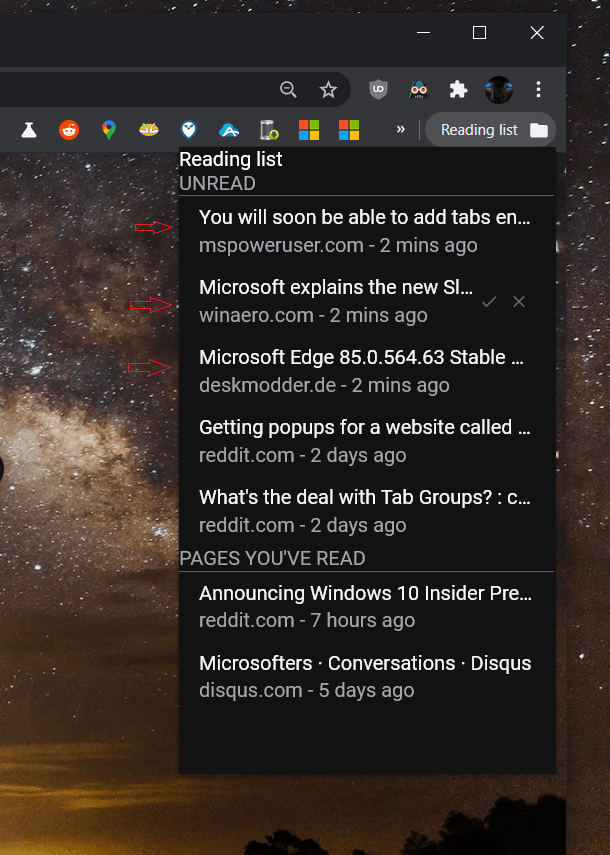 Tab Search is now enabled by default
Tab search adds a new tab search button to the tab bar. It allows you to quickly find a tab by its name and URL. Previously, you had to manually enable the chrome://flags/#enable-tab-search flag to activate it. In Chrome 89, it's enabled by default, but the feature is still rolling out so you might not see it right now. The mentioned flag can be used to activate it right now.
The user can now view a list of all open tabs and quickly filter it, regardless of whether it is in the current or another window.
Tab Preview Thumbnails
Tab Preview Thumbnails (Tab Hover Cards) will now appear when you hover over a tab in the tab bar. Previously, this feature was disabled by default and could be enabled using the "chrome://flags/#tab-hover-cards" option.

In Chrome 89, it's enabled by default, but the feature is still rolling out so you might not see it right now. The mentioned flag can be used to activate it right now.
API
Chrome 89 includes extra APIs to provide functionality that replaces third-party cookies used to track user movements between sites with the code of advertising networks, social media widgets and web analytics systems. The following APIs are available for testing:
Trust Token to differentiate users without cross-site IDs.
First party sets - Allows linked domains to declare themselves primary so that the browser can take this relationship into account for cross-site calls.
Schemeful Same-Site to extend the same-site concept to different URL schemes, i.e. http: //website.example and https: //website.examplе will be treated as a single website for cross-site requests.
Floc to determine the category of user interests without individual identification and without reference to the history of visits to specific sites.
Conversion Measurement to measure user activity clicking on ads.
User-Agent Client Hints to replace User-Agent and selectively return data about specific browser and system parameters (version, platform, etc.).
Other changes
Besides the above changes, Chrome 89 comes with 47 security issues fixed.
The ability to pin a version of an extension or web app. For example, the administrator can use the new ExtensionSettings policy to configure Chrome to use its own URL for downloading updates, instead of the URL specified in the add-on manifest.
Users who sign in to a Google account will now have access to payment methods and passwords stored in their Google account without enabling Chrome Sync. The feature is enabled for some users, and it will gradually be rolled out  to everyone.
Download Links
If you are an existing Chrome user, all you need to do is to wait until the Chrome update will be received automatically in your operating system. You can also manually trigger the update process by opening Help > About Google Chrome from the browser's menu.
Web installer: Google Chrome 64-bit
MSI/Enterprise installer: Google Chrome MSI Installers for Windows
Note: The offline installer doesn't support the automatic update feature of Chrome. By installing it this way, you will be forced to always update your browser manually.
Support us
Winaero greatly relies on your support. You can help the site keep bringing you interesting and useful content and software by using these options:
If you like this article, please share it using the buttons below. It won't take a lot from you, but it will help us grow. Thanks for your support!