Windows 8 introduced a lock screen, separate from the logon screen and Windows 8.1 further improved it by adding a slideshow feature to the Lockscreen. If you are running Windows 7 however, you can still get a similar experience by downloading a simple app.
The app which Windows 7 users can download is a screensaver called the MotionPicture screensaver. Now before you dismiss this post saying "Seriously? Screensavers, who still uses them", don't forget that screensavers also have the ability to lock your PC. So you can enjoy a lovely slideshow of your favorite images on your PC when it is inactive and then lock the PC.
The MotionPicture screensaver is a high quality screensaver that shows a slideshow of your images using the famous Ken Burns effect. The Ken Burns effect is a special effect which uses slow zoom, pan and scan, and smooth cross-fading transitions between images to create a rich cinematic slideshow. You may remember this effect also used in Windows Live Photo Gallery or Google's Photo screensaver but what makes the MotionPicture screensaver's implementation great is that it's very fast and fluid, has very low system requirements, and is highly configurable. Also, it lets you specify your own background music to listen to while the images are being shown. It can play the music directly from a folder of MP3s, from a CD or even your iTunes playlist!
Download the MotionPicture screensaver from this page and extract the installation files to some folder. Run Setup.exe. This screensaver was last updated in 2004 and looks old but it still works extremely smooth and shows a high quality slideshow.
Complete the installation and then right click your desktop and click Personalize. In the Personalization Control Panel window, click Screen Saver. You can also directly open screen saver settings by typing 'screen saver' into the Start menu or Start screen search box.
Make sure that MotionPicture is selected in the list of screen savers and then click the Settings... button. This screensaver lets you fine-tune the just about everything related to the slideshow:


You can adjust for how long images are displayed, whether to pan across the entire image, stretch images to screen, adjust the zoom speed & distance, adjust the pan speed, change how fast images crossfade and the overall quality of the slideshow. This level of control is simply outstanding. The settings are pretty self-explanatory but if you need more information about the settings, see this detailed explanation.
You can choose the folder from which JPEG images are shown. What's also cool about this screensaver is that the pictures folder you set is recursively searched, meaning it can display images from all its subfolders as well, no matter how you have organized them.
The images in the slideshow can be shown sequentially, shuffled or at random.
The same settings apply for background music - you can choose a folder, CD or iTunes playlist and play it shuffled, sequentially or at random.

Click OK when you are finished adjusting the settings and set the screen saver timeout to what you want.
If you want to lock your PC after the screen saver slideshow exits, you can check the option "On resume, display logon screen". 
That's it! You now have a slideshow feature just as good as the Windows 8.1 slideshow on your Windows 8, Windows 7 or XP PC. You can also use it on Windows 8.1 if you prefer its more granular controls. In case, you can turn off the built-in lock screen easily using Winaero's Lock Screen Customizer.
Multi-monitor support
MotionPicture Screensaver supports slideshows on multiple monitors! If you have multiple displays connected, just go to the Settings of this screen saver and click the "Display Settings" button. For each connected display, you can pick a separate resolution at which to show the slideshow. There are also options to render the same image on all monitors, render different images on each monitor or spread the image across all monitors.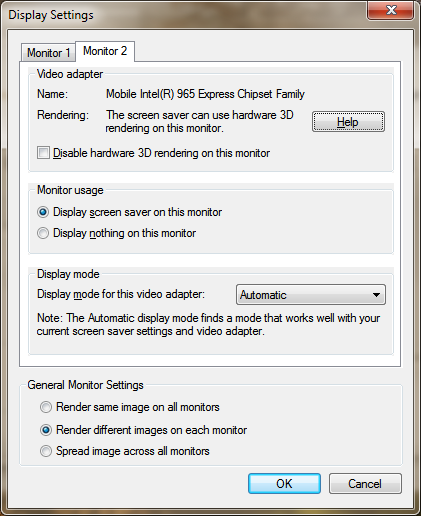 Where to get slideshow images
You can of course use your own personal images for your slideshow that you clicked yourself but if you don't like showing off your personal photos, get our high quality themes which contain multiple HD wallpapers in a single themepack.
Support us
Winaero greatly relies on your support. You can help the site keep bringing you interesting and useful content and software by using these options:
If you like this article, please share it using the buttons below. It won't take a lot from you, but it will help us grow. Thanks for your support!