Mozilla is today releasing Firefox 67 to the stable branch. Let's see what is new in this version of the popular browser.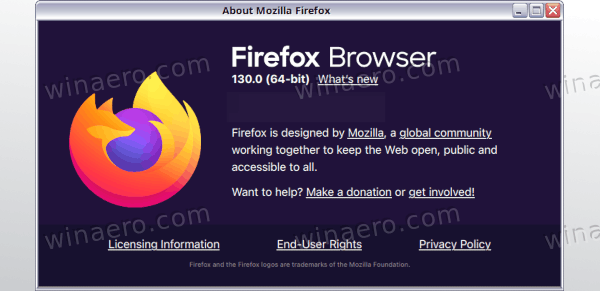 Firefox 67 is a major release of the Quantum engine-powered browser. Since 2017, Firefox has the Quantum engine which comes with a refined user interface, codenamed "Photon". The browser doesn't include support for XUL-based add-ons any more, so all of the classic add-ons are deprecated and incompatible. See
Must have add-ons for Firefox Quantum
Thanks to the changes made to the engine and the UI, the browser is amazingly fast. The user interface of Firefox became more responsive and it also starts up noticeably faster. The engine renders web pages much faster than it ever did in the Gecko era. In addition, Firefox 67 will come with a major enhancement further made to the Quantum engine called WebRender, which will be enabled for a small group of users. Here are the most important changes made to the Firefox browser in version 67.
What's new in Firefox 67
The key changes include:
You cannot host captured screenshots on Mozilla's servers any more.
A new option to enable or disable an extension in Private browsing mode.
Dedicated profiles per branch. This will allow having various versions of the browser installed simultaneously.
Improvements made to privacy and security.
WebRender is enabled for a small select group of users.
Let's review them in detail.
Dedicated profiles per branch
Starting with Firefox version 67, Firefox will use a dedicated profile for each installation of Firefox (including Nightly, Beta, Developer Edition, and ESR installations) . This will make Firefox more stable when switching between installations on the same computer and will also allow you to run different Firefox installations at the same time.
You will not lose any personal data or customizations. Any previous profile data is saved and associated with the first Firefox installation that was opened after this change.
This change will first apply to Nightly version 67, then make its way to version 67 of Developer Edition, Beta, Firefox, and ESR.
It is worth mentioning that it is already possible to simultaneously run different Firefox versions with individual profiles without installing Firefox 67. The browser allows you to specify the full path to the profile with a special command line argument.
You need to install each version of Firefox to an individual folder, for example
C:\Firefox\Nightly\
C:\Firefox\Beta\
C:\Firefox\ESR\
Then, you need to create a shortcut to launch a specific browser version with a dedicated profile by using the following commands as your shortcut target:
C:\Firefox\Nightly\firefox.exe -no-remote -profile C:\Firefox\Nightly\Profile
C:\Firefox\Beta\firefox.exe -no-remote -profile C:\Firefox\Beta\Profile
C:\Firefox\ESR\firefox.exe -no-remote -profile C:\Firefox\ESR\Profile
and so on.
The procedure is described in detail in the following article:
Run different Firefox versions simultaneously
Screenshot Upload functionality has been removed
As may already know, there is a built-in screenshot feature in Firefox that allows taking snips of an open page. In previous Firefox versions, you could host captured screenshots on Mozilla's server with a special 'Upload' button.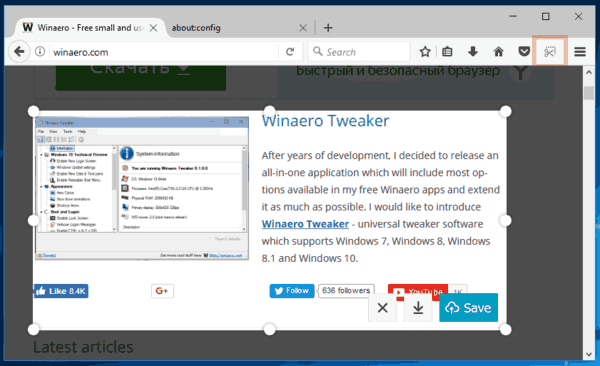 This feature is now removed. You can still take screenshots and save on your local computer.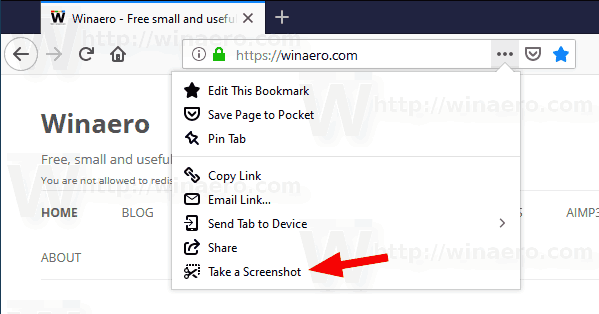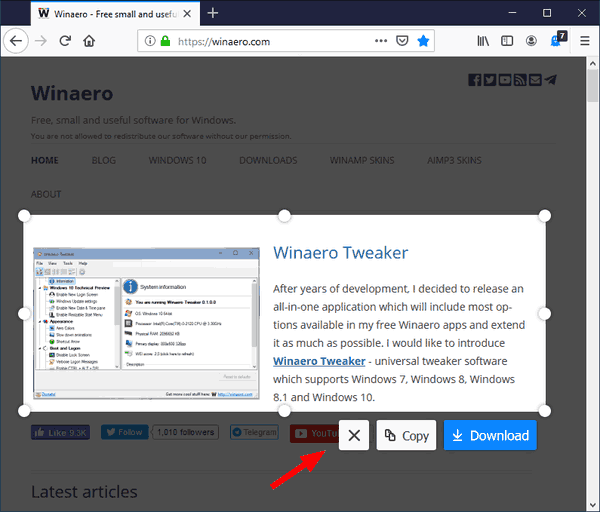 Enable or disable extensions in Private browsing mode
Starting with Firefox 67, all extensions won't be available in Private Browsing mode. To allow an extension to run in Private browsing mode, you need to enable a new option in the Add-ons manager.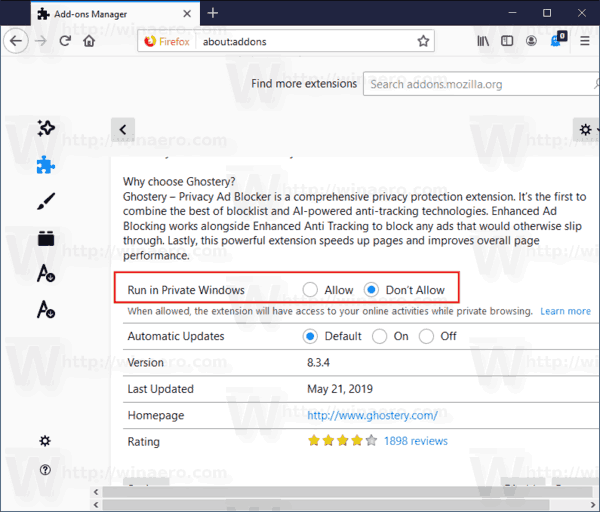 Improvements made to privacy and security
Starting with Firefox version 67, the browser may include cryptomining and fingerprinting protection that will block JavaScript code of cryptominers and terminate fingerprinting attempts by certain websites.
It can be tweaked by using the following new options: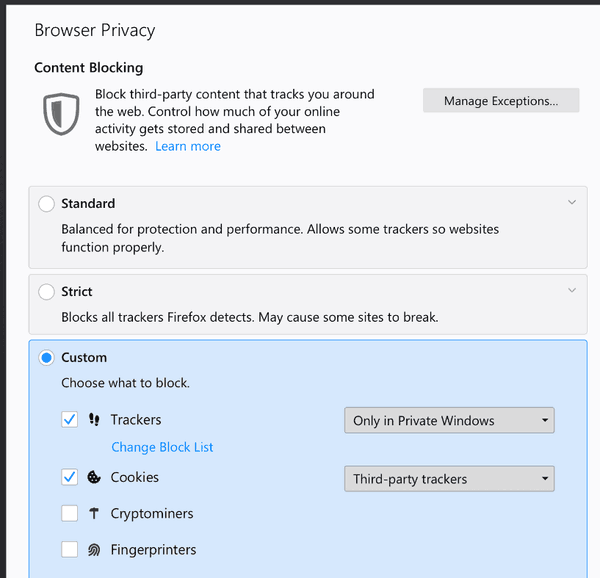 The site information flyout can be used to see if the browser found and blocked some cryptomining and fingerprinting on the currently open web site.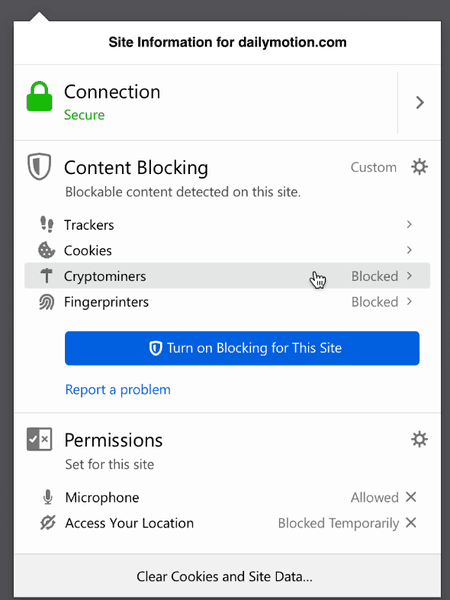 The options will allow the user to quickly add exceptions for a web site.
If you are not familiar with web cryptominers, they are programs written in JavaScript. They are intended to utilize your computer's resources to mine one or more cryptocurrencies like Bitcoin. When you visit a web site with a cryptominer, it will cause a high CPU load as long as it is open.
A browser fingerprint is a set of properties collected for unique identification of a user or device. It may include the screen size, installed languages, extensions, plugins, and regional options. In other words, the information that your browser reports to a web server or a web site is often enough to build a reliable fingerprint.
WebRender is enabled for a small select group of users
WebRender, previously known as Quantum Render, will replace Gecko's graphics subsystem. It is coded in the Rust programming language and uses the GPU more effectively than Gecko does, driving it more like a game would, than a web browser. Back in 2017, Mozilla launched Firefox Quantum, but WebRender was not ready at the time. The details about the new WebRender engine can be found here.
As of now, WebRender will be enabled for 5% of compatible systems. It is tested on Windows 10 with NVidia GPUs.
Other changes
Firefox 67 demonstrates improved performance thanks to the following changes.
Lowering priority of setTimeout during page load. This includes delaying set Timeout in order to prioritize scripts for things you need first while delaying others to help make the main scripts for Instagram, Amazon and Google searches execute 40-80% faster; scanning for alternative style sheets after page load; and not loading the auto-fill module unless there is an actual form to complete.
Delayed component initialization until after start up.
Painting sooner during page load but less often.
Suspending unused tabs. Firefox will now detect if your computer's memory is running low, which we define as lower than 400MB, and suspend unused tabs that you haven't used or looked at in a while. Rest assured if you decide you want to review that webpage, simply click on the tab, and it will reload where you left off. This can be disabled with the browser.tabs.unloadOnLowMemory option in about:config.
A new toolbar menu for your Firefox Account to provide more transparency for when you are synced, sharing data across devices and with Firefox. You can personalize the appearance of the menu with your own avatar.
Tabs can now be pinned from the Page Actions menu in the address bar
Firefox will highlight useful features (like Pin Tabs) when users are most likely to benefit from them.
Easier access to your list of saved logins from the main menu and login autocomplete.
The Import Data from Another Browser feature is now also available from the File menu.
Download Firefox 67
To get the browser, visit the following link:
You will see a number of folders. Click on one of the following folders:
win32 - Firefox 32-bit for Windows
win64 - Firefox 64-bit for Windows
linux-i686 - Firefox for 32-bit Linux
linux-x86_64 - Firefox for 64-bit Linux
mac - Firefox for macOS
Each folder has subfolders organized by the browser's language. Click on the desired language and download the installer.
That's it.
Support us
Winaero greatly relies on your support. You can help the site keep bringing you interesting and useful content and software by using these options:
If you like this article, please share it using the buttons below. It won't take a lot from you, but it will help us grow. Thanks for your support!