Firefox 42 is out for Desktop and for Android. This means that Firefox 43 reached the beta stage, and Firefox 44 will become Developer Edition. Every six weeks, Mozilla releases a new version of Firefox. Here are the main changes in Firefox 42.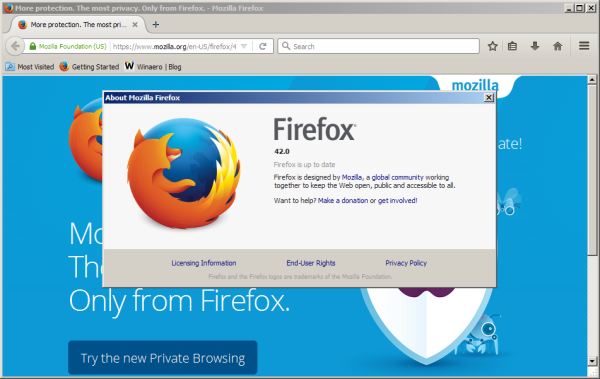 An improved Private Browsing mode
Now, when you browse in private, Firefox will block all known elements which track your activity. It is implemented by blocking all external JavaScript, iframes and everything included in the black lists of the "diconnect.me" service.
Sound indicator and tab muting
With Firefox 42, you can finally mute any tab which is playing audio using the appropriate icon on the tab. We covered this change in detail in the past.
Privacy page in Options
The Privacy page in Options got updated. Now it is more clear and easy to use:
Improved HTTPS indicators
Mozilla developers have changed the way the Firefox shows the security level of a website.
Here is a citation from the press release:
Color and iconography is commonly used today to communicate to users when a site is secure. The most widely used patterns are coloring a lock icon and parts of the address bar green. This treatment has a straightforward rationale given green = good in most cultures. Firefox has historically used two different color treatments for the lock icon – a gray lock for Domain-validated (DV) certificates and a green lock for Extended Validation (EV) certificates. The average user is likely not going to understand this color distinction between EV and DV certificates. The overarching message we want users to take from both certificate states is that their connection to the site is secure. We're therefore updating the color of the lock when a DV certificate is used to match that of an EV certificate.

Although the same green icon will be used, the UI for a site using EV certificates will continue to differ from a site using a DV certificate. Specifically, EV certificates are used when Certificate Authorities (CA) verify the owner of a domain. Hence, we will continue to include the organization name verified by the CA in the address bar.
WebRTC
The WebRTC support has improved in this version. WebRTC allows you to have VoIP calls using nothing but the web browser. Now it supports IPv6, which is more secure and allows you to change your IP visibility. Also, Firefox 42 has the ability to suppress incoming calls.
Media Source Extensions
The Media Source Extension API, which is used to play HTML5 videos, is enabled for all sites. So, now you can play HTML5 videos everywhere without Flash Player fallback.
An updated Source Code viewer
The Source Code viewer now opens in a separate tab instead of a separate window.
The Android version got a new voice input feature.
All versions include a huge number of security fixes and performance optimizations.
The ESR channel got an updated Firefox version 38.4. The Thunderbird email app will be updated to ESR version 38.0.4. The all-in-one suite, SeaMonkey will reach version 2.39.
The release of Firefox 43 is expected on 15 December, 2015. Firefox 44 should be released on 26 January, 2016.
To get Firefox, use these links:
You might be interested in reading the following articles:
That's it. Do you like the additions in the released version? Share your opinions in the comments.
Support us
Winaero greatly relies on your support. You can help the site keep bringing you interesting and useful content and software by using these options: