How to Enable Immersive Reader Mode in Microsoft Edge Chromium (Reading View)
Chromium-based Microsoft Edge includes Immersive Reader mode, formerly known as Reading View in the classic Edge Legacy. It allows removing unnecessary elements from a web page, making it perfect for reading. Here is how to enable and use this feature.
Most of the popular web browsers today include a special mode that perfectly suits for reading. Such mode is available out of the box in  Firefox and Vivaldi, and can be enabled in Google Chrome.
In Microsoft Edge, it is called Immersive Reader. When enabled, it strips out unnecessary elements from the opened web page, reflows the text and turns it into a cleaner looking text document without ads, menus and scripts, so the user can focus on reading the text content. Edge will render the text on the page with a new font and formatting.
To Enable Immersive Reader Mode in Microsoft Edge Chromium (Reading View)
Open Microsoft Edge.
Open a web page you want to read in Immersive Reader, e.g. an article on the blog.
Click on the small book icon in the address bar.
Alternatively, you can press F9 on the keyboard.
Microsoft Edge will reload the open web page in Immersive Reader.
You are done.
Also, Microsoft Edge allows opening the selected text in Immersive Reader.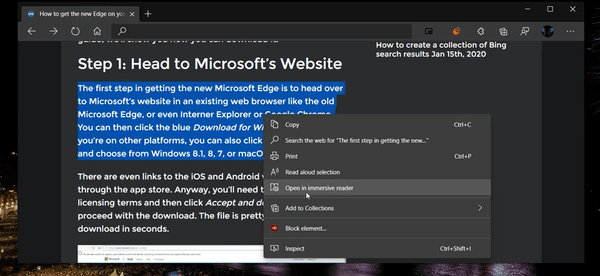 This feature is quite useful when you are reading a paragraph on a web site with a design that makes it hard to read. Instead of reloading the whole web page in Reading View, you can select a small piece of the text and quickly open for reading from the context menu.
Note: If the Immersive Reader button is not available (not visible), this means that Edge can't figure out how to process the current web page and which elements it should strip, and it does not support the reading view for it.
How to Use Immersive Reader in Microsoft Edge
Microsoft Edge displays a special toolbar while in Immersive Reader. The toolbar allows customizing your text preferences, turning on or off the Read Aloud feature, and using Grammar Tools. The latter one includes a new Picture Dictionary feature, which is exclusively available in Microsoft Edge.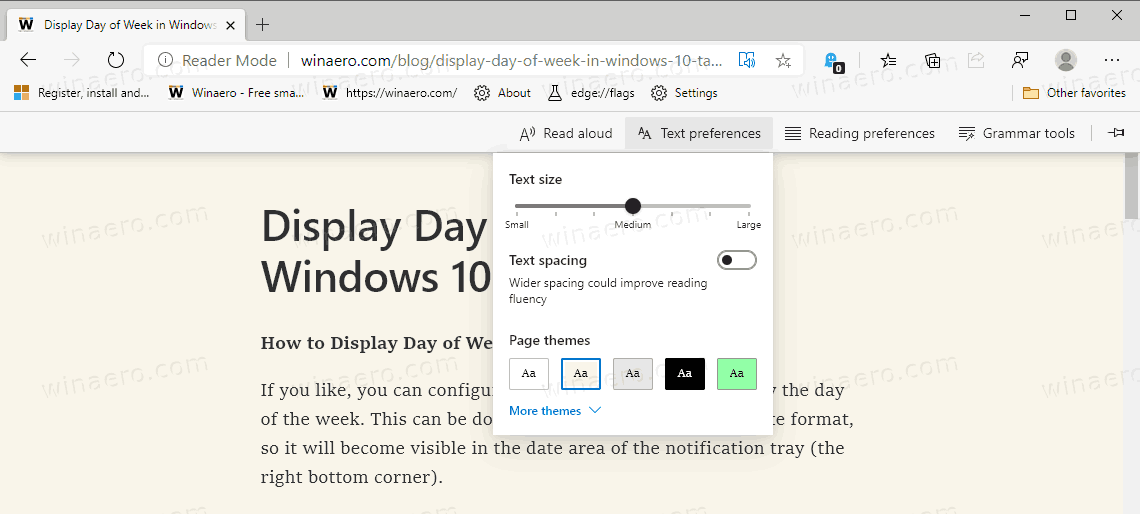 Text preferences
Under Text preferences, you can change
The text size
The page theme.
And text spacing.
Read Aloud
You can make Microsoft Edge read the contents of a PDF, EPUB file, or a web page using the built-in Read Aloud feature of the browser. The appropriate option is available with a single button click from the Immersive Reader.
If you are not happy with enabling the Reading View every time you need to use the Read Aloud feature, it is possible to launch it from the Edge's main menu. You can open it by clicking on the menu button with three dots. Alternatively, press the Ctrl + Shift + U keys on the keyboard. In the menu, you'll see the Read aloud command.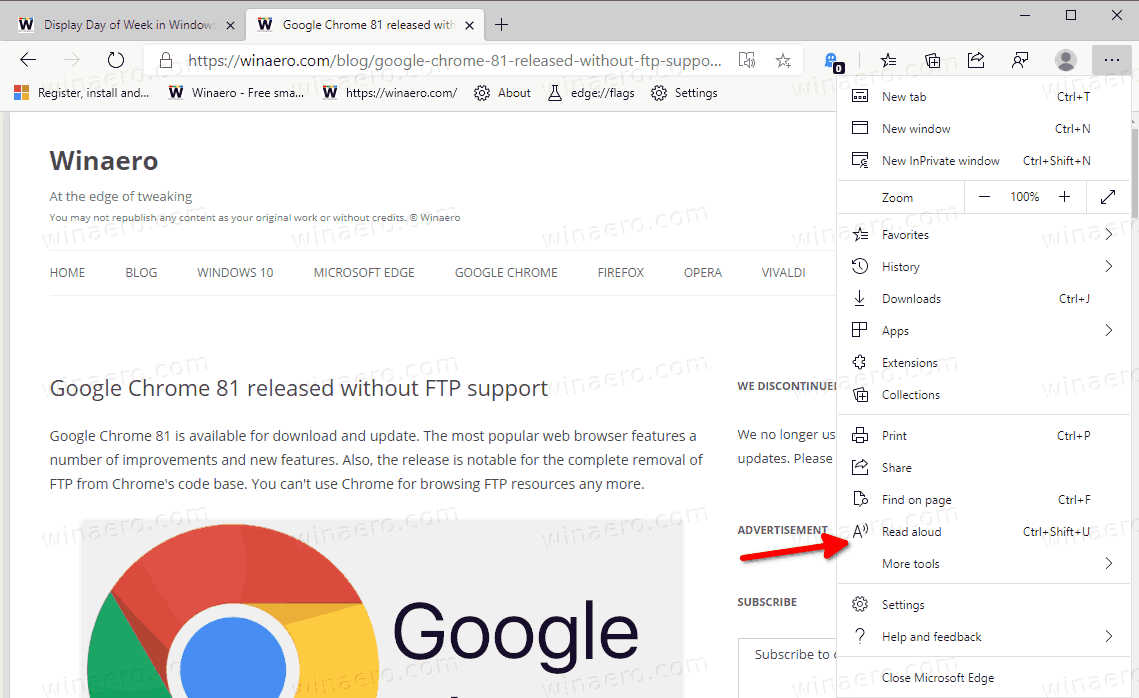 Clicking on Voice Options in the Read Aloud toolbar will allow you to change the voice speed and select a different voice. I recommend you to always select Natural voices for best reading experience.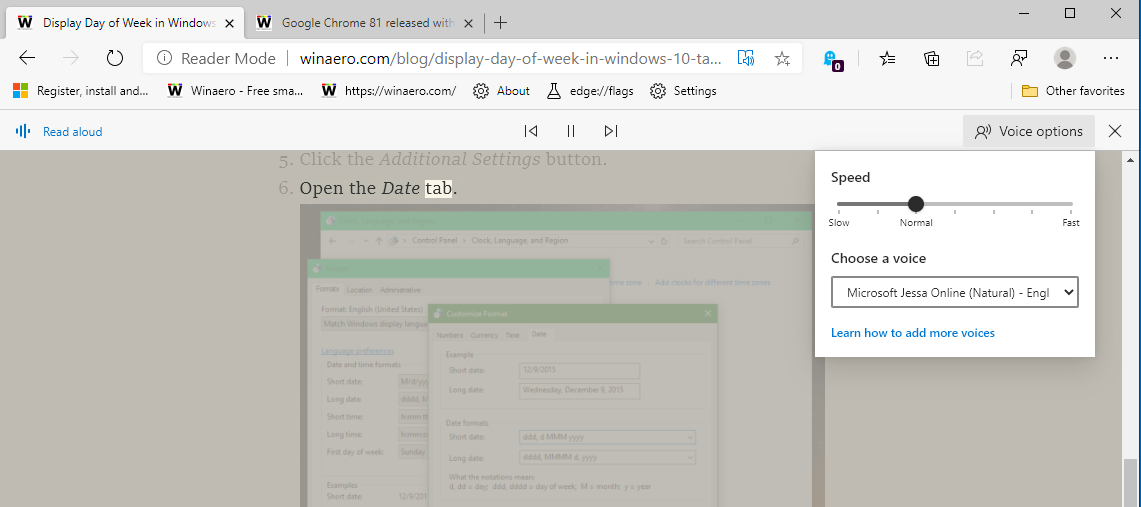 Reading Preferences
Reading Preferences of the Immersive Reader include a number of options to make your reading more comfortable.
Line Focus is a feature that improves Reader mode by highlighting one, three, or five lines. When enabled, you can select one, three, or five lines you want to highlight in the reading view below the toggle switch option.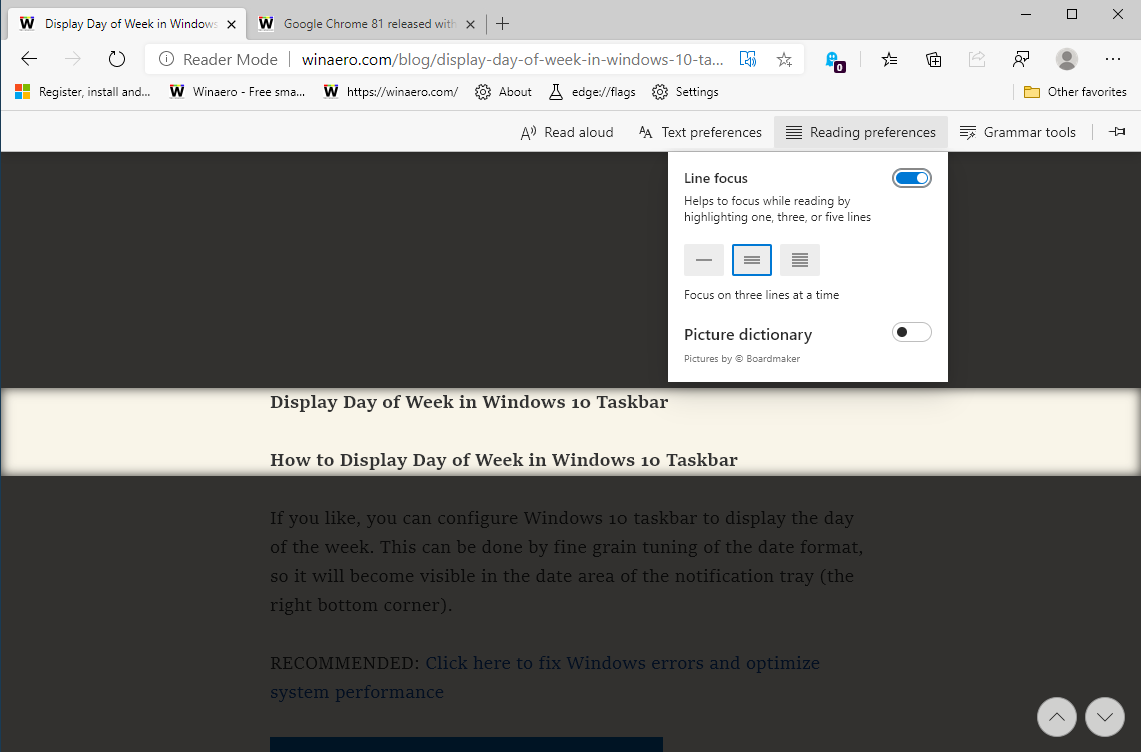 Picture Dictionary is a new feature, which was not available in the classic Edge app. It displays a small descriptive image for a selected word, giving visual definition. Quite a nice feature.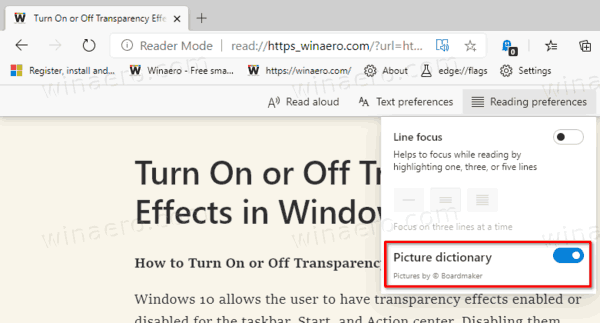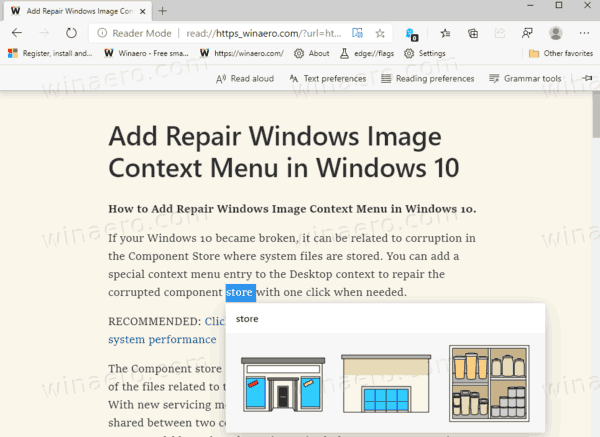 Check out the following blog post:
Enable Picture Dictionary for Immersive Reader in Microsoft Edge
Grammar Tools
The last section of Immersive Reader's options allows you to turn on or off Syllables, and highlight parts of speech, including
Nouns,
Verbs,
Adjectives,
and Adverbs.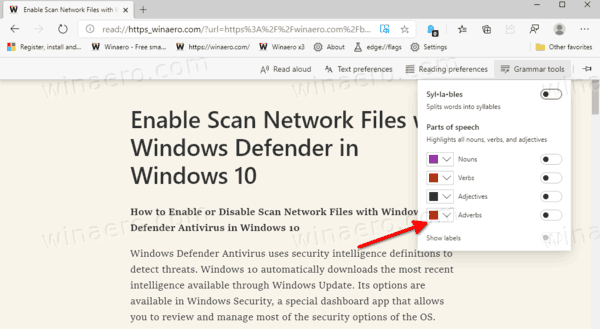 Immersive Reader in Microsoft Edge Chromium is a really useful feature when you need to read a web page without distraction. It's really great that Microsoft has ported all of its classic features to the new Edge app and expanded it with nice additions.
Support us
Winaero greatly relies on your support. You can help the site keep bringing you interesting and useful content and software by using these options:
If you like this article, please share it using the buttons below. It won't take a lot from you, but it will help us grow. Thanks for your support!